How to Choose the Right Makeup for Dark Skin Tones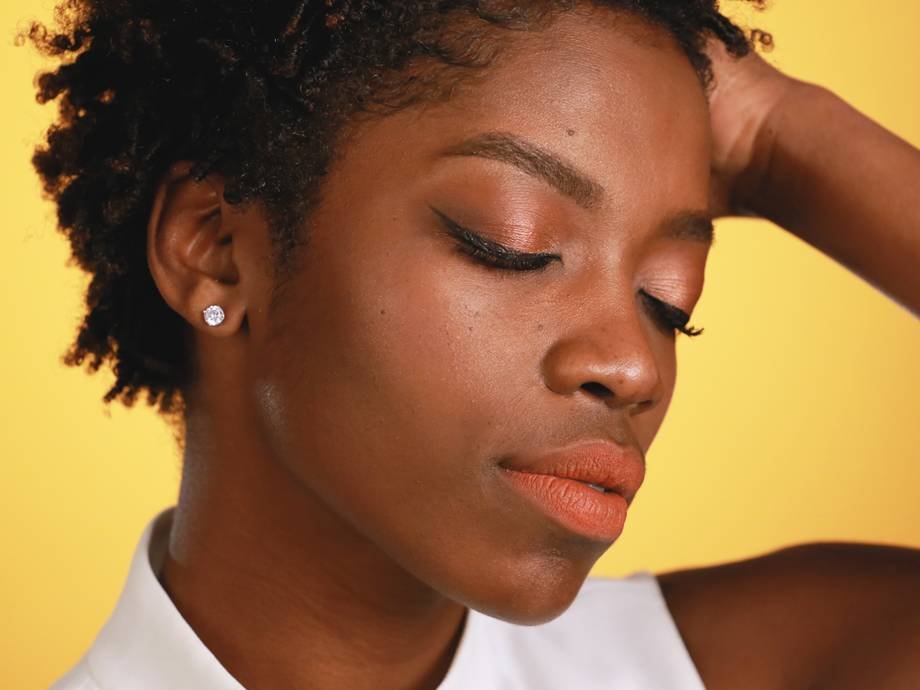 Your rich skin tone can handle seriously pigmented colors like no other! Berries, pinks, red, plum … we could go on and on (and we will)! While you can have all the fun you want with bold lippies and bright blush, shopping for the essentials doesn't come as easily.
Hunting down the best foundation and even bronzer can be a painstaking and time-consuming task. That's why we did all the work for you and put together a guide on how to find the right makeup for your lovely dark skin! Here's what you need to know the next time you take a trip down the makeup aisle …
#1: Work With Your Undertones
Whether your skin tone is fair, dark or anything in between, the key to finding the right makeup is dependent on your undertones. And when it comes to shopping for the right foundation, things can get a little confusing, as most brands will offer two or more colors that look almost identical.
For example, Lancôme Nude Miracle comes in Suede W, Suede C and Suede N — warm, cool and neutral. What exactly does this mean? Well, beneath your specific skin tone lies a subtle hue of one of the following undertones:
Cool: Pink, red or blue undertones
Warm: Yellow or golden undertones
Neutral: A balance between both cool and warm
Not sure what your undertones are? Here's how to find out:
The White Vs. Cream Test: Grab two articles of clothing (or even a towel) — one white and the other off-white. While wearing NO makeup, decide which color complements your skin tone best. If it's the pure-white shade, your undertones are warm. If the cream color suits you more, then you have cool undertones. If both flatter you just the same, you're neutral.
The Vein Test: Look at the veins on your wrists. If they're green, then you have warm undertones. If your veins are blue, then you have cool undertones. Do you have both colors or do they appear to be blue-green? Then you have neutral undertones
The Jewelry Test:

If gold jewelry enhances your complexion, then you're likely on the warmer side. If silver jewelry looks best on your skin tone, then you have cool undertones.
#2: Foundation for Dark Skin
Working with your skin's undertone will help you determine which foundation is perfect for your dark complexion. Check out our favorite foundations and pinpoint your exact shade based on your findings above. If you're testing foundation in person at a beauty counter, start by swatching colors from your cheek to your jawline — keeping the color of your chest in mind.
With darker skin tones, faces are typically lighter than the body, so when testing colors, you want to make sure the shade matches your body as a whole. To ensure a perfect match, it's best to test two to three shades alongside one another — wait several minutes to let the foundation warm up and mix with your complexion. Then decide which shade looks the most natural.
#3: Choosing the Right Blush
Forget pale pinks and barely there blush! These shades can sometimes work for you, but your skin tone looks amazing in deep mauve shades like Maybelline Face Studio Master Glaze in Make a Mauve, a cranberry colored blush (like Urban Decay Afterglow in Bang) or even bright orange.
Don't let the bold colors intimidate you, as they will come off as subtle against your complexion and lend just enough color to give you a true flush. Bright fuchsia also works wonders on dark skin with warmer undertones, while tangerine (we love Lancôme Blush Subtil in Tangerine Tint) will flatter cooler undertones.
RELATED: How to Find the Right Blush for Your Skin Tone
#4: Best Bronzer for You
Don't let anyone tell you that you shouldn't rock bronzer! A sun-kissed glow works for every complexion — including yours! What you want to look for is a product that will highlight and enhance your skin tone for that lit-from-within glow. Look for a slightly shimmery finish (slightly being the keyword here) like Lancôme Belle De Teint in 08 and apply it to your forehead, temples and upper cheekbones for an instantly warmer (and illuminated!) complexion.
RELATED: The Basics of Bronzer
#5: Eye Shadow Shades
Any rich shade will really make your eyes POP! Jewel tones like purple, bright blue, emerald green, or a deep burgundy stand out against your complexion, while gold and bronze tones (like L'Oréal Paris Colour Riche Dual Effects in Treasured Bronze) instantly warm your skin tone and brighten up your eyes.
Steer clear of white (or off-white/cream) and pale or frosty colors as they can give your skin an ashy or dry appearance. As for the shadow finish, opt in for soft shimmer or demi-matte — if you prefer a matte finish, go for deep neutrals like nude or chocolate (we love Urban Decay Eyeshadow in Secret Service).
#6: Flattering Lipstick Colors
Just like the bright blush colors, you can have just as much fun with lipstick! A glossy pink or violet looks fresh and spring-like! A bold matte lip will really make your pout stand out while berry hues instantly warm up your complexion.
Women with warmer undertones look stunning in peach, orangey-red and even chocolate brown shades. Flattering shades for ladies with cool complexions include purple, pink and reds with blue undertones. Either way, feel free to experiment!
Product Recommendations: Maybelline Color Sensational Creamy Mattes in Craving Coral, Urban Decay Revolution Lipstick in Jilted, Lancôme L'Absolu Rouge in Aubergine Velvet, NYX High Voltage Lipstick in Twisted, YSL Rouge Pur Couture Vernis À Lèvres Glossy Stain in Fuchsia Dore
We've got more makeup tips & tricks for you right here!  Photo: iStock
Lire plus
Back to top