No Creases Here! How to Preserve Your Hairstyle Overnight
February 27, 2020
Whether you blow out, curl or straighten, it's a big enough struggle to style your hair in the first place, so when it comes to extending it for as long as possible, we're always on the hunt for new tips and tricks. Sleeping on a silk pillowcase to eliminate frizz is a start, but you still run the risk of waking up in the morning with an awkward dent or crease in your hairstyle.
"Hair is made of bonds that can form to a shape over time," explains Lisa Lobosco, creative director at ECRU New York. "If hair is folded or bent for an extended time while you sleep, that causes the creases you may wake up with."
The Best Way to Preserve Your Hairstyle Overnight
Your best bet to fix this? Keep your hair pulled back into a controlled style while you sleep. "Pulling the hair into a loose ponytail (emphasis on loose) is the best way," she says. "The placement of the ponytail will depend on your style. "For instance, to preserve a tousled look, you'll want to ensure the pony is at the top of the hair, whereas with a smooth look, the pony should be at the nape." Just know that if your hair tie is too tight, it can also cause your hair to form a crease. "Using a loose hair tie or, even better, a fabric scrunchie will get you the best results." We recommend the Slip Scrunchies or, as an alternative to pulling your hair into a pony altogether, the Slip Pure Silk Turban to reduce friction and keep hair protected.
How to Fix Dents or Creases In Your Hairstyle When You Wake Up
Bad hair days happen, but this doesn't mean you need to redo all of your handy work. To correct the issue after you wake up, Lobosco recommends reaching for your hot tools. "You have to use some sort of heat to correct a crease," she says. "A flat iron or curling iron will reverse the bond and smooth out the dents." She also advises using a hair serum before heat styling to help leave your hair smooth and silky, and therefore less prone to denting overnight. Try the Kérastase Nutritive 8H Magic Night Hair Serum or ECRU New York's Silk Nectar Serum.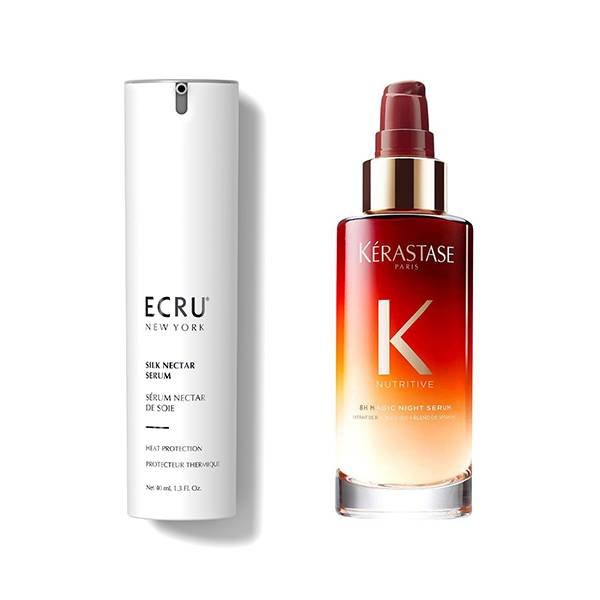 Read More:
What Temperature Should Your Flat Iron and Curling Iron Be? You Know, So You Don't Burn Off Your Hair
How the L'Oréal Paris Elvive Wonder Water Transformed My Shower Routine (And My Hair)
Read more