How to Apply Eyeliner on Almond-Shaped Eyes
January 31, 2020
As beauty editors, some of the most commonly asked questions we get relate to eyeliner. From how to apply winged eyeliner and how to use eyeliner if you're a beginner to the best black eyeliners to use, we've pretty much heard it all — and for good reason. Whether it's more natural-looking makeup or colorful graphic eyeliner, this cult-favorite makeup product has the power to elevate any makeup look. Certain eyeliners and eyeliner techniques work best for certain eye shapes. If you're someone with almond-shaped eyes, the good news is that your eyeliner options are seemingly endless. Not sure which techniques work best for your oval-shaped eyes with slightly upturned corners? We tapped Maybelline New York Brand Ambassador Vincent Oquendo to give us his tips for the best eyeliner techniques for almond-shaped eyes.
Tip #1: Start With a Pencil When Applying Eyeliner on the Lower Lash Line
"I always recommend pencil before liquid because it helps you sketch the line before you commit to the liquid," says Oquendo. "Liquid liner is much harder to manipulate once it's applied, whereas pencil is far more malleable and blendable, so it's easier to work with and more forgiving." He recommends using the the Maybelline New York Tattoo Studio Sharpenable Gel Pencil to cover the waterline and the lower lash line. "With almond eyes, you can evenly distribute the color along the lashes or focus on the outer corner for an even more elongated eye shape."
Tip #2: When Doing a Wing, Flick It Upwards
"When you have almond-shaped eyes, you want to flick your wing liner upwards, which will lift and complement the eye shape," says Oquendo. For a winged eyeliner, we recommend using the L'Oréal Paris Matte Signature Liquid Dip Eyeliner. It's an easy-to-use eyeliner that offers a precise application and a beautiful matte finish.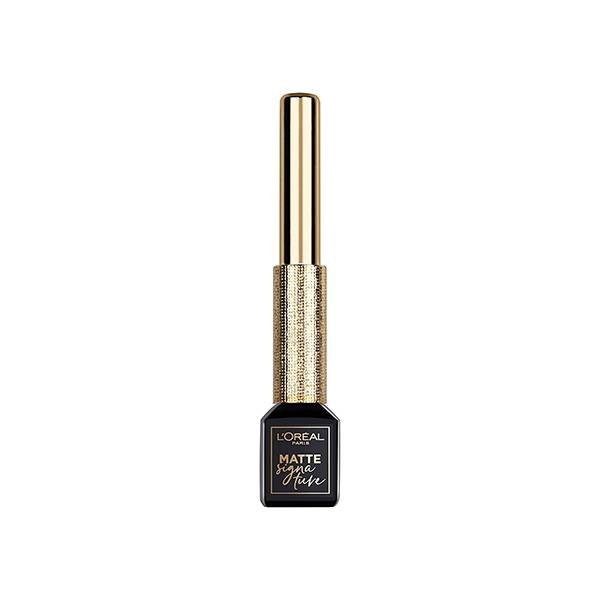 Tip #3: Always Elongate Your Liner
If you want your eyeliner to make your eyes appear more awake and wide, Oquendo recommends stretching out your eyeliner line. "With almond eyes, I love creating an elongated winged liner. I like to pull my liner out a bit more at the outer corners of the eye for a wide-eyed and lifting effect."
Tip #4: Start With a Thick Line
When creating an eyeliner look on almond-shaped eyes, Oquendo says to start with a thicker line. Because your eye shape naturally curves, it's easier to start with the big, thick shape and carve into it to see what needs to be made thinner or built upon. Oquendo says it sculpts a shape that exactly fits the eye shape.
Tip #5: Don't Be Afraid to Try Different Eyeliner Looks
"To me, you've won the lottery when it comes to the most flattering eye shape for eyeliner," says Quendo. You can use all different types of the eyeliners and create all different types of looks on your eye. "There isn't one type that's more flattering than the other." So don't be afraid to experiment!
Read More:
Create This Negative-Space Cut-Crease Eyeshadow Look in 5 Easy Steps
How to Use an Eyeshadow Palette to Create Any Look
A Simple Guide to Tightlining With Eyeliner