The Best New Makeup Launches to Buy in February
February 03, 2020
It's a brand new month (and new year!), which means a new round of products is making its way onto store shelves and into our makeup bags. These are the products Makeup.com's editors can't live without this February.
Lindsey, Content Director
L'Oréal Paris Elvive Dream Lengths No Haircut Cream
OMG, I don't know how I lived without this styling product. I highlight my hair and regularly forget to get it cut (what? I'm busy), so split ends are my life. The first time I applied this leave-in cream to my hair after getting out of the shower, though, I was shook. It seals split ends so hair looks healthier and shinier, but the real surprise was how soft my hair felt. I'm in love. Oh, and did I mention that it's also a heat protectant, so I don't have to worry about causing further damage to my hair when I blow dry it? Win-win.
YSL Beauty Touché Eclat Blur Primer in Silver
Things I like: flawless-looking skin, makeup that stays put and a lit-from-within glow. Things this YSL primer does: all of the above and then some. It has the same skin-softening, blurring effects as its gold counterpart, but the infused silver specks offer a more moonlit vibe. It's a must for whenever I go out at night.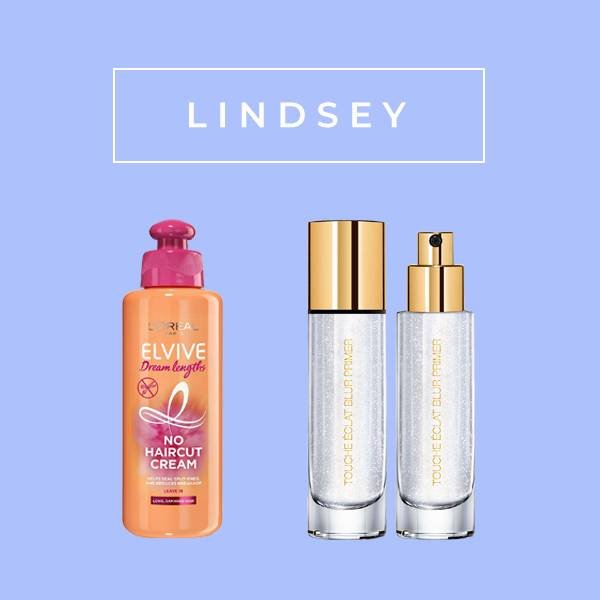 Alanna, Associate Editor
Urban Decay All Nighter Face Primer
I've pretty much fallen in love with this face primer thanks to its long-wearing silky finish. I find that my makeup doesn't crease when I wear it, and it helps keep my concealer and CC cream harmonious and intact for hours on end. It's lightweight, absorbs into the skin quickly and makes my skin feel plumped, refreshed and ready for my beat.
NYX Professional Makeup Shout Loud Lipstick
A pigmented lippie is pretty much the one makeup product that can put a smile on my face at any time of the day, and the new Shout Loud lipstick gets the job done. It comes in 24 killer shades and packs a punch for any type of mood I'm going for, whether it's more subtle (cue the taupe 1999) or super edgy (give me the plum brown So Dramatic, please!)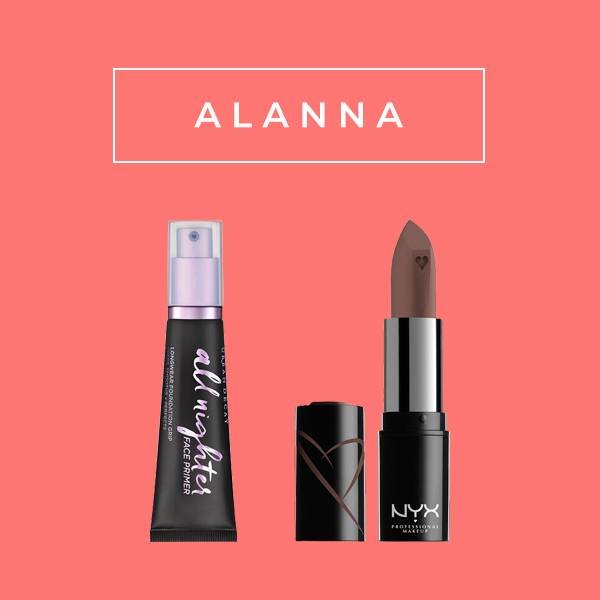 Jessica, Associate Editor
IT Cosmetics Bye Bye Foundation Oil-Free
I'm a big fan of IT Cosmetics complexion products, specifically its CC creams. I prefer the lightweight feel over a foundation, but the brand's newest launch is a nice happy medium between the two. It offers a smooth, full-coverage finish in a hydrating matte formula. Best of all, it blends into my skin and looks as if I'm wearing nothing at all — as all good foundations should. 
This was my first experience with a priming oil, and my life is forever changed for the better. The three-in-one serum, moisturizer and primer is skin-transforming. It acts as both the final step in my skin-care routine and the first step in my makeup routine by prepping and priming my skin. When you apply it, it feels like a luxurious face oil (don't worry — it's not the least bit greasy) but quickly absorbs to leave a soft and smooth finish behind. It has become a must-have in my glowing makeup routine.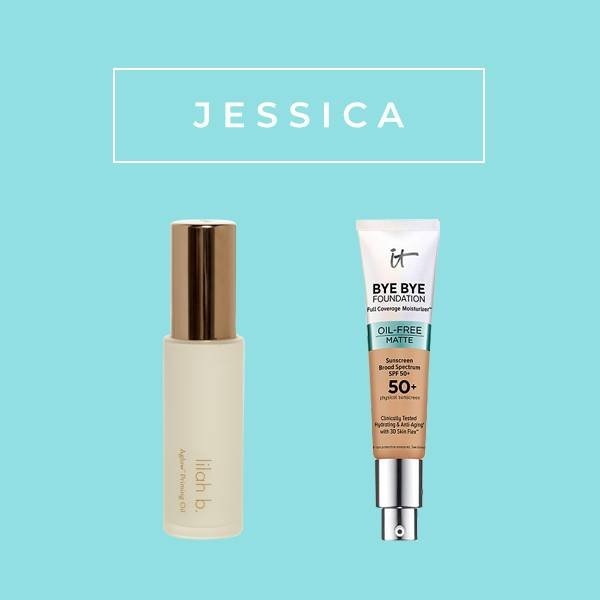 Genesis, Assistant Editor
L'Oréal Paris Age Perfect Radiant Serum Foundation
Now I know that this foundation was specially designed for mature skin but hear me out: As someone who loves a lightweight consistency and lives for a dewy makeup look year-round, it checks off all of the right boxes for me. It has all the benefits of a lightweight foundation, like seamlessly evening out your skin tone without feeling cakey, but it also has added skin-care benefits like SPF 50 and an infused hydrating serum to give your skin an extra boost of protection and hydration for a radiant finish. All I can say is, don't knock it till you try it. 
Carol's Daughter Goddess Strength Fortifying Shampoo 
I'm a fond believer that your makeup look can go from a 10 to a 12 depending on your hair. To ensure I always have healthy and beautiful strands, I like to use the Carol's Daughter Goddess Strength Fortifying Shampoo. Its formula is infused with castor oil, black cumin seed oil and ginger to prevent hair breakage and offer stronger, healthier-looking strands after every use.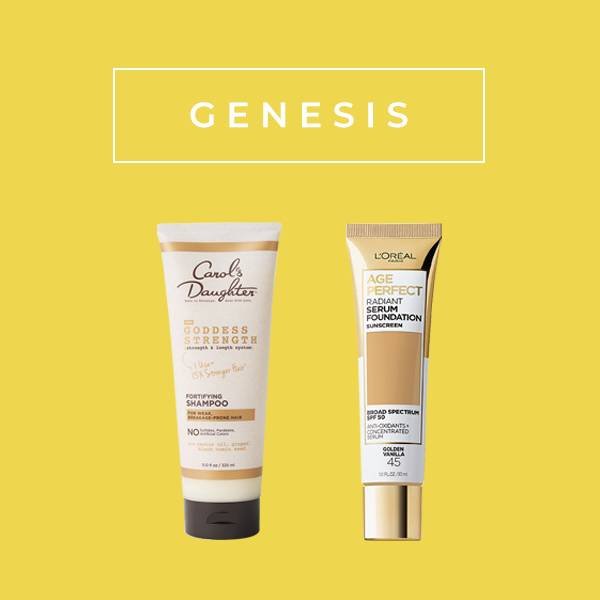 Samantha, Assistant Editor
I'm forever on the hunt for the perfect lip balm. My never-ending search has been persistent for years. Nearly every lipstick, balm, oil or gloss leaves my pout feeling parched, my smile tight and my lips flaking away. I have high standards for what goes on my lips and very few products make my final cut. That in mind, trust me when I say that the Saie Liquid Lip Balm is the real deal. It's hydrating, buttery and smooth. It has a light pink tint that gives the perfect, subtle tint of color. You can catch me re-applying 20 times throughout the day. To say I'm obsessed is an understatement. 
L'Oréal Paris Brow Stylist Micro Ink Pen
Eyebrows were never really my thing. Truth be told, I went nearly eight years without having them shaped or groomed (I know, it's horrible.) But this past month I finally had my brows whipped into shape, trimmed and appropriately arched. Now, styling my brows every morning is my favorite part of my makeup routine. My go-to product has been the L'Oréal Paris Brow Stylist Micro Ink Pen. It's super easy to use (trust me), gives a natural finish and doesn't smudge throughout the day. I just place the applicator at my arch and brush upward out to the tail of my brow. It gives a more defined look without being too over-the-top.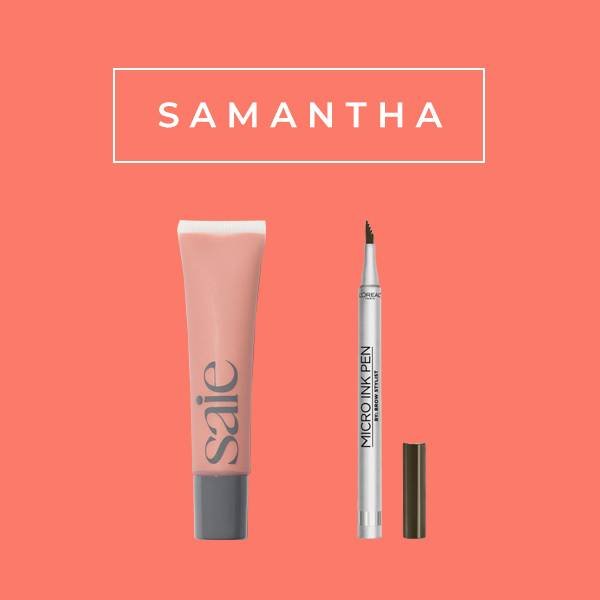 Jillian, Social Media Editor
E.l.f Cosmetics Luminous Putty Primer 
I kid you not when I say this is one of the best primers I've ever used. I have alarmingly-visible pores on my nose, and I can swipe a super small amount across my face and I'm totally blurred out. E.l.f. has a few different versions of this in its range, but I'm a fan of the Luminous because it still gives you an even texture without the matte finish. When I wear this with my foundation, I swear I have my best makeup days.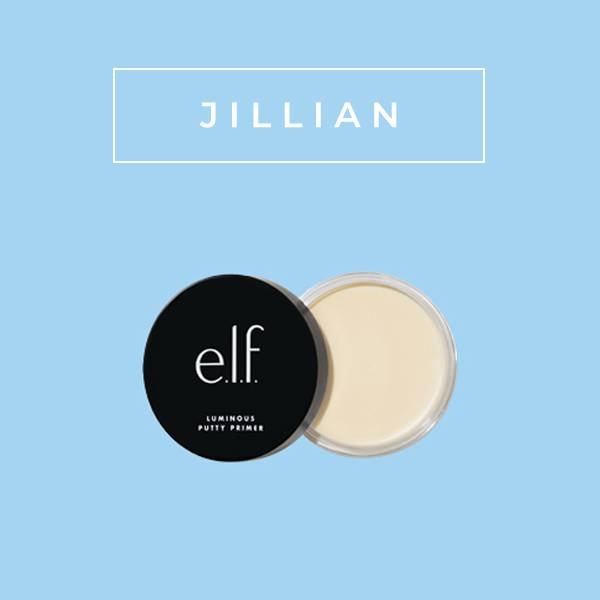 Read More:
These Drugstore Concealers Actually Work
10 Beauty Instagram Accounts to Follow for Drool-Worthy Flatlays
How to Tease Your Hair Like a Pro