How to Get Natural-Looking Flushed Cheeks With Blush
January 21, 2020
There are two types of people when it comes to blush: those who swear by its ability to rosy up even the dullest-looking complexions and those who steer clear of it at all costs (read: the horrors of clown makeup). While there's a fine line between looking naturally flushed and being questionably rouge, the right products and application can guarantee your cheeks look dewy, dusted and au naturale — always. To get the inside scoop on the secret to perfectly flushed cheeks, we tapped the expertise of celebrity makeup artist Billie Gene. Find out his tips for getting your blush to mimic your skin's natural flush, ahead. 
Blush Tip #1: Do a Dewy Base 
"The first step to getting the flushed cheeks makeup look is to ensure that your skin is supple and hydrated," says Gene. So grab your favorite serum, oil or primer and get to work on creating a glowy canvas. The next step? Foundation. But according to Gene, picking the right complexion product is a must. "Be sure to use a foundation with a dewy or natural finish; it'll pair easiest with the blush." We recommend the Maybelline New York Fit Me! Dewy and Smooth Foundation. 
Blush Tip #2: Choose a Creamy Texture 
When going for a natural flush across your cheeks, a cream or liquid blush is the way to go. If you don't have one in your makeup bag, we recommend picking up the Maybelline New York Cheek Heat. "Cream products tend to blend the easiest into the skin," says Gene. "I suggest picking up two swipes of the blush. You want just enough to where the color is visible on the blush brush or on your fingers."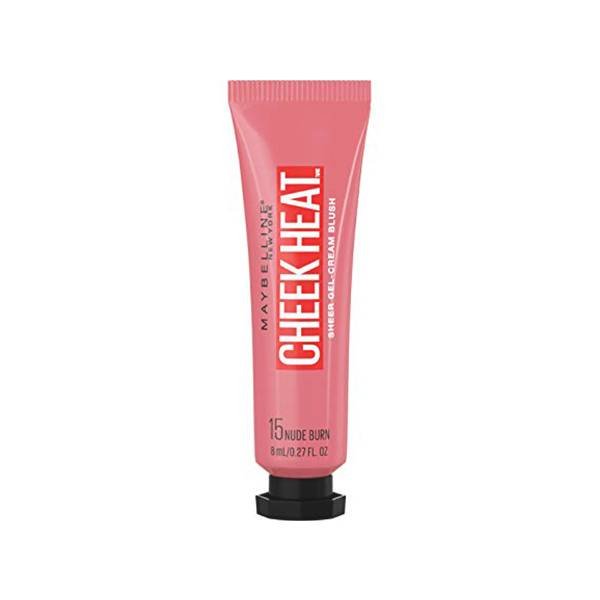 Blush Tip #3: Product Placement Is Key 
To make your blush more blendable, Gene likes to warm it up between his fingers before patting the color onto the skin. Start at the apples of the cheeks and work your blush upward. "Blending upward lifts the color and softens the look to make it appear more natural." If you've diffused your blush and are looking for more color payoff, gently dab more product on using your fingers. 
Blush Tip #4: Set Everything Except Your Cheeks 
Never will we ever leave the house without setting our makeup — it's a fact. But, when it comes to preserving the flushed look of our cheeks, powdering properly is crucial. "Focus on the T-zone and perimeter of the face but leave the center fresh and flushed," says Gene. 
Blush Tip #5: Tone it Down 
While in a dream world we'd get the perfect pop of color and our intensity just right every time, the reality is we're bound to go a little overboard at one point. Thankfully, we won't have whip out the makeup remover just yet. "When this happens, I suggest applying a thin layer of foundation over the cheeks to allow the blush to peek through," says Gene. "It creates more of a veil look." 
Read More:
Lipstick Nail Designs That'll Make You Call Your Nail Tech ASAP 
Best Full-Coverage Concealers (In Easy-to-Use Pots!) 
5 Rose Gold Makeup Products You Need in Your Stash Right Now
Read more