How to Apply Tinted Moisturizer for a Dewy, Radiant Glow
October 08, 2019
We've already talked to you about the differences in formula and application between BB creams and CC creams. And if you're an avid follower of our site (which, of course, you should be), you're sure as hell informed about anything and everything relating to foundation. From foundations you need to try, how to apply every type of foundation to different types of foundation brushes, we bet you're pretty well-versed in the subject. But what about tinted moisturizers? They are the easy-going, free-spirited sister to foundation. "Tinted moisturizers are great for a more casual finish — kind of like wearing your favorite pair of jeans," says celebrity makeup artist Tim Quinn. "They're easier to work with because they're more sheer, they have a lightweight texture, they usually have an SPF benefit and they're more portable since they usually come in a tube." To learn more about the best tips for a flawless tinted moisturizer application, read on for Quinn's expert advice.  Tip #1 for Applying Tinted Moisturizer: Cater to Your Skin Type, Not Tone
Because tinted moisturizers tend to have a sheer formula, choose one based on your skin type rather than your skin tone. If you're prone to breakouts, seek out an oil-free formula like the Urban Decay Naked Skin One and Done. If you have dry skin that needs a boost of glow, try the Giorgio Armani Prima Color Control Glow Moisturizer. It's an ultra-sheer tinted moisturizer that has SPF 35 and blurs your skin of any blemishes unveiling a revitalized glow. 
Tip #2 for Applying Tinted Moisturizer: Ditch the Brush 
Tinted moisturizers are like hydrating lotions. Skip the makeup sponge or brush and apply the formula evenly onto your skin using your fingertips. "Take a small amount and blend from the center of the face out, much like you would apply a daytime moisturizer," says Quinn. If you need more coverage in certain areas, add a light touch of concealer and blend (with your fingers!) to give your skin a smooth appearance.
Tip #3 for Applying Tinted Moisturizer: Skip the Powder
Although you may be tempted to set the look with a finishing powder, we highly recommend resisting the urge. The point of tinted moisturizer is to look like you're not made up, so embrace the radiant finish. "Powder is definitely a no-no," says Quinn. "It's all about the glowing skin." If you can't skip out on this step, we recommend spritzing with a facial mist like Garnier SkinActive Soothing Facial Mist with Rose Water. It helps to set your makeup while still hydrating your face offering a dewy, glowing finish.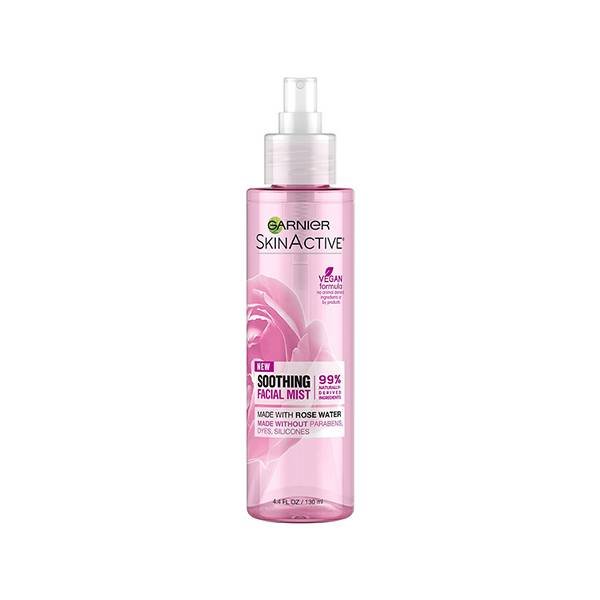 Read More:
The 1920s Flapper Makeup Tutorials That Are Perfect for Your Gatsby Costume
We're Ob-sessed With This Euphoric Rhinestone Eyebrow Tutorial
Where to Book Your Halloween Makeup Appointment for a Bomb Beat