Building Your First Makeup Kit? Here's Every Product You Need
February 12, 2020
Having a collection of beauty products worthy of a makeup artist is no small feat — after all, they are artists. But you can build a makeup kit that would make any makeup artist envious with our complete guide to everything you could possibly want or need for your face, eyes and lips. We created a must-have guide for building the perfect makeup kit from scratch. Ahead, find the best products that are makeup-artist approved for your lips, face and eyes.
Face Products
Makeup Prep Mist
Make sure your freshly cleansed and moisturized face is prepped for makeup application with a few spritzes of a hydrating face mist like the Vichy Mineralizing Thermal Water or the Urban Decay Quick Fix Hydra-Charged Complexion Prep Priming Spray, which will help reactivate your skin-care products and give thirsty skin a boost for a more even application of face makeup.
Face Primer
Further smooth the skin's canvas and add some additional benefits (like a hint of radiance, a blur-cream technology or a dose of SPF) with a primer. The right formulas will minimize the appearance of fine lines, wrinkles and imperfections. Make sure to let your primer sit for a few minutes before moving on to the rest of your makeup. We love using the Urban Decay All Nighter Matte Face Primer or the NYX Professional Makeup High Glass Primer for a dewy, blurred finish.
Color-Correcting Concealer
Applied before foundation, these pastel liquids and creams can hide dark spots and hyperpigmentation, conceal redness and minimize the appearance of under-eye circles. Palettes are often your best choice because you'll have a bevy of shades at your disposal, but if you have one specific need, such as correcting the redness around the base of your nose, pick up a solo-hued formula in yellow or green (in this case). We like the YSL Beauty Touche Éclat Neutralizers to nail the technique.
Foundation
As the name suggests, foundation is the base of all makeup. Available in a variety of formulas, including sheer liquids, cushion compacts and full-cover formulas, the right foundation for you is an intensely personal decision based on your own complexion's needs and, of course, your wallet. Our favorite foundations for this are the NYX Professional Makeup Born To Glow! Naturally Radiant Foundation or the Urban Decay Stay Naked Foundation.
Face Concealer
Blemishes and dark spots can still peek through even the fullest-coverage foundations. In cases like those, look for a concealer that matches your foundation (and yes, ideally your skin tone). We're loving the Uoma Beauty Stay Woke! Concealer and the NYX Professional Makeup Born To Glow! Radiant Concealer.
Under-Eye Concealer
When you're looking to conceal bags, puffiness, or a long night out, reach for a concealer up to two shades lighter than your skin tone, which will brighten up your eyes without making you look like a panda. Some under-eye formulas are specifically infused with illuminating particles to help highlight the area without actually lightening it. The new Maybelline New York Super Stay Under-Eye Concealer is our go-to for this, and of course the OG Maybelline New York Age Rewind Concealer also has our heart.
Blush
Whether you're into a mere pop of color on the apples of cheeks or into the revived 1980s trend of full-on draping, blush is one of those desert-island beauty products: Use just a bit and you'll look far more refreshed and awake with a few swipes of pink or coral powder like the Urban Decay Stay Naked Threesome. You can also customize your own blush color by playing with a cheek palette like the NYX Professional Makeup Sweet Cheeks Creamy Powder Blush Glow.
Illuminator/Highlighter
Call it highlighting, illuminating or strobing — whichever you choose, there are more liquids and powders than ever dedicated to showing off your bone structure. Focus illuminator on the high points of your face: the tops of cheekbones, the bridge of your nose and along the brow bones. The NYX Professional Makeup High Glass Illuminator or the Maybelline New York Master Chrome Jelly Highlighter will help you achieve this in the blink of an eye.
Contour Product
A little bit of contour can go a long way, so if you're going to sculpt definition, make sure to use a light hand. Try a chubby stick or pencil, and work from the inside of your face out along hollows of cheeks, jawline and forehead. Buff away the line using circular motions with a blending brush or sponge. We recommend the NYX Professional Makeup Contour Pro Singles or the Maybelline New York Face Studio Master Contour V-Shape Duo Stick for the ultimate chisel.
Loose Powder
After applying foundation and concealer but before working on the rest of your face, make sure to set things in place (especially during the warmer months) with a finely milled loose powder. When applied with a fluffy, oversized brush, not only will it help set your foundation for the rest of your face makeup application, but it'll also keep that foundation and concealer in place. The Dermablend HD Finishing Powder or Urban Decay Stay Naked The Fix will seriously change your life.
Setting Spray
While many face mists can do the job of priming and refreshing, those designed specifically to lock makeup in place do exactly just that. Hold the bottle about eight to 12 inches from your face — making sure to test the spritzer first — and pump several times until your face is lightly misted. (Hot tip: If you've already styled your hair, make sure to put on a bath headband to avoid getting tacky setting spray in your strands.) The Urban Decay All Nighter Ultra Matte Setting Spray is a great choice, as is the YSL Beauty Top Secrets Glow Perfecting Setting Spray.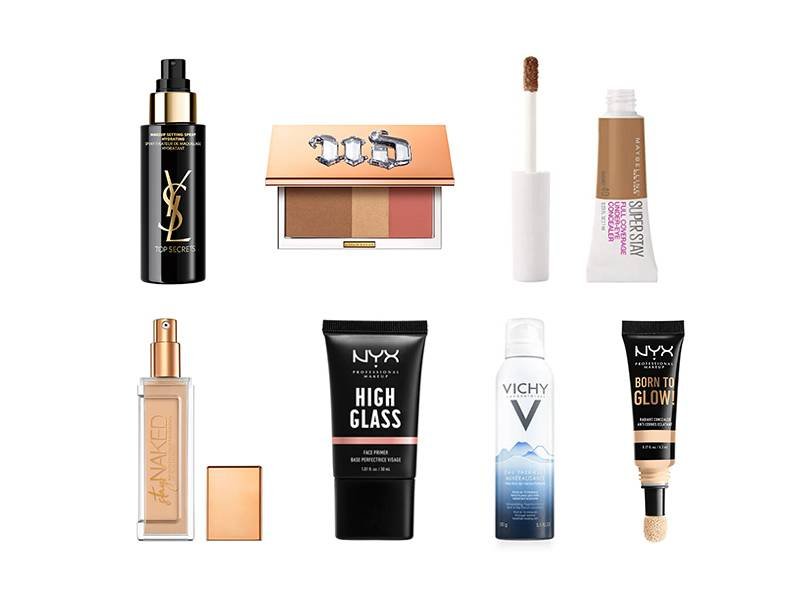 Eye Products
Eyeshadow Primer
Just as foundation needs a smooth canvas from primer to look its best, the same applies for eyeshadow — especially when you're looking for the color payoff to be similar or identical to what you see when it's in the package. If you think about it, each individual's skin tone is different, and therefore, color payoff will be different. But by using an eyeshadow primer, you're creating an even base for pigment, while also extending its staying power; the Urban Decay Eyeshadow Primer Potion and Maybelline New York Master Prime Long-Lasting Eye Shadow Base will become your best friends for this. Both of these options are available in multiple hues to give you the exact final look you're going for.
Powder Shadow
Eyeshadow can open, line, define, highlight and smoke lids, so it's natural to want to stock up on every shade of the rainbow. That said, it's better to start with a few carefully curated ones. Go for a neutral, a shimmer, a darker matte to line and shade (we love the L'Oréal Paris Colour Riche Eyeshadow Monos for this).
Shadow Palette
You can also get everything in one fell swoop with the many shadow palettes offered now. Some are more neutral in tone, while others offer a slew of bright, metallic or glittering pigments. There are more options now than ever to find the perfect slew of shadows that work for your eye color, complexion and needs, like the NYX Professional Makeup Warm Neutrals Ultimate Palette or even something warmer like the Urban Decay Naked Honey Palette.
Eyeliner Pencil
To make your eyes pop, all you really need is a bit of liner along the rim of upper lashes. Pencil liners work great for this as you can use the sharpened tip to dot in between your lashes, precisely rim your water lines and even to create a subtle smoke (by swiping at the line with your finger). Having one in brown and black is a must, and navy, peach or white can help brighten the whites of eyes. You should also consider a poppy shade for when you're feeling bright, all of which you can find in the range of Urban Decay 24/7 Glide-On Eye Pencil shades.
Liquid Eyeliner
If you're creating a more dramatic look, like a precise cat eye, opt for a liquid liner, as the inky formula and felt-tipped ends will give you perfectly flicked wings. If you're going to layer with shadow, give the liquid a few minutes to dry down before you start dusting on a powder. Try either the L'Oréal Paris Matte Signature Liquid Dip Liners or the IT Cosmetics Superhero Liner for this.
Mascara
Mascara is one of those beauty products that many won't leave the house without. And while you could tint your lashes at a salon, the color, length and/or volume that the right mascara can provide is unparalleled — looking at you, Maybelline New York Falsies Lash Lift Mascara and L'Oréal Paris Bambi Eye Mascara.
Lash Curler
Used before applying mascara, a lash curler will instantly lift and curl lashes, opening up eyes and giving you an instantly more youthful appearance. You can't go wrong with the Shu Uemura Eyelash Curler.
Brow Pencil/Powder/Pomade
Brows help frame your entire face, so whether yours need a bit of filling in or just shaping and definition, having a brow product on hand is essential for keeping them looking groomed and full. Our fave for this? The L'Oréal Paris Micro Ink Pen by Brow Stylist.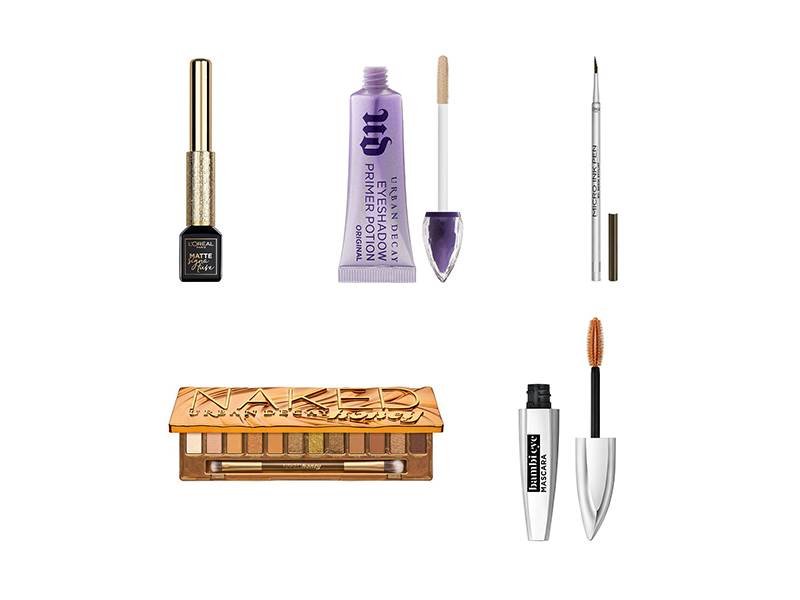 Lip Products
Lip Balm
Look for a formula with emollients like vitamin E , shea butter and cocoa butter, which help to hydrate and protect lips throughout the day and prevent aging. Try the Kiehl's Butterstick Lip Treatment or the NYX Professional Makeup Bare With Me Lip Conditioner With Cannabis Sativa Seed Oil.
Tinted Balm
Get the same benefits of a balm — plus a hint of color — with these brilliant combo products. While the IT Cosmetics Je Ne Sais Quoi in Rose is offered in one universally flattering hue, the YSL Beauty Volupté Tint-in-Balm comes in 15 different colors.
Lip Liner
Having a lip pencil that's the color of your lips, nude or clear is an essential. It'll keep any color from feathering outside of the lip line while providing an even base for lipstick. We love the Lancôme Le Lip Liner or the Maybelline New York Color Sensational Shaping Lip Liner for this.
Matte Lipstick
These lipsticks are devoid of shine and have a velvet-like flat finish. Look for ones with vitamin E to help boost hydration so lips don't feel dry. Pick up the NYX Professional Dazed and Diffused Blurring Lipstick or the Maybelline New York Super Stay Matte Ink Crayon to get the job done.
Cream or Satin Lipstick
While different in formulation (creams are largely made from waxes while satins tend to be oil-based), both moisturize and nourish lips. Satins are more sheer and require more coats, while creams offer more pigment and fuller coverage. Go sheer with the YSL Rouge Pur Couture Slim Sheer Matte Lipstick.
Liquid Lipstick
Liquid lipstick is basically the sexiest combination of every single lip product, rolled into one: It contains the pigment of a lipstick, a high-gloss or super-matte finish, and it requires just one coat. The doe foot-shaped applicator gives you the same amount of precision you'd have with a lip pencil, too. The L'Oréal Paris Rouge Signature Matte Liquid Lip Stain is great to help you start your kit.
Lip Gloss
Think of gloss as a finishing step, or, alternatively, a sheerer (and often more sparkly) way of wearing lip color. With a glassy finish, lip gloss is great for drawing eyes to already decorated lips, especially when dotted only in the center of the mouth for a super-plumping effect. We recommend the Lancôme L'Absolu Lacquer Gloss or the L'Oréal Paris Colour Riche Plump + Shine Lipstick.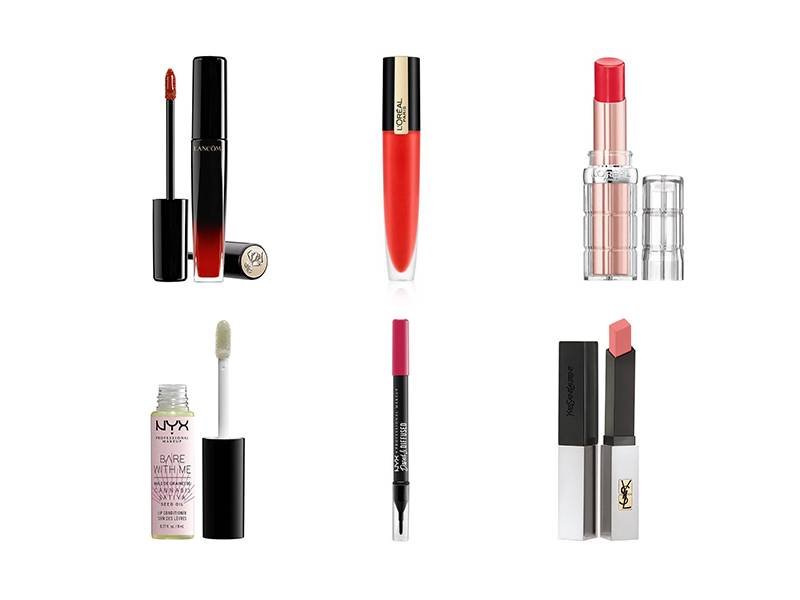 Read More:
These Drugstore Concealers Actually Work
10 Beauty Instagram Accounts to Follow for Drool-Worthy Flatlays
How to Tease Your Hair Like a Pro