11 Products That Will Give You the Glowing Skin of Your Dreams
January 10, 2020
While scientists have not yet figured out how to literally bottle the skin-flattering effects of a good night's sleep, makeup for glowing skin (a.k.a. highlighters, strobing creams, luminizers) come pretty darn close. In just seconds, these illuminating cosmetics can make skin look glowy, vibrant and well-rested — kind of like you've just applied an amazing Instagram filter, only you get to own the look IRL, not just in your photo gallery. It's no wonder radiance-boosting cosmetics are the secret weapons in the kits of most pro makeup artists.
Ahead, we broke down all the types of glowy makeup products you can get your hands on from creams and sticks to powders and everything in between.
Cream
What it is: A cream highlighter has the same texture as a cream blush, only instead of delivering a pop of color, you get a serious strobe effect. Cream highlighters usually come in a few different shades: golden or champagne for warm skin tones, pink or icy white shades for cooler complexions.
Who needs it: Creams are a go-to texture for normal-to-dry skin. Not too wet and not too dry — they mimic the skin's texture and give the most natural glow.
How to use it: After you've applied your liquid base product (that could be a tinted moisturizer, BB cream or liquid foundation), blend the cream onto the high points of your face — your forehead, the bridge of your nose, the tops of your cheekbones — using a foundation brush. Then set your makeup with powder but avoid the spots you've applied cream to.
We love: L'Oréal Paris Lumi Glotion for under makeup application — and the NYX Professional Makeup Highlight & Contour Pro Palette. The Glotion works with your makeup to give you an overall dewy finish, while the palette really allows you to sculpt your high points and contour.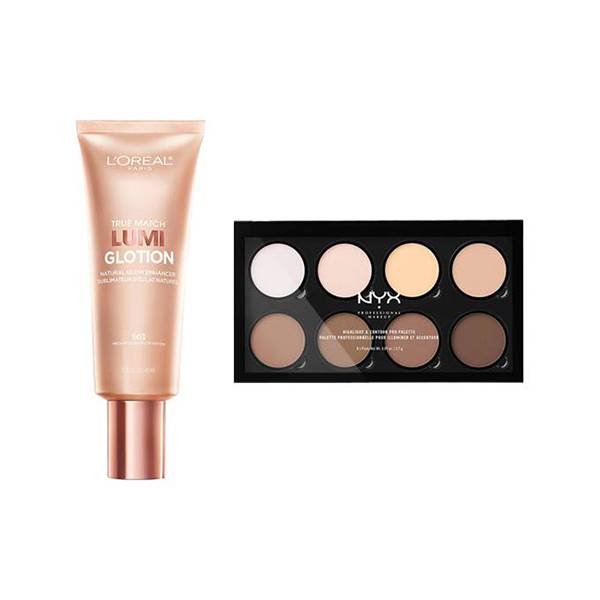 Liquid
What it is: With the thin consistency of a serum or a liquid foundation, this type of radiance-booster gives skin more of a dewy, luminous look. But don't mistake its thin texture for weakness; liquid highlighters tend to be highly concentrated cosmetics compared to other types.
Who needs it: Like a cream formula, a liquid formula works best on someone with normal or dry skin. It makes these skin types look healthy and fresh but can make oily skin appear greasy.
How to use it: For an all-over glow, mix a small dollop with your foundation or tinted moisturizer in the palm of your hand. Blend and then apply to skin. Or, use the liquid highlighter spot treat: Once you've applied your foundation, apply the highlighter to the high spots on the face using a brush or your fingertips. Don't layer a liquid luminizer over powder. The two formulas don't play well together.
We love: YSL Beauty Touche Éclat Glow Shot Liquid Highlighter embodies the same uber-glowy formula as the original cult fave Touche Éclat pen, but it comes in a larger tube that allows you to apply it all over the skin as well as in targeted areas. We also love the L'Oréal Paris Pro-Glow Concealer, which helps to not only even out skin tone but also give you a radiant finish in all the right places. If you want to opt for a foundation formula that gives you all the glow in one shot, look no further than the NYX Professional Makeup Born To Glow! Radiant Foundation.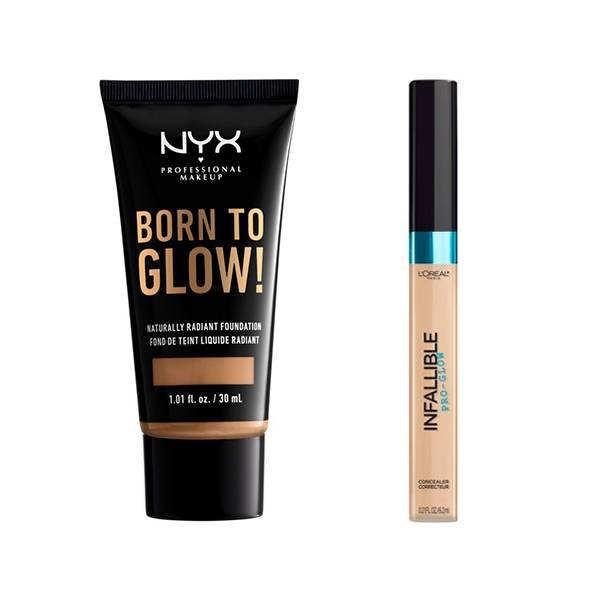 Stick
What it is: A stick highlighter is a solid, but it goes on skin like a cream. Sticks are great because they're super convenient and don't require any application tools besides your fingertips.
Who needs it: Because it's technically a cream, sticks work best on normal to dry skin.
How to use it: Straight from the stick, swipe it right onto those high points of the face. Then tap with your fingertips to blend in the formula.
We love: A crowd favorite is the Maybelline New York Facestudio Master Strobing Stick, which works great on any skin tone and is easy to throw in any on-the-go bag. Another favorite is Glossier Haloscope, which leaves you with the softest, dewy shine every time.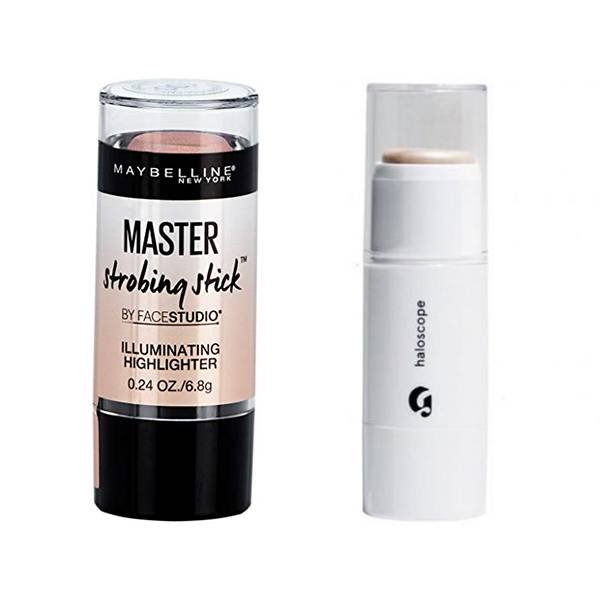 Powder
What it is: Typically pressed, highlighting powder is similar to powder blush, only it comes in gilded, pearly or champagne shades, usually flecked with metallic or opalescent pigments. Bonus: Powders pack the most punch and are usually more long-wearing than other formulas.
Who needs it: Powder highlighter is a good choice for anyone with oily to normal skin. It won't make naturally dewy skin look greasy, nor will it disappear minutes after you apply it to your face. Skip this formula if you have a dry complexion because it sometimes calls attention to flaky areas.
How to use it: If you wear powder foundation, layer powder luminizer right on top. If you prefer a liquid base, set it with translucent powder before applying your highlighter. If you apply it onto un-powdered skin, the pigment will catch and not blend properly. Then, use a fan brush (we love IT Cosmetics Heavenly Luxe Mega Fan Brush #9) to dust the highlighter over the high points of the face.
We love: The NYX Professional Makeup Born To Glow! Highlighter Singles because they're super pigmented and very soft to the touch.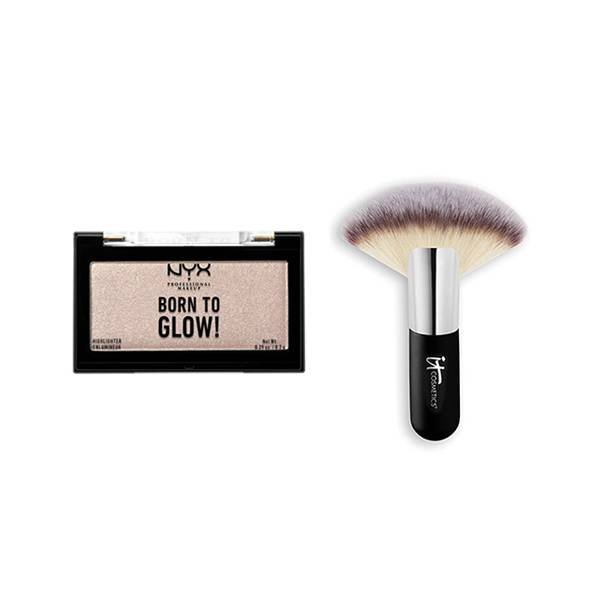 Gel
What it is: A jelly or gel-like highlighter formula that's just as fun to wear as it is to touch. These come in all kinds of highlighter shades, from holographic iridescent to molten rose gold.
Who needs it: The ASMR-obsessed makeup junkie. A little goes a long way with gel or jelly formulas, so you'll be getting the best bang for your buck when it comes to these.
How to use it: Apply jelly or gel highlighters onto your cheekbones, down your nose and on your Cupid's bow for an electrifying finish. Fingers work best, in short, tapping motions.
We love: The Maybelline New York Master Chrome Jelly Highlighter because it comes in two ultra flattering shades: Metallic Rose and Metallic Bronze, which look gorgeous on everyone. If you prefer more out-of-the-box colors, try NYX Professional Makeup A Bit Jelly Gel Illuminator, which comes in Copper, Champagne and Opalescent.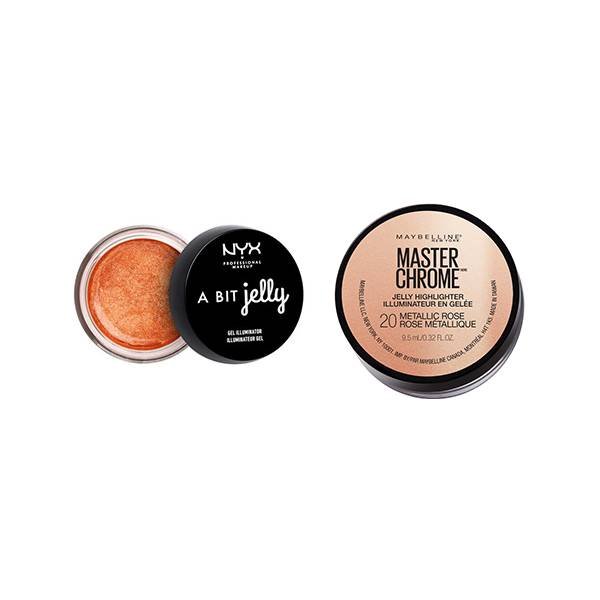 Read More:
7 of the Best Powder Foundations and Why You'll Love Them
7 Hydrating Lipsticks for a Moisturized Pout
How to Fix Any Eyebrow Mistake
Read more