Influencer Hack: Mix Oil and Matte Foundation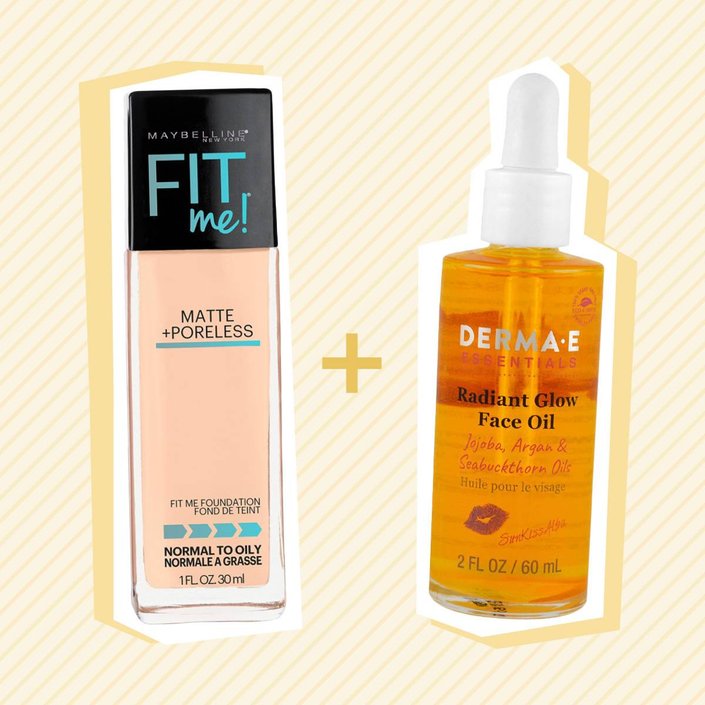 Question: What do you get when you mix a popular foundation and one of the buzziest face oils out right now? Answer: Flawless skin that looks like skin. We picked up this tip from megababe @farahpink, a blogger whose makeup skills are #onpoint.
Here's the hack: Wear Maybelline Matte + Poreless Foundation with Derma-E SunkissAlba Radiant Face Oil. The Maybelline foundation is a cult favorite and is known on the beauty streets for standing up to a full day of activities while still being blendable and comfortable. The Insta-friendly golden oil is wildly hydrating and contains shimmering gold flecks of mica.  
These two aren't meant to be mixed, but layered instead. To get the look, cleanse and moisturize as normal. Before applying your foundation, pat the oil into your skin, and wait a few moments for it to settle. Once it absorbs, layer the foundation on top, and watch the magic happen. This product won't turn you into a dewy goddess, but it will make your skin look more like your own even with a full face of matte foundation. It's the perfect option for the babe who wants to go matte but not too matte and wants a flawless, skin-like finish.
Would you try this combo? Let us know in the comments below!
Read more
Back to top