Every Type of Eyelash Service — Explained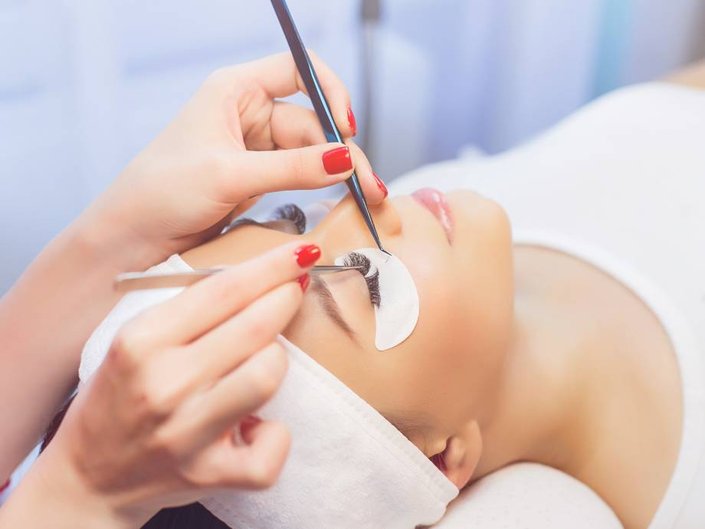 Mascara is a godsend and all, but we can't wear it all the time. I mean, physically, you could, but we strongly discourage that (your lashes will not fare well). But one way to achieve the lashes of your dreams is to find an eyelash service that works for you and your #LashGoals — like eyelash extensions for bolder, picture-perfect lashes, eyelash tinting for darker lashes or a lash lift for natural volume.
We reached out to celebrity lash expert Clementina Richardson, founder of Envious Lashes in NYC, for a helpful guide on how to find the best eyelash service for you. To begin, it's important to note that there isn't a one-size-fits-all lash service. "People, in general, have different opinions of what is ideal or beautiful to them," says Richardson. "I always suggest doing your research to find the right lash stylist in your city. Just like you would research a great hair colorist or personal trainer, avoid going to any lash stylist that can see you at that exact moment, or who is offering a lower rate." Then, even after you've found your lash stylist, keep in mind that your specific eye shape or your ideal look might lend itself to a service you're not familiar with — yet. That's where we come in:
Ahead, learn more about four different types of eyelash services to help decide on which one is right for you.  
EYELASH EXTENSIONS
What It Is: "Lash extensions are semi-permanent synthetic, faux mink or silk fibers that are applied strand-to-strand of your natural lashes to enhance your natural eye," says Richardson. "They are carefully applied one at a time (typically 80 -140 per eye) using a specially-formulated, semi-permanent glue that shouldn't irritate or damage the natural lash. The lash is only applied to an existing lash, not the skin. The process takes anywhere from one to two hours depending on the desired volume. Clients lay comfortably with their eyes closed for the duration of the application process."
Who It's For: "For those looking for a more dramatic look, lash extensions are a great option and can be customized much more than other lash services," adds Richardson. "There are so many options to choose from when it comes to extensions, ranging from the size of the curl to the length of the lash. At Envious Lashes, we take the first five minutes to have a detailed consult with every client. This includes asking them what look or style they want to achieve, showing them pictures from our previous work and discussing their individual needs and concerns." No matter where you go, your lash technician should take these matters into consideration before you begin the process.
How Long It Lasts: Up to six weeks.
EYELASH LIFT
What It Is: "A lash lift (also known as a lash perm) curls your lash from the base to tip so that you can see its full length," Richardson explains. "It should be done carefully by a licensed and certified professional. It's a fast service that lasts four to six weeks and can transform your lashes in 45 minutes to one hour. Lash lifts will enhance your natural lashes at a minimal level. It won't create texture, add color, contour, shape or dimension to your eyes. Disclaimer: You must have at least a 4mm lash to get the service."
Who It's For: "Lash lifts are ideal for those who don't want the maintenance or added volume of extensions. You don't need to come in as frequently for touch-ups as you do with extensions."
HOW LONG IT LASTS: Six to eight weeks.
EYELASH TINTING  
What It Is: Eyelash tinting, in short, is exactly what it sounds like. A technician will brush dye onto your lashes to make them more noticeable. This is especially beneficial for those with light eyelashes. "This quick service only takes 15 minutes from start to finish and it's a great pick-me-up for those looking to darken their lashes," says Richardson. As is the case with all eyelash services, make sure to do your research and check out reviews to make sure it's a safe, clean spot.
Who It's For: "It's great for those who want to achieve effortlessly awoken eyes — they're your natural lashes, only better."
How Long It Lasts: Three to four weeks.
Read More:
Real Talk: How the Hell Do I Apply Magnetic Lashes?
How to Use a Lash Serum and Mascara Together to Achieve Your Dream Lashes
How to Make False Lashes Last (Basically) Forever
Read more
Back to top