How to Master the Eyeshadow Draping Trend, According to a MUA
October 08, 2018
Draping eyeshadow is one of those trends we spotted in a beauty magazine and immediately had to rip out to tape to our inspo wall. And while the look is a little intimidating and not typically wearable, it's so beautiful in execution when done correctly that we want to slap it on our faces in any way we know how. While we certainly encourage you to try this daring look to the fullest, no matter where you're headed or who you are, we understand that making it a little more accessible for the average beauty guru is key. We chatted with NYC-based makeup artist Justine Sweetman on exactly how to do this, and these are her top three hacks to get the look right, from start to finish.
Choose a Pigmented Product and Work Your Way Out
Sweetman's first tip is an important one: when draping shadow into your temple and cheekbone, make sure you're using a highly pigmented formula. Sweetman notes to start with the eye, and work outward. "Blend a color-dense shadow onto the lid using a medium sized fluffy brush, then use the leftover color on the same brush to blend onto the top of the cheekbone, where you would place a highlighter," she notes. This will ensure that your draping looks natural, and you won't end up with too much product on the cheek.
Make Sure Your Tools Are Clean
"Make sure your brushes are squeaky clean before you start," urges Sweetman. Leftover color on a brush can muddy the look, so it's vital that every bristle is as good as new when blending out the shadows. To finish the look, "take a clean, small blush brush to buff out the color on the rest of the cheekbone and out toward the temples," she adds.
Go Lighter for More Wearability
Sweetman's last tip is to reach for a lighter shade when you drape if you're looking for a more subtle and accessible look. "Try using a soft pink or lilac," she says. "You can keep the color on the edge of the eye and pull it out slightly, rather than extending it to the hairline." This will make your draping appear out of the box, without the commitment of a completely editorial look — and we couldn't be more enamored.
Read More
5 Highlighters That Double As Lipsticks
How To Rock A Shiny Lip According To Gigi Hadid's Makeup Artist
PHOTO: COURTESY OF MAYBELLINE
Read more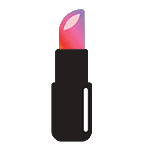 Back to top