Your Step-by-Step Guide to Using Color-Correcting Makeup Like a Pro
June 20, 2023
Applying green, purple or red pigments on your face may seem intimidating and best left to the makeup pros. After all, it can be enough of an undertaking already to find the right shades of
foundation
and concealer to match your skin tone and
undertone
. But when used correctly,
color-correcting makeup products
should completely blend into your skin and disappear, leaving behind a
flawless complexion
. To help you determine which type of color-correcting makeup is right for your complexion needs, we've enlisted the help of celebrity makeup artist
Judi Gabbay
to break down five common color-correcting shades and how to use them.
What Is Color Correcting?
"Color-correcting makeup is the art of neutralizing certain tones in the skin or under the eyes before applying foundation or concealer to get the most flawless application," says Gabbay. The makeup technique uses complementary colors (think back to color theory in high school art class) to neutralize uneven complexion tones, like redness or purple under-eye circles.
"We often use concealers or foundations for skin issues, but even with the fullest coverage concealer, issues can still peek through," says Gabbay. "Color correction ensures a true neutralization before any other product is placed over top for the best coverage."
To understand which colors go together, envision the color wheel — the hues opposite one another are complementary colors and balance each other out when combined. "Let's say you're looking to combat blue under the eyes — the opposite color of blue on the color wheel is orange," explains Gabbay. "Any colors that are opposite each other are complementary and work great for color correction." Or, as another example, the color opposite red on the color wheel is green, so green color-correcting makeup helps mask redness.
"Color correction should always be applied after skincare and before foundation and concealer," she notes. "Using a small brush to pat on, and a damp beauty sponge to stipple is the easiest way to apply color corrector."
Which Color Corrector Should You Use?
Purple Color Correctors
What it does: Purple color correctors eliminate sallow tones, i.e. a yellow-tinged complexion. This is ideal for those who want to revive dull skin or conceal acne scars. The purple counteracts the yellow and creates a healthy, glowing effect. "Lavender correctors are great if you want to color-correct orange tones in the skin," adds Gabbay. "In fact, using an orange corrector first under your eyes, then neutralizing that with lavender is one of my favorite tips for a flawless under-eye."
How to use it: Try the
NYX Professional Makeup HD Photogenic Liquid Concealer in Lavender
and blend it over the desired area with a damp makeup sponge. Make sure you blend the color outward before layering on your foundation for the most even application.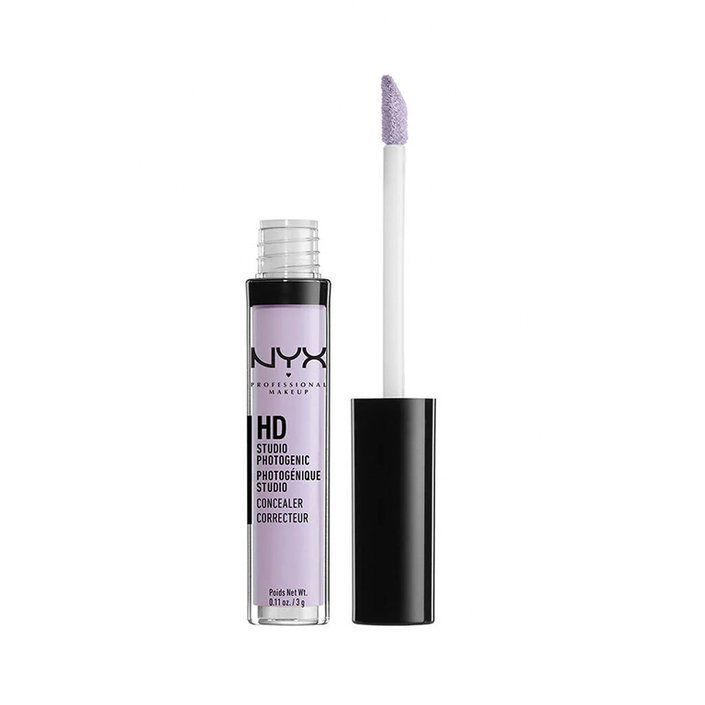 Yellow Color Correctors
What it does: Yellow color correctors counteract blue and purple tones. They are most commonly used to lighten under-eye shadows and dark circles on light skin tones. They also work well as an eyeshadow primer. According to Gabbay, yellow color correctors even work great as a way to brighten up a dull complexion.
How to use it: Apply a yellow concealer on the under-eye region, creating a triangle shape. Blend the concealer out with a sponge or concealer brush. Work any excess over the lids as well to create one uniform shade around the whole eye region. We recommend the NYX Professional Makeup Color Correcting Palette, which contains six color-correcting creams to target a variety of skin concerns.
Orange, Peach and Red Color Correctors
What it does: "I love orange or red correctors to neutralize blue under-eyes or darkness and discoloration around the mouth and nose," says Gabbay. Orange and red concealers are especially ideal for those with warm, dark skin tones who want to camouflage discoloration or dark circles. If you have a light or fair complexion, you'll probably have better luck with a peach color corrector to disguise hyperpigmentation. It's also a great option for covering bluish under-eye circles on fairer skin tones.
How to use it: Dab a concealer like the Lancôme Teint Idole Ultra Camouflage Color Corrector in Orange/Red along areas of discoloration, like the upper cheekbones, around the mouth and the under-eye area. Blend it out with a brush or your finger, using rapid dabbing motions.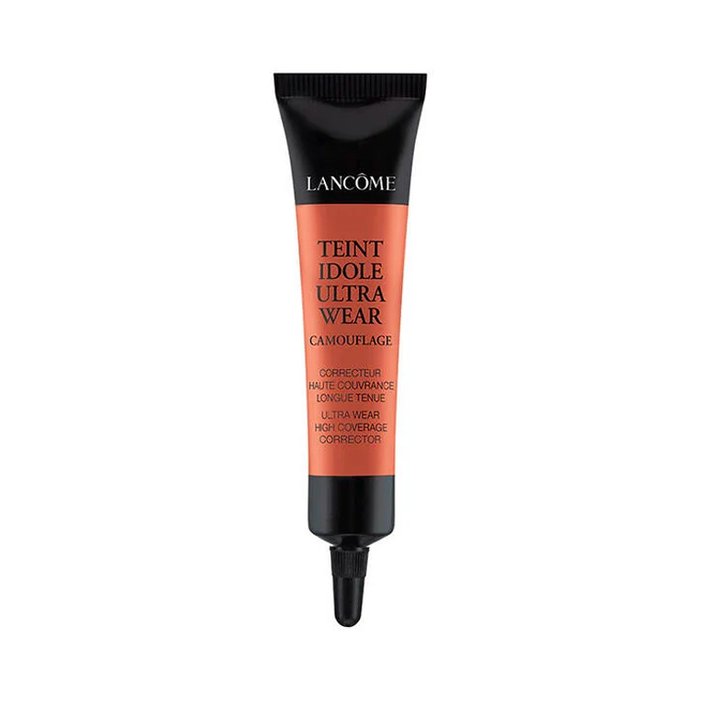 Pink Color Correctors
What it does: Pink color correctors can help mask signs of fatigue and brighten dull skin. Additionally, "light pink corrector is great for brightening up any sallowness in skin," says Gabbay. "I particularly love this on olive skin tones for an illuminated under eye."
How to use it: Because the soft pink is more of a neutral shade, you don't need to do as much blending. For a multitasking product, try the L'Oréal Paris Age Perfect Rosy Tone Moisturizer, a hydrating face cream with rosy pigments to help revitalize the look of dull skin.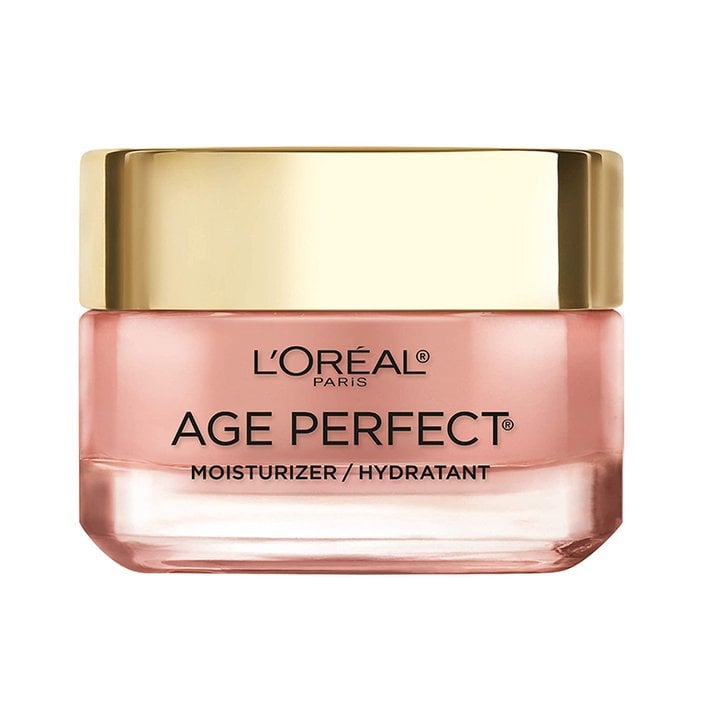 Green Color Correctors
What it does: "If you're looking to neutralize redness from acne or rosacea, a green color corrector patted on problem areas can help conceal it even more," explains Gabbay. Whether you have an inflamed breakout you want to hide or you're prone to redness all over, green color-correcting concealer is a foolproof solution.
How to use it: If dealing with facial redness, use a green primer and spread over areas like the apples of the cheeks, tip of the nose and chin. You can also reach for a green-tinted moisturizer, like the La Roche-Posay Toleriane Rosaliac AR Face Cream. To neutralize small areas of redness — i.e. breakouts — use a concealer. One of our favorites is the Lancôme Teint Idole Ultra Camouflage Color Corrector in Green.
Blue Color Correctors
What it does: Blue color-correcting makeup comes in handy for neutralizing orange hues. If you have a foundation that's too warm or orange or you were a tad overzealous with the self-tanner, a blue color corrector is the way to go.
How to use it: Mix a bit of blue color-correcting concealer into your liquid foundation to balance out any excessive warmth or orange undertones, then apply your face makeup as you normally would.
Our Favorite Color Correctors
If your skin is prone to redness all over or you struggle with frequent inflamed breakouts, consider adding a green-tinted primer, like the L'Oréal Paris Prime Lab Up to 24H Redness Eraser, to your makeup arsenal. The non-comedogenic formula won't further exacerbate your breakouts and the niacinamide-infused formula will actually work to even out your skin tone with use over time. A sort of skincare-makeup hybrid, this primer also extends the wear of your makeup for up to 24 hours.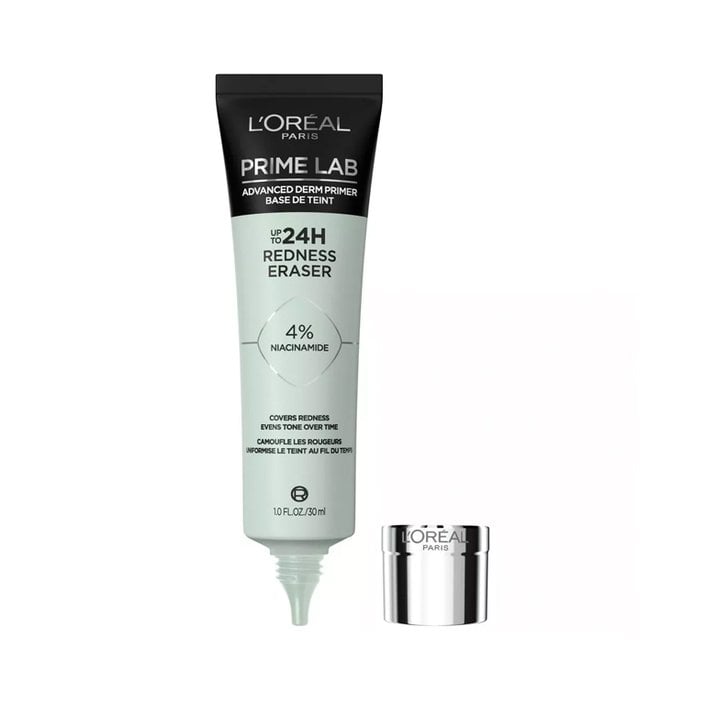 The NYX Professional Makeup Color Correcting Palette is a versatile makeup must-have for any beauty lover. Instead of having to splurge on all of the different color correctors, this palette has green, yellow, lavender, peach and brownish-orange options in one convenient place. The creamy formulas melt into your skin for a seamless finish that layers well with foundation and concealer. You can use the shades separately or wear several of them together to target different complexion concerns at the same time.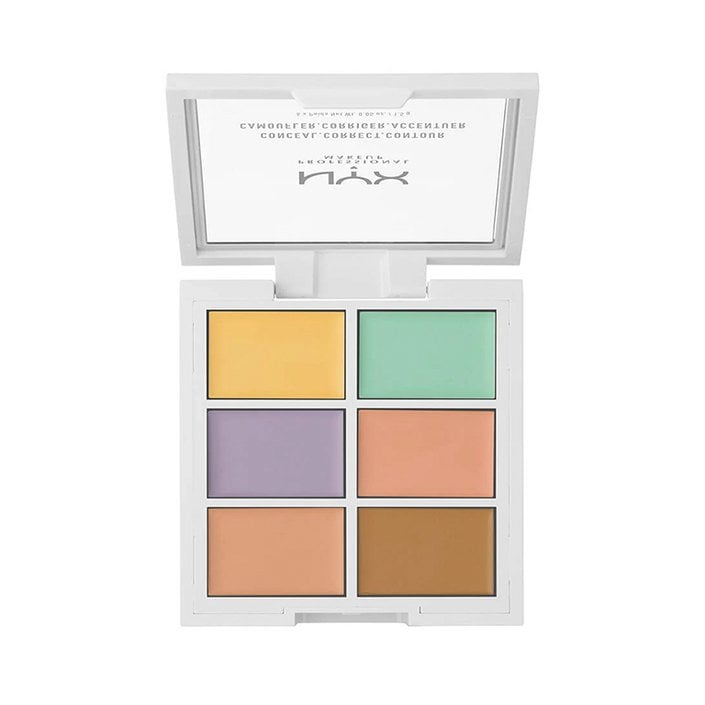 We're obsessed with the travel-friendly pen format of this color-correcting makeup from Maybelline New York. All you need to do is dab the pigment onto the spots you want to neutralize and use the soft blender tip to buff out the color for a blended, natural-looking finish. Use the blue shade to balance out a sallow complexion or the light pink option to brighten and highlight. It also comes in apricot, green, red and yellow.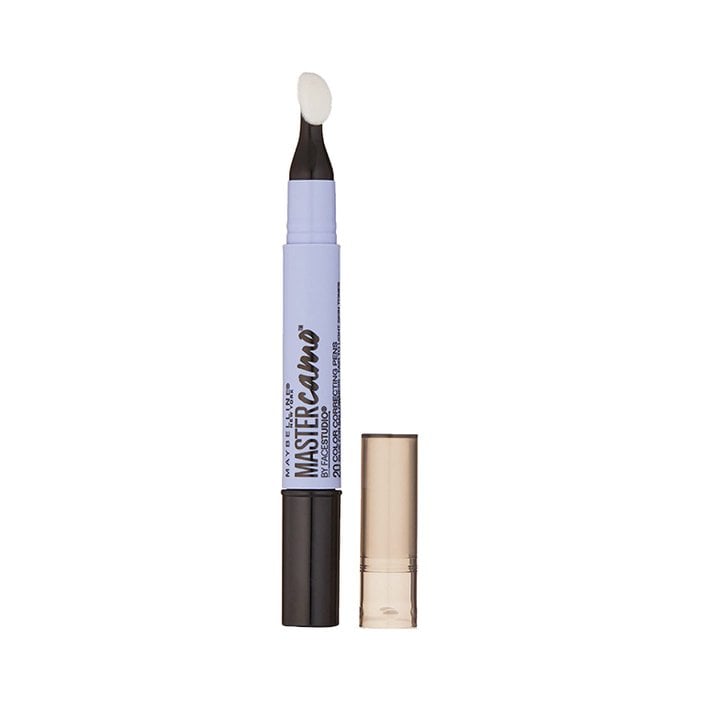 The Lancôme Teint Idole Ultra Wear Camouflage Color Corrector is full coverage and super pigmented to give you an airbrushed, evened-out complexion. Skin imperfections are instantly masked with this velvety, ultra-blendable formula. Choose between green, orange/red, peach and yellow shades depending on your complexion needs.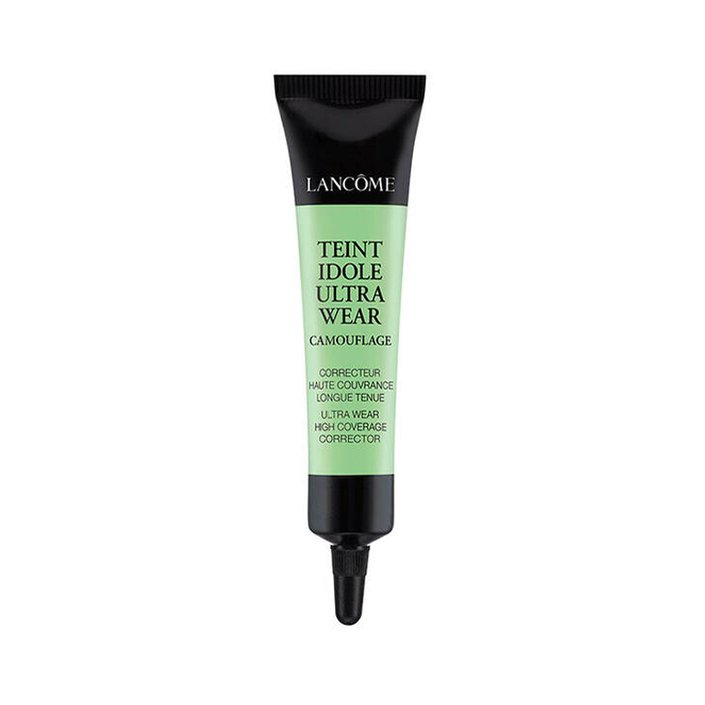 Not a big makeup person? If you struggle with redness but you're not the type to layer on full-coverage foundation and concealer every day, check out the Hero. Rescue Balm +Red Correct. This skincare product has a subtle green tint that effectively neutralizes redness yet completely blends into your skin so you can wear it bare-faced, no foundation necessary. It's also formulated with panthenol to help soothe dry, flaky or irritated skin.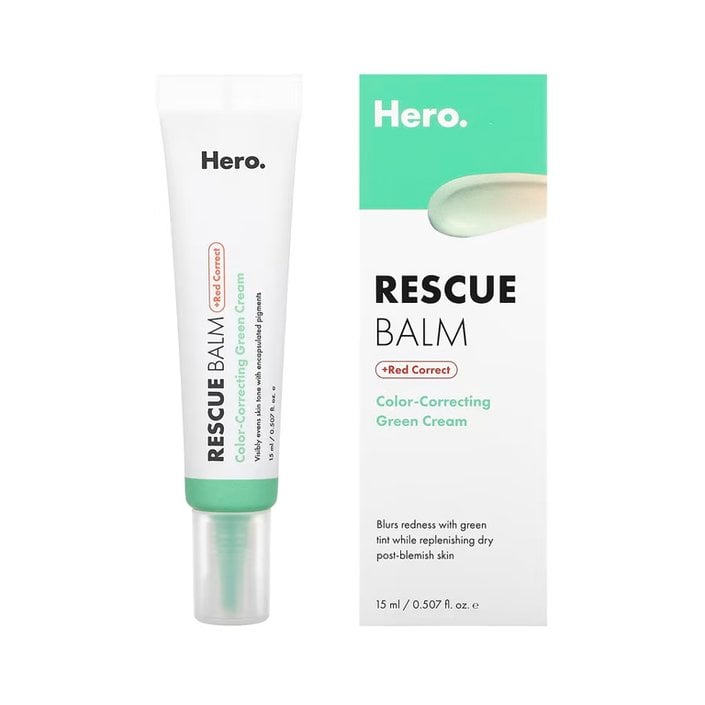 Another color-correcting palette option, the stila Correct & Perfect All-In-One Color Correcting Palette contains seven shades — five cream formulas and two pressed powders. The cream correctors include peach, pink, yellow, green and orange, while the powders are yellow and lavender. Pro tip: Lightly dust the lavender powder all over your face to brighten up a sallow complexion.
Read more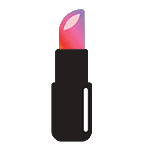 Back to top