Self Isolation Is the Perfect Time to Try a New Self-Tanner — Take It From a Newbie
April 21, 2020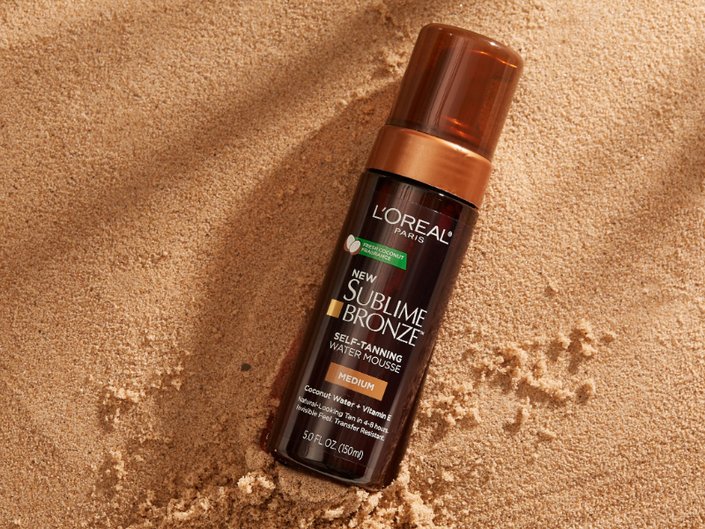 Before trying the L'Oréal Paris Sublime Bronze Self-Tanning Water Mousse, I had never used a self-tanner before. Don't get me wrong, I love glowing, bronzed skin, I've just always equated self-tanners with an artificial, orange look. Plus, I assumed it'd be a lot of work to apply one.
Despite it not being warm enough yet to wear dresses and shorts yet (and the fact that I'm currently staying inside most of the time), my so-pale-they're-basically-translucent legs are a point of insecurity for me, which is why I finally caved and decided to give the Self-Tanning Water Mousse a try. To my surprise, the experience was way better than I anticipated. Read on for my full review.

About the Formula
The L'Oréal Paris Sublime Bronze Self-Tanning Water Mousse has a lightweight and hydrating formula made with coconut water and moisturizing vitamin E that makes your skin feel smooth and soft to the touch. It's suggested you shake the formula well before applying it evenly over clean, exfoliated skin. Once applied, wash your hands thoroughly and let your skin completely dry before putting clothes on. Wait four to eight hours for the color to fully develop and then you're free to shower. If you want a longer-lasting tan, it's recommended to apply it up to three times over the course of 12 to 24 hours.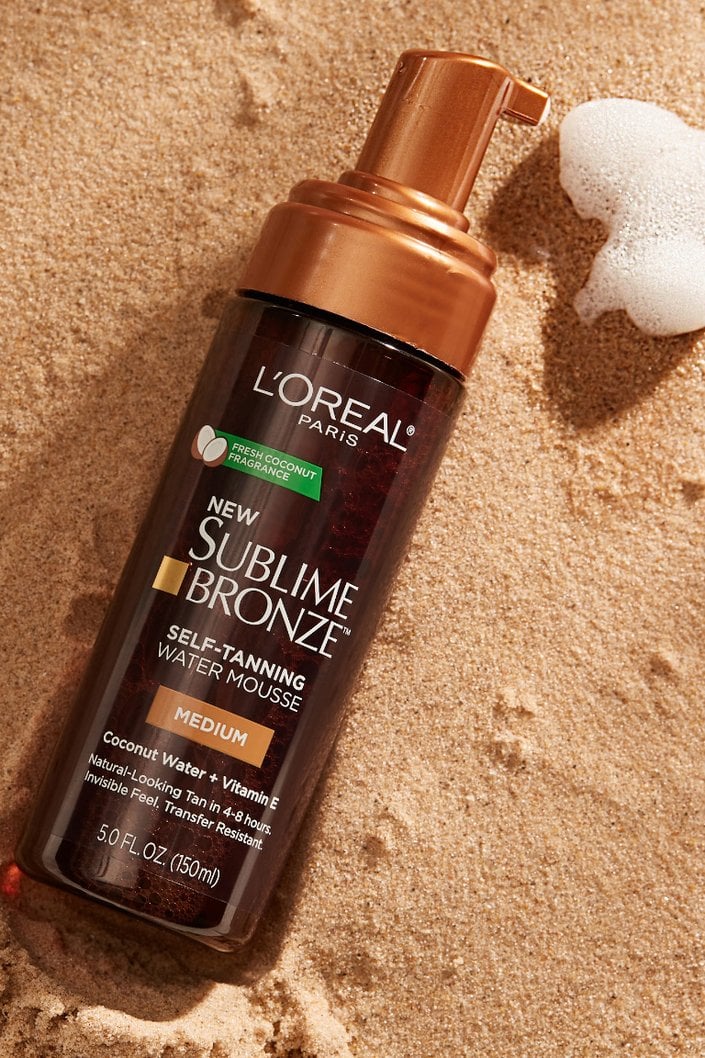 My Review
When I first pumped the formula onto my hands, I immediately fell in love with the smell. One whiff of the sweet smelling coconut was enough to transport me to a tropical beach with a piña colada in hand. While it initially comes out as a clear foam texture, once I applied the formula all over my clean and exfoliated legs, it transformed into a water-like consistency. It was really easy to apply and absorbed very quickly. After about 15 minutes, the formula had completely dried down. While it did feel a bit sticky to the touch at first, by the time I was ready to wash it off, I had forgotten that I had self-tanner on my legs altogether. I allowed the color to develop for four hours. After I showered, I was pleasantly surprised to see that my legs had a subtle, glowing color. I loved that it gave my legs a healthy touch of color without looking unnatural or orange. Not to mention, my legs felt really soft — shout out to that vitamin E!
The L'Oréal Paris Sublime Bronze Self-Tanning Water Mousse is a great option for first-time self-tanners. It's easy to use, smells amazing and offers a natural-looking tan that lasts for days. Whether you're new to the self-tanning game or a veteran, I highly recommend giving this low-maintenance and easy-to-use formula a try.
Photographer: Chaunte Vaughn, Art Director: Melissa San Vicente-Landestoy, Visual Designer: Hannah Packer, Supervising Producer: Jessica Thiel, Line Producer: Kaela Francesca
Read more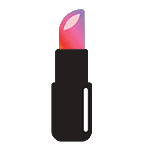 Back to top