5 Mistakes People With Thick Hair Always Make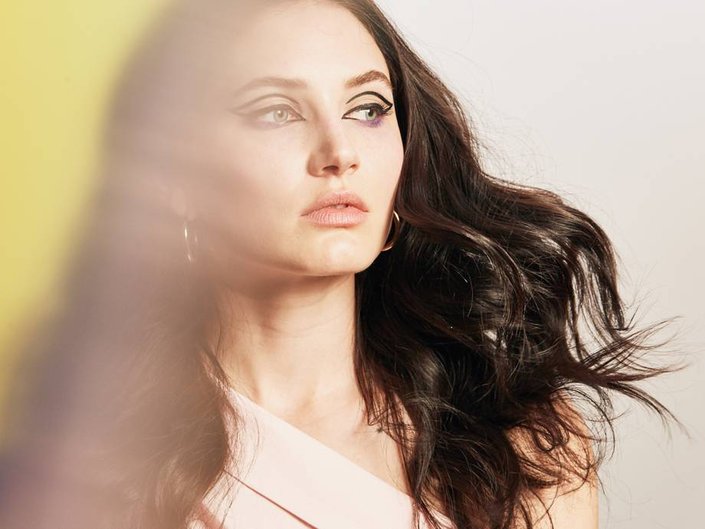 Having thick hair is a big responsibility. The idea of trying new styling techniques can be a bit scary because thick hair generally has a mind of its own. To help relieve you of some of that anxiety, we're sharing some of the most common mistakes people make with thick hair, as well as some best practices, ahead.
Thick Hair Mistake #1: Thinning it Out Too Much
One of the most popular ways people deal with thick hair is by thinning it out. While removing some bulk from your hair may seem like the best way to make it more manageable, in most cases you may actually be making matters worse. Over-thinning thick hair with shears or a razor can cause unwanted volume from the pumped-up, shorter layers left behind during the thinning process. It can also fray the ends of your hair leaving it appearing stringy and unhealthy. Layering the hair properly is the best way to ditch any extra bulk you may have without compromising the look or integrity of the hair.
Thick Hair Mistake #2 Getting a Super Short Haircut
Another route many take to achieve more manageable hair is opting for a super-short haircut. Once again, this may actually create more work for you in the long run. Short haircuts in general require more commitment in the styling and hair-care department, so if you're looking for an easy, breezy style, this may not be the best option. When thick hair is cut too short, styling techniques like sectioning and updos are difficult to do, if not impossible. If you are looking for a shorter style that will work well with thicker hair, try a triangular long bob that is longer in the front. This will make pulling your hair back easier and will also distribute your hair in such a way that it appears sleeker and thinner.
Thick Hair Mistake #3: Getting It Chemically Straightened 
Many clients opt for a chemical straightening treatment in the hopes that it will make their thick hair style easier. What most often happens is the natural texture of the hair is ruined and it becomes over-processed and unmanageable. If you're looking to create an easier, sleeker look try getting a keratin treatment. Keratin treatments fill in the small divots in your hair that create texture to smooth it out and compress the cuticle. These treatments are also not permanent as they wash out over time and eventually restore your hair's natural texture.
Thick Hair Mistake #4: Not Using the Right Shampoo and Conditioner
Another common mistake made with thick hair is using the wrong products. Many mistake thick hair for curly or textured hair and therefore stock up on formulas that are too heavy and weigh it down even more. Thick hair tends to retain oil more due to the density of the hair strands. Over time, this can create a lot of buildup, leaving your locks looking lackluster and dull. With thick hair it's important to properly cleanse it to avoid this buildup effect. Try a gentle clarifying shampoo and light conditioner like those from Kérastase Cristalliste, L'Oréal Paris Elvive Extraordinary Clay Shampoo or Garnier Fructis Pure Clean Shampoo. These formulas work together to wash out any oil and residue left over from styling products and keep your hair looking fresh and healthy.
Thick Hair Mistake #5: Avoiding Layers
If you are part of the thick-hair family, you've probably experienced the fear of a new haircut. Finding the right cut for your thick strands can be a stressful ordeal and it might take a few tries before you find the perfect cut. The anxiety and confusion often causes women to choose the ease of a single-length, blunt haircut. This may work for some but for others, this isn't necessarily the way to go. Don't be afraid to layer your hair! Creating a long layering pattern will not only shed some weight from your hair, but it also gives you more styling versatility and a beautiful shape. Just make sure to avoid short layers.
Read More:
5 Overnight Hairstyle Hacks to Save Time in the Morning
Beauty Q&A: What's the Best Way to Tame Frizzy Hair This Summer?
Read more
Back to top