6 Hacks for Your Best Hair This Week
Nothing ruins your week like a bad hair day (or seven). Instead, set yourself up for strand success by taking care of your locks from shower to bun! Not sure what we mean? You will once your check out our tips for your best hair this week (uhm, and of your life!) because sometimes hair has a mind of its own …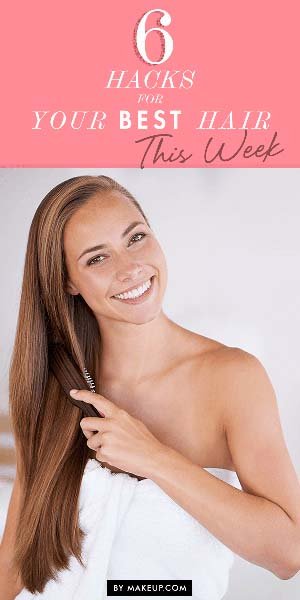 Cleanse & Condition: The most essential key to your best hair this week (and ever!) starts with sudsing in the shower. The wrong shampoos can leave your locks feeling high and dry, or heavy and greasy — even though you just washed! An alternative is a cleansing conditioner— ever heard of it?
Biolage Cleansing Conditioners have the smoothing qualities of a hydrating treatment that cleanses away dirt and residue without stripping away the good stuff. So, you're left with a lightweight feel (ideal for styling!) and super shiny strands in just five minutes.
Style Safely: If you're not using a protectant product and your hot tool is set to the blazing-heat-of-the-sun, it's no wonder your hair is on the dry, brittle side! How do you expect to rock luscious locks this week with that texture?! Redken Hot Sets 22 Thermal Setting Mist – Heat Protectant Spray will do the trick.
Get Your Shine On: All that heat sucks the moisture right out of your not-so-silky strands. Tame frizz and add shine with Garnier Fructis Marvelous Oil Frizz Defy for hair that looks like it's never been touched by damaging agents like heat, hard water, hair color, the sun, air, and, well, life …
Utilize Dry Shampoo: Seriously, dry shampoo is your BEST friend. And if it isn't, it should be. Keep your roots oil-free when you're on day two, three or even four. What? Don't look so surprised! We won't judge if you don't. Plus, it's the perfect product to up your volume and your confidence.
Rock a Pony: Not ready to wash your locks yet (thank you dry shampoo!)? Then it's ponytail time. Maintain your chic-ness by rocking one of these three low pony looks  at the office or out with friends, or seriously anywhere for that matter because you look amaze!
Then a Messy Bun: When in doubt, throw it all up in a messy bun. Then start the cycle all over again!
What are some of your strand-saving tips for when you're having one of those weeks? Share in the comments below! Photo: iStock 
Read more
Back to top