16 Best Nude Nail Polishes for Every Skintone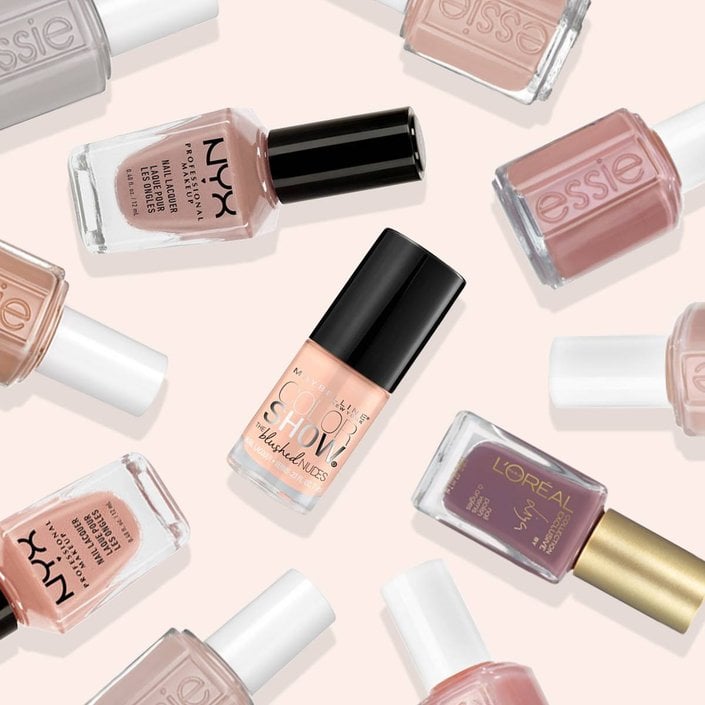 There are a few trends out there that we can safely say will never go out of style: a Chanel suit, red lipstick and the little black dress (LBD). On the beauty front, nude nail polish is a look that has some serious staying power. There's truly something to be said about a shade that works for every season and any occasion.
However, like red lipstick, blush, and foundation, nude nail polish comes in a variety of textures, hues and finishes. So which nude is the perfect match for your skin tone? Well, we created a complete guide to the nude polish shades that'll work best for you and your lovely undertones. Take a look and get ready to go nude.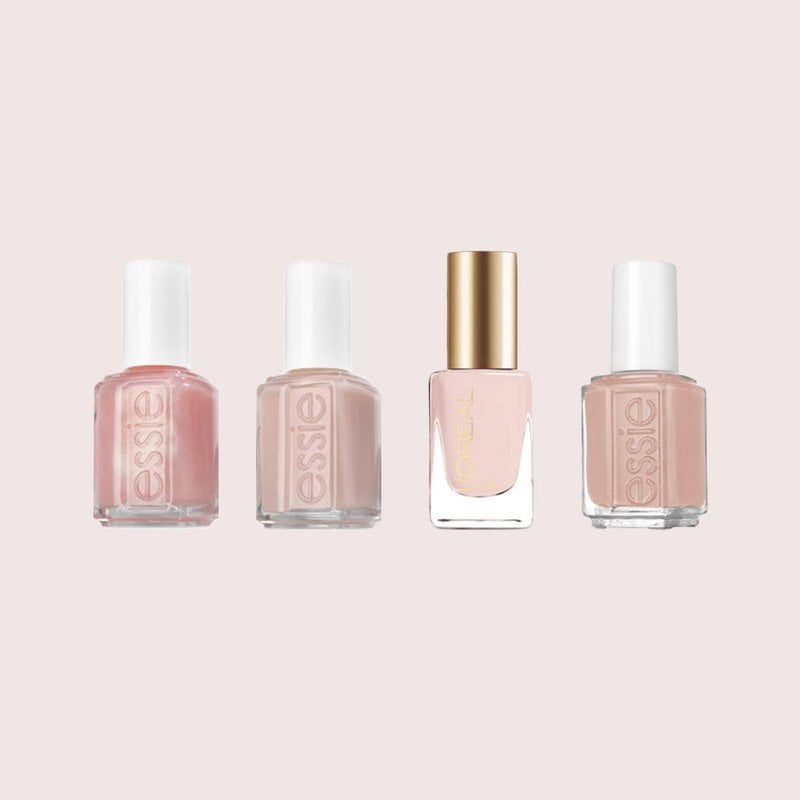 Fair/Light Skin Tones
Because of your lighter, cooler-toned skin, white or beige nudes should be avoided, as they can wash you out (and get lost on your fingers!). The key to rocking nude the right way is to allow it stand out — we know, this sounds a bit counterintuitive to the word "nude," but it's the truth. Sheer pink shades are the best way to go as they add a touch of warmth and contrast to your pale skin. Think: blush or soft rose.
Your best nude nail polish options:
Essie Nail Color in Ballet Slippers: There's a reason this little number has been the brand's best-seller for years and has won countless beauty awards. The pale pink shade works wonders on any skin tone and nail shape, making it a staple in every salon and beauty drawer (including ours)!
YSL La Laque Couture in Beige Leger: If high-shine is your finish of choice, look no further! We love the warmth and depth of this timeless nude hue!
Lancôme Paris Vernis In Love in Rose Vintage: If you're looking for nude with a little gleam to it (sans sparkle) go with this pretty rose shade! It features a subtle, iridescent shine that helps you stand out without going overboard.
Essie Nail Color in Nude Beach: Let your true colors (or color) shine with this glimmering, sheer pink that's perfect for a summer day on the beach!
Essie Nail Color in Bare With Me: This warm apricot takes your natural nail hue up a notch. It has the slightest cast of gray that keeps in neutral and less orange.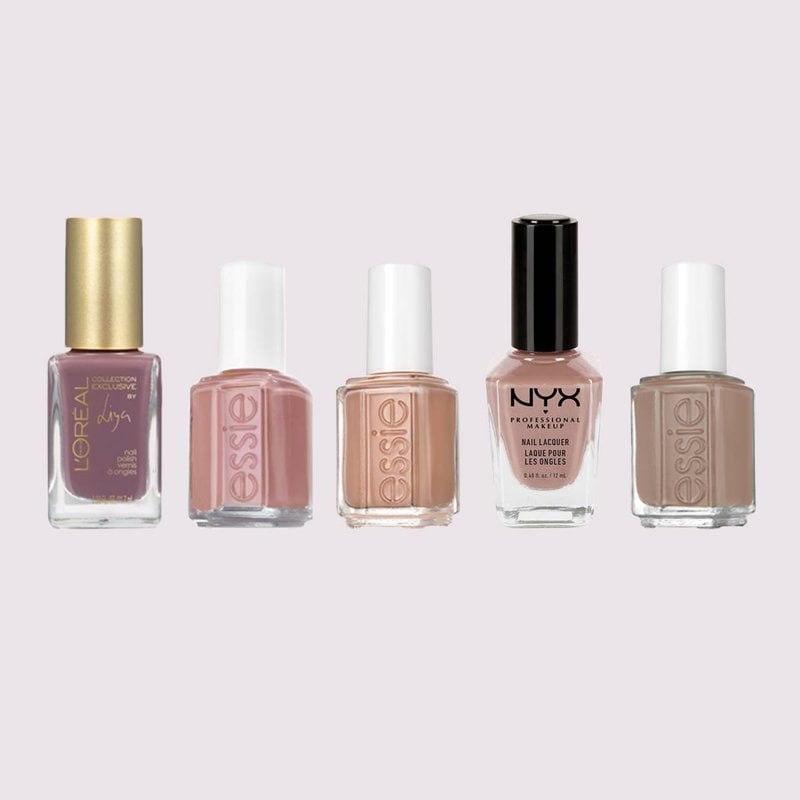 Medium/Olive Skin Tones
Medium skin has a beige or light tan shade to it, with yellow or golden undertones. Olive has a bit more warmth than medium tone and has more brown and/or green undertones to it.
When it comes to nude polishes, make sure you avoid soft browns or warm mauves as they will blend into your skin tone. Go the lighter/brighter route with pinkish nudes that lean on the cooler side. If pink isn't your thing, try pale taupes or light beige shades to get the perfect nude. Check out the shades that fit your medium/olive skin to a tee.
Your best nude nail polish options:
L'Oreal Paris Colour Riche Nail Polish in How Romantic. Who said you can't sparkle in the nude? This natural, beige shade throws a little glitz and glam into the mix for a subtle mani that can still hold its own.
Maybelline New York Color Show Nail Lacquer in Go Nude: This classic matte nude has just a hint (literally a teeny-tiny pinch) of pink that lends nails a soft, feminine touch.
NYX Cosmetics NYX Girls Nail Polish in Pearl Necklace: This pretty polish is nude with a yellow undertone, making this warm nude a great option for medium/olive skin tones.
Essie Wild Nude: This shade is definitely over the taupe! This light tan color with a wash of white is the perfect nude for any occasion.
Essie Nail Color in Without a Stitch: The perfect clean light gray that adds a wash of color over your nails. You'll love it's subtle, but gorgeous shade.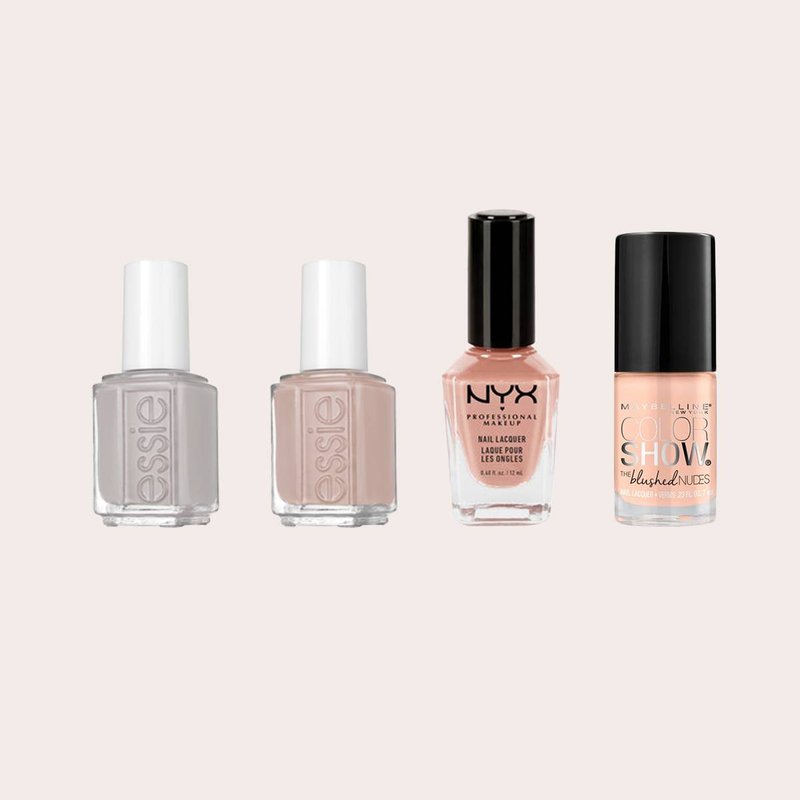 Deep/Darker Skin Tones
Dark-skinned complexions range from copper and espresso tones to dark brown and ebony.
When searching for the perfect nude nail polish, it's safe to say most shades are gonna flatter your tone. And while light and bright shades offer a nice contrast, rich, dark nudes are totally dreamy (and they won't wash you out!). Try deep taupes, dark browns, warm roses, etc. Think warmth. Here is some color inspo for your deep, lovely skin tone.
Your best nude nail polish options:
Essie Nail Color in Eternal Optimist. This spicy rose shade features a nice shiny finish that gleams and sparkles perfectly. You'll literally become a glass-half-full person immediately after applying this fun, shimmering polish.
NYX Cosmetics Nail Lacquer in Choco-Taupe (see above image). The creamy, light brown tone reminds us of yummy chocolate ice cream...and who wouldn't want that on their nails? Talk about delectable!
L'Oréal Paris Colour Riche Collection Exclusive in Liya's Nude (see above image). If you're looking for a more feminine touch of nude, try a deep gray-rose shade like this satiny one from L'Oréal Paris. The shade is super girly and elegant, so opt for this one for your next formal affair.
Essie Nail Colors in Truth or Bare and Picked Perfect: The first, a rich cinnamon brown with a hint of red adds a sexy depth to nails, while the second shade, a caramel brown, has just a touch of red-violet.
The Nude Nail Rundown
Applying nude nail polish may seem like a no-brainer process. But, according to the pros, it still requires a little finesse. In addition to picking the right shade, there are some key rules of thumb to follow. Check out these tips:
Steer Clear of the Cuticle: "Whenever I apply nail polish, I always avoid the cuticle area and if I do get a little polish on the skin, I wipe it off immediately," says nail artist Mimi Wilson, a.k.a. "Mimi D." Another easy way? Dip a cuticle brush in nail polish remover and use it to brush over the paint on your skin till it's gone.
Triple Up: "When I use nude nail polish, I like to apply it in two thin coats, and one thicker, to avoid any streaking," says nail artist Reina Santos. "I usually apply three coats to achieve opacity. The third coat is applied a little thicker to even everything out. I also use a generous amount of top coat to smooth out the polish."
Moisturize the Nails: Because your nails are gonna be about as naked as can be (literally), your hands will be on full display, so make sure you're keeping them looking healthy and hydrated. That means your cuticles need to be in check. Invest in a cuticle oil or lotion like The Body Shop Almond Nail & Cuticle Oil and keep it in your purse or desk for reapplications throughout the day.
Nude Nail Effects
News flash: Nude does not equal boring. There are quite a few different directions you can go with neutral nails that will still be flawless and stunning. Here are a few ways to mix things up.
Go Matte: There's a reason matte has been the "it" finish for the past few years. Although the complete opposite effect to its glittery, creamy counterparts, shineless finishes still make quite an impact. Matte top coats (like Essie Matte About You) offer a chic, clean finish that is far from boring, especially when paired with an equally clean polish like nude.
Go Glitter: The '90s are back in all their flashy glory, and with them, comes the revival of glitter. And we're talking glitter EVERYTHING: lips, cheeks, shadow and, that's right, nails. If you want to jazz up those nude digits, try a fun glittery top coat like Essie Luxe Effects in Sparkle On Top.
Go Gel: Now that we've sufficiently convinced you of the versatility and general timelessness of a nude nail, you probably want to rock them all the time, right? Well, if you're like us, and you want to make neutral digits a constant fixture in your routine, you should invest in a long-lasting formula. And what's more long-lasting than gel nail polish? Lucky for us, brands are now making it easy to get these chip-resistant, durable polishes for home use! Try a formula like L'Oréal Paris Extraordinaire Gel-Lacque 1-2-3 like Diamond in the Buff to keep the nude times going.
Go Negative: Negative space manicures are a great way to show off your artsy side (not to mention your nail design skills!). Nude nail polish is an ideal component in negative manis, especially when combined with cute, whimsical art, like this flirty Moon Over Paris. So, get ready to whip out the nail art brush and enjoy your new digits.
Go French: French nails are about as classic as they come. The beauty of this ageless style is that it can be tweaked and adjusted to take on a cool new look. Work nude polish into your upgraded modern French mani by trying this tutorial.
Draw on Them: Dust off your drawing skills by adding some fun little effects to your nude digits. Polka dots, flowers, stripes — whatever way you wanna go, go for it! Invest in a nail art pen like The Body Shop Nail Art Pen that allows you to make a work of art with any polish, decor or texture.
What's your go-to nude nail polish? Sound off in the comments below!
Read more
Back to top