6 Best Makeup Brush Cleaners to Complete Your Spring Cleaning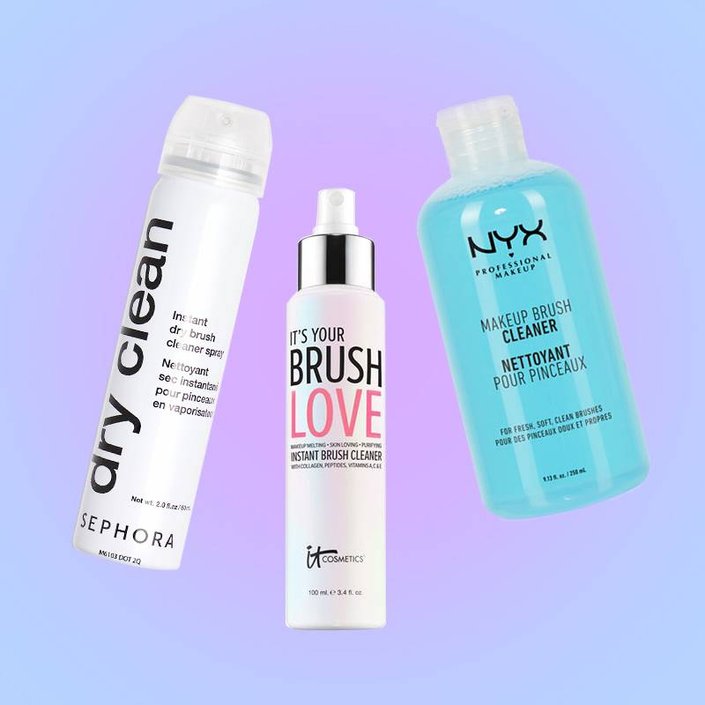 A world without makeup brushes is a world we don't feel entirely safe in. Whether you own just one or two brushes that are crucial to your everyday makeup application or you have a specific makeup brush for nearly every makeup product you own, we can all agree they're a staple in our beauty stash. Even when we swap out our foundation or BB cream for a new product, our brushes generally remain the same — which means we ought to take care of them to the best of our ability.
You've heard the rule before: You should be cleaning your makeup brushes at least once a week, but even the strictest, most brush-obsessed beauty lovers know that this commitment is not always humanly possible. Nevertheless, you can never go wrong with washing your brushes as often as you can to ensure you're keeping your brushes fresh from any gunky product buildup, preventing skin-damaging bacteria from growing and thus, prolonging the life of your beloved beauty tools.
To discover the ideal makeup brush cleaner for you, (just in time to complete your spring cleaning) we've  rounded up six of our favorites.
An affordable gel that'll get the job done...
If you're on the hunt for an affordable makeup brush cleanser that'll get the job done, Real Techniques Brush Cleansing Gel is a popular option. To use, you squeeze a drop of the gel onto your palm or a textured surface, add warm water to the surface and then swirl your makeup brush bristles into the gel and water. Once your brushes are clean, reshape them and leave them to dry.
The "dry shampoo" of makeup brushes...
Simply spray Sephora Collection Dry Clean Instant Dry Brush Cleaner Spray product onto your brushes without having to go through the process of rinsing them. Since there's no water involved, this cleansing spray makes it easy to clean your brushes right after you use them.
A liquid cleanser from one of our fave drugstore brands...
NYX Professional Makeup is our go-to for a wide majority of affordable, quality products, including makeup brushes. The brand also has a deep cleaner that works best when paired with the On The Spot Brush Cleansing Pad.
A fun, foam-formulated cleanser...
Sigma Beauty offers a unique cleanser with a foam formula. Pair with Sigma Spa Brush Cleaner Mat for the deepest clean possible. Pump the product one to three times directly onto the wet brush fibers, lather and then rinse with warm water. For a video of how to use the foam product, watch here.
A cleanser that doesn't require water...
Spray IT Cosmetics Brush Bath Purifying Brush Cleanser directly onto your beloved brushes and gently wipe with a tissue or towel to remove unwanted makeup residue. Repeat the process until your brushes are makeup free, and lay them flat to dry for 60 seconds.
A cleaner the pros love...
Though Cinema Secrets Makeup Brush Cleaner isn't the cheapest makeup brush cleaner on the market, it's beloved my makeup artists and enthusiasts alike because it's an antimicrobial disinfectant, quick drying and rinse free.
Read more
Back to top