7 Best Winter Eyeshadow Looks — And How to Recreate Them Yourself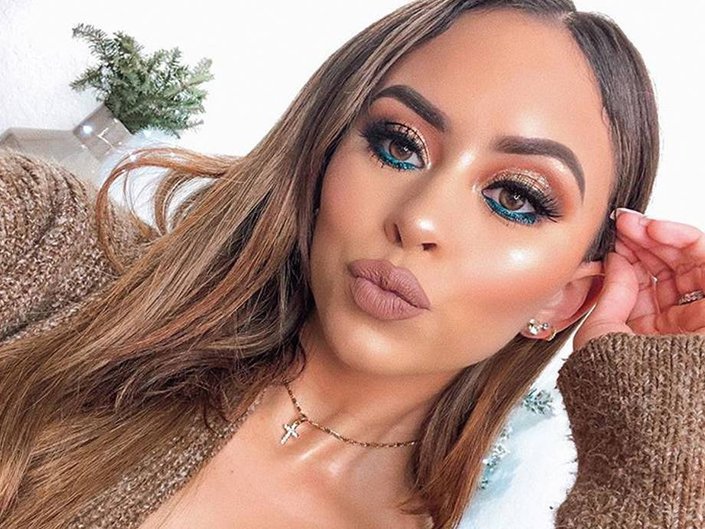 With winter in full swing, it's time to give warmer, bronzey hues a break and opt for icier, cool-toned shades. Whether you try silvery metallics or bright bold blues, winter is the perfect time to incorporate these shades into your everyday eyeshadow looks. With that in mind, we've rounded up our favorite winter-appropriate eyeshadow looks, and we promise you'll want to copy every one.
Peep our picks, ahead:
Soft, Winter Glam
In the winter-themed tutorial ahead, YouTuber Valeria Loren shares an soft glam look that's fitting for the season. She pairs a gold smoky eye with neutral lips — perfect for your next night out or special event.
Cranberry Crush
Tis' the season for punchy deep hues like cranberry, a bold color that gives us all the winter vibes. Watch iluvsarahii slay a monochrome look in the tutorial ahead — it's a look you'll want to copy ASAP.
Feeling Blue
Blue eyeshadow is trending, and after watching this tutorial by Jocelyn Partee it isn't hard to guess why. In the makeup look ahead, she pairs sparkly blue eyeshadow with flawless skin and a glowing highlight. It's the perfect look for someone who wants all eyes on them and is an easy way to add color to a look without going over the top.
A Flawless, Drugstore Beat
Aysha Begum creates a flawless winter makeup look in the tutorial ahead, using mostly affordable, drugstore products. It's the flawless makeup tutorial you need at a price you can live with. Need we say more?
Red-Carpet Level Glam
For an ultra glam look that brings the drama, we recommend this deep purple smoky eye by Samer Khouzami. It has all the trappings of a fire makeup look — airbrushed, flawless skin, dramatic eyes and full, bold brows. Try this next time you really want to go all out and prepare for all eyes to be on you.
An Unexpected Pairing
Green eyeshadow might feel unexpected, but this tutorial by Alissa Ashley proves it just works. She pairs swamp green with burgundy lips in the look ahead, and it's the unexpected combo you'll want to rock all winter long.
A Monochrome Mood
Winter is the perfect time to experiment with soft romantic looks, like the pink monochrome beat ahead. Youtuber Uche Natori combines dusty pink eyeshadow with nude pink lips, for a simple look you can wear everyday.
Read more
Back to top