The Easiest Halloween Cat Makeup Tutorial — In Only 4 Steps!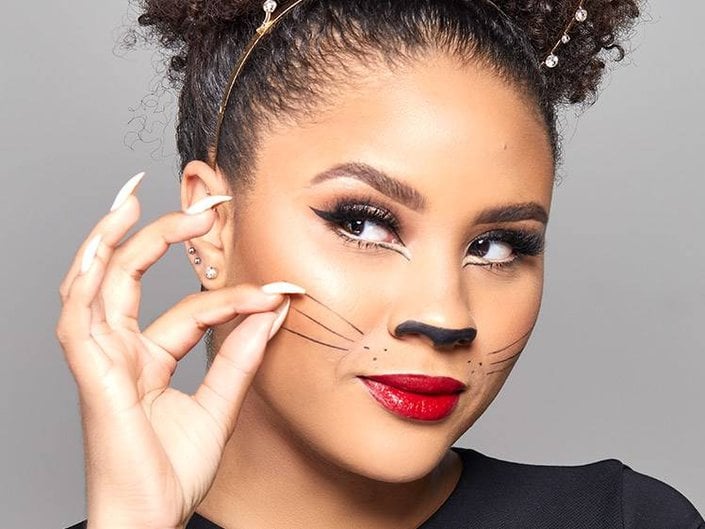 There are one of two ways to go about your Halloween makeup look: You can plan it months in advance with the help of YouTube, Pinterest and Instagram, or you could wait until the very last second on the 31st to throw together a look. No matter which of these sounds more like you, we can all agree that there's a classic idea for both planners and procrastinators: Halloween cat makeup that's been popular since childhood. The Halloween cat look can be an artsy adaptation you spend two hours on or it can be as simple as using three drugstore products in just four steps — your call (we're personally voting on the latter).
Keep reading for (easy) step-by-step instructions about how to bring cat makeup look to life for Halloween — in just four steps.
STEP 1: Apply a neutral-colored shadow with a hint of shimmer all over your lid. We love L'Oréal Paris Color Riche Monos Eyeshadow.
STEP 2: Using a liquid liner like L'Oréal Paris Infallible Super Slim Liquid Eyeliner, draw on a sharp cat eye. Create a reverse wing on the inner corner of your lower lash line to play up the feline drama.
STEP 3: Apply your boldest long-lasting matte red lip. We recommend L'Oréal Colour Riche Matte Lipcolor in Matte-ly In Love. 
 STEP 4: Finish the look by drawing on whiskers and outlining the tip of your nose with black liquid liner.
Read More:
5 Essential Makeup Brushes Every Beauty Junkie Needs
Beauty Products To Keep In Your Bag — In Case You Accidentally Stay Out All Night
17 Makeup-Inspired Phone Backgrounds To Fuel Your Makeup Addiction
Read more
Back to top