A Complete Guide to Facials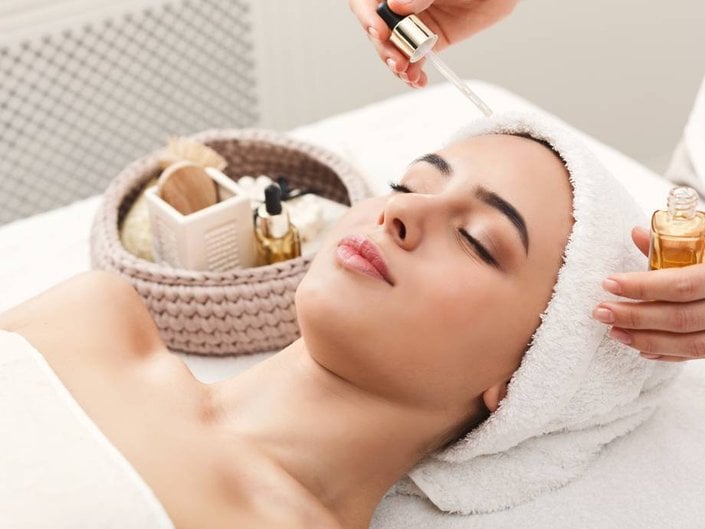 If you're like me, you view facials as a skin necessity. Facials have the power to clear clogged pores, soothe tired skin and leave you with a hydrated complexion so amazing, your skin will be reminiscent of a baby. If you've never had a facial and have listened to one too many horror stories about them going wrong, allow me to put you at ease. Stacy Cox, a veteran esthetician has worked with countless facial first-timers and walked them through the process. Ahead, she'll answer all of your burning questions about facials so you'll know what to do before, during and after your treatment.
How Should You Prepare for a Facial?
When you're excited, anxious or just very relaxed, it's easy to forget to share important skin information with your skin-care therapist. Create a list  on your phone or a piece of paper of products you're currently using on your skin at home, how often you get facials, any allergies you might have, as well as medications you're taking so you can get the best experience possible.
If you're pregnant, claustrophobic or have aversions to certain scents these are very insightful things to share with your esthetician so he/she can use the safest equipment to protect you and select the appropriate products to amplify the outcome. Think about what goals you are looking to achieve, what bothers you about your skin and what issues or concerns you'd like to work on.
Think  along the lines of treating dryness, oiliness, fine lines, sun damage and other aligning issues and concerns. Allow the esthetician to do a thorough evaluation and make suggestions as to which facial treatment and skin-care products best fit your needs.
Another thing to note before your facial is to avoid too much sun exposure (ideally up to a week prior). If you want to focus heavily on pore-cleansing and extractions, it's best to schedule your facial for the end of the day or week, so you can have some free time to allow your face to rest. If the facial is in preparation for a big event like a wedding or a class reunion, schedule the appointment five to seven days before the big day.
Are There Certain Facials That Are Better for Specific Skin Types?
Absolutely! At Pampered People — my skin-care studio — we have many different facials on the menu for a reason (but don't worry about making that decision on your own). When I meet with a new client, I have a discussion about their needs and goals so we can figure out the right treatment together. For the most part, there are two overarching facial treatment categories:
Spa Facials
These types of treatments typically include cleansing, exfoliation, a nourishing facial mask, serum, SPF and/or moisturizer. There are no extractions involved.
Invasive Facials
These treatments include all of the spa facial components listed above, as well as added targeted treatments such as extractions. Extractions should always occur after the skin has been properly prepped. From a sensory standpoint, for most clients, this doesn't mark the highpoint of the facial experience.
It's not a relaxing service, but if you've been eyeing some blackheads on your nose, it's safer to have a professional remove them than to try and tackle them on your own. Facials can also include add-ons and other targeted treatments such anti-aging eye treatments, peels and microdermabrasion.
What Should People Do Post-Facial, In Terms of Care and Recovery?
Post-facial rules can be dependent on your skin sensitivity and the intensity of the facial. The basic "facial after-effect" includes a rosiness that can last up to two hours.
Many people ask if they can apply makeup after a facial. The answer is yes, technically, but I encourage clients to give their skin a treat by giving it a chance to breathe and soak up the effects of the treatment. Having your facial later in the day or early evening is ideal, as you leave the treatment with "bed-ready" skin that will rest for another few hours.
How Much Should You Consider Tipping for Good Service?
The standard tipping rate is 20 percent on the service charge.
How Often Should You Get a Facial to See Results?
If someone is dealing with acne or hyperpigmentation, they may need to be seen every week for a series of intensive and targeted treatments, and every four to six weeks after improvements have been made. Seeing someone every four weeks ensures skin issues are treated regularly.
Any Suggestions on How to Care for Your Skin Between Facials?
Caring for your skin in-between visits is very important. A good home-care regimen is crucial and wearing (and reapplying ) SPF 15 or higher is the "fountain of youth" beauty secret people are always overlooking but shouldn't.
Read More: Better Together: Why Powder Highlighter and Face Mist Are a Match Made in Heaven
The Genius Trick to Never Losing Your Makeup Sponge Again
I Used My Clarisonic Cleansing Brush to Apply My Foundation — Here's How It's Done
Read more
Back to top