What Comes First — Foundation or Concealer? Here's What You Need To Know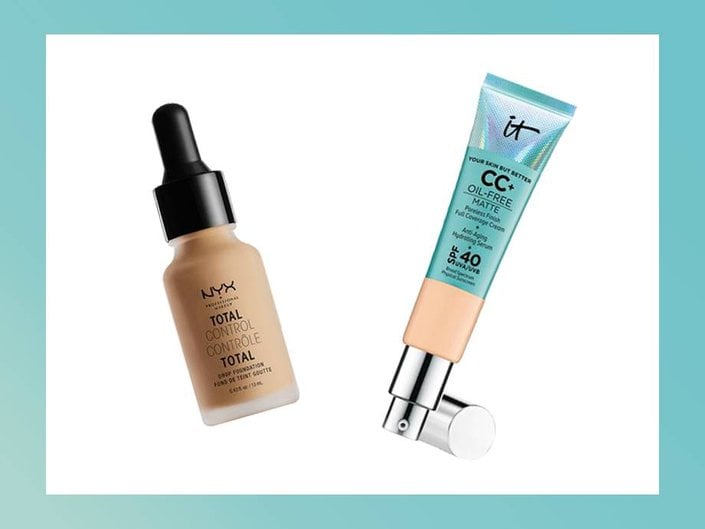 Having a flawless canvas is exactly what an artist needs to build his or her masterpiece — and the same applies to your gorgeous face. Here's exactly how to make the most of your foundation and concealer for smoother, brighter skin and a more even complexion, plus all the tools, products and insider tips you never knew you needed so badly.
All the Different Types of Foundation, Explained
There are so many different formulations of foundation out there, so ultimately, the choice depends on the coverage level you're looking for, your skin type, the amount of time you have to apply, and the price you're willing to pay, amongst other decisions. The most classic form of foundation, liquid, offers medium to full coverage for all skin types, and is a sure-fire way to achieve a smooth base.
NYX Professional Makeup Total Control Drop Foundation allows you to customize the exact amount of coverage you want, making it even more versatile than the amazingly affordable formula already is. If you're looking for lighter coverage, try a souped-up BB or CC cream, which offers skin a ton of benefits (thin: antioxidants, hyaluronic acid, illuminators) in one tube.
The IT Cosmetics CC+ Matte Cream is beloved for many reasons, not only is it your foundation, moisturizer, primer and sunscreen all in one tube — it offers a great amount of coverage and keeps you matte for hours.
That's not even to mention the other types of formulas that could technically live in the liquid family. Take La-Roche Posay Tolerane Teint Mattifying Mousse Foundation, a practical wunderkind for oily skin types, as it deflects any sebum or oil from building up throughout the day and has a lighter-than-air feel
Looking to really build and customize the amount of color? Try a cream foundation, like Giorgio Armani Beauty Crema Nuda Supreme Glow, which is beloved by makeup artists for its non-comedogenic water base as well as light-blurring particles that give your complexion the Insta-ready effect for drier skin.
The K-beauty phenom of cushion compacts, like It Cosmetics CC+ Veil Beauty Fluid Foundation, also work well on parched complexions and impart a dewy finish.
If you err on the oily side, try a stick foundation, like Shu Uemura Nobara Cream Cover Stick Foundation, which gives you full coverage like a liquid foundation but with the ease of a concealer—in fact, you could use this for your foundation as well as your blemish and spot concealer.
Different Types of Concealers, Explained
Before you even look into concealer formulas, it's important to know that there are two kinds of concealers, because like your body, your skin isn't a one-size-fits-all kinda deal. You should use a concealer two shades lighter than your foundation for your under-eye area (and formulated to ward off puffiness, darkness and bags), and a separate formula for spots, zits, and redness.
We love Maybelline New York Instant Rewind Eraser Dark Circles Treatment Concealer, which has a cushion applicator and skin-tightening goji berry extract. Cream concealers work great under eyes as they're blendable and can provide sheer or full coverage, depending on your needs.
For blemishes, dark marks, and other corrections, a pencil can be incredibly easy to use—easier than a stick, even—as it requires no brush, and the waxy formulation stays put without the help of foundation, powder, or setting spray. Cue the NYX Professional Makeup Wonder Pencil for your next routine.
Perhaps the most important type of concealer is the corrective type, and is most effective in a liquid formula, like La-Roche Posay Toleriane Teint Corrective Pen, which has corrective colors to help tone down ruddiness, fade the appearance of hyperpigmentation, and yes, even cover up any more irritating blemishes.
In What Order Do You Apply Foundation and Concealer?
Start by laying your foundation first. The only exception is when using treatment concealer to cover blemishes, or scarring. In that case you will apply a color corrector or thin layer of concealer first. Otherwise, it's foundation and then concealer. If you apply your concealer first, you will end up using a lot more than necessary and can risk looking cakey. 
How to Properly Apply Foundation
To apply any foundation formula, skin must be hydrated and smoothed. Start with a spritz of rosewater or face mist, such as Urban Decay B6 Vitamin-Infused Complexion Prep Priming Spray, which is also spiked with niacinamide to help temporarily shrink the appearance of pores. Using a foundation brush—like the Clarisonic Sonic Foundation Brush—apply a dime-sized amount of smoothing primer, such as the NYX Professional Makeup #NoFilter Blurring Primer, which will fill in any fine lines and wrinkles while also having a blurring effect, not unlike your favorite Instagram filter. Let it set for approximately five minutes, otherwise you'll risk wiping off the entire layer of primer you just put on. Grab your application tool of choice—like L'Oréal Paris Infallible Blend Artist Foundation Blender, or the Clarisonic for the most even spread. Start by applying foundation using short strokes, starting from the center of your face and sweeping outwards and downwards, ensuring that the color seamlessly blends past your jawline and down your neck. A brush provides fuller coverage with each swipe, but a sponge makes any formula more buildable.
How to Properly Apply Concealer
When applying concealer, start with a small, synthetic, stiff-bristled brush like the Lancôme Concealer Brush No. 8 or a totally adorable mini sponge like L'Oréal Paris Infallible Blend Artist Concealer Blender. (You can also just use the wand or your fingertip—it's really a matter of personal preference, but a tool will give you the most precision, especially when covering up blemishes and uneven spots.) Under your eyes, blend a concealer that's up to two shades lighter than your foundation into a triangular shape (tip pointing down) before blending, to open up your eyes and take away from the obvious raccoon-eyed look. For pesky zits, dab a concealer the same exact hue as your foundation onto the center of the pimple and blend it out before applying foundation to create that even canvas. Follow up with a loose setting powder, like NYX Professional Makeup Studio Finishing Powder, for all day staying power.
Which Formulas Work Best Together?
When it comes to picking the perfect pairing, you should use cream with cream, liquid with liquid, and so forth. For powder foundations, use a concealer with a drier consistency, ideally one with a waxy base, such as the Wonder Pencil or any concealing palette, which allows you to customize your colors.
Do you apply your foundation or concealer first? What's your favorite formula? Let us know in the comments below.
Read more
Back to top