How to Contour Fair Skin — A Makeup Artist Weighs In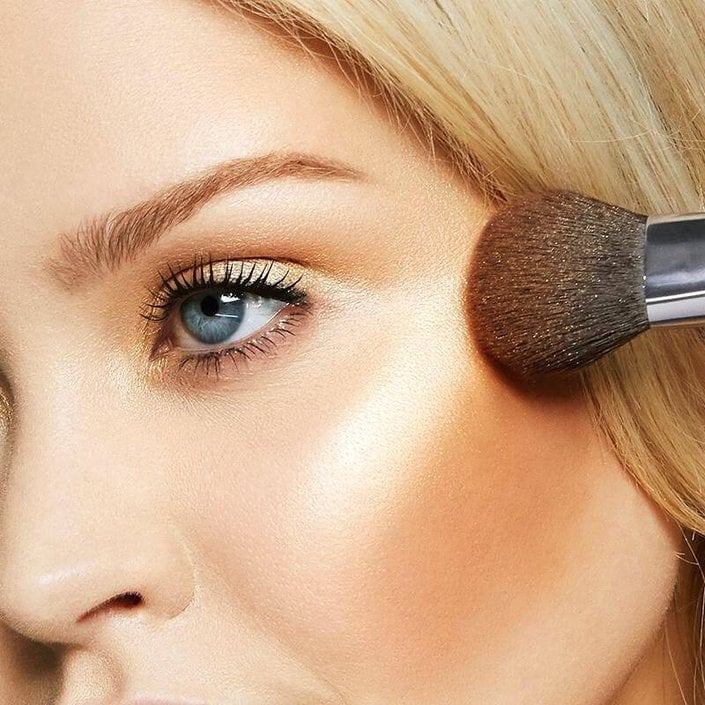 When we think of contouring, we picture a face that's bronzed, glowy and sculpted in all the right places. For some, admiring this look from afar is more comforting than actually attempting to contour one's face. Though it seems like a large majority of the world can shape and highlight like they were born that way, know you're not alone if your contouring palette seems much more intimidating than it does inviting — pale skinned gals, we're looking at you.
Truth is, we were all beginners once, and this same sentiment applies for contouring. But once you master the trend with the right products and the right technique for your skin tone, you'll never fear that contouring palette again. We chatted with celebrity makeup artist Gabriel Almodovar to find out how the lightly complected can sculpt out killer cheekbones and still look natural. His tips, ahead:
Skip the Bronzer
According to Almodovar, most bronzers are too warm for fair skin tones. One of his biggest tips is to use a matte powder with a cool, ashy-gray undertone instead of bronzer. Though untraditional, Almodovar recommends using a gray matte eye shadow like the shade Magnet from the Urban Decay Naked Ultimate Basics Palette. For fair skinned gals, gray is the color of your natural contour shadows, which is why is makes it the ideal replacement shade.
Lighten Up
Highlighter and contouring powder (or, your gray matte shadow) are like peanut butter and jelly: good on their own; better together. "Wherever you contour, you should highlight directly above," says Almodovar. For fair skin, Almodovar likes a white shimmer powder like Maybelline Expertwear Eyeshadow Singles in Vanilla. Sweep the powder along your cheekbone with a fan brush and focus on the highest point of your cheek to create the illusion of higher cheekbones.
Blend, Blend, Blend — and Then Blend Some More
Nothing says unnatural more than obvious streaks in your makeup. Almodovar uses natural hair brushes to blend powder in circular motions and long strokes to soften any harsh lines. Natural hair brushes are ideal for powder formulas because they contain cuticles, which help lift and absorb powder pigment and allow for perfect, even makeup application.
Hero Image Courtesy of Maybelline New York
Read more
Back to top