How to DIY the Perfect At-Home Pedicure in 10 Easy Steps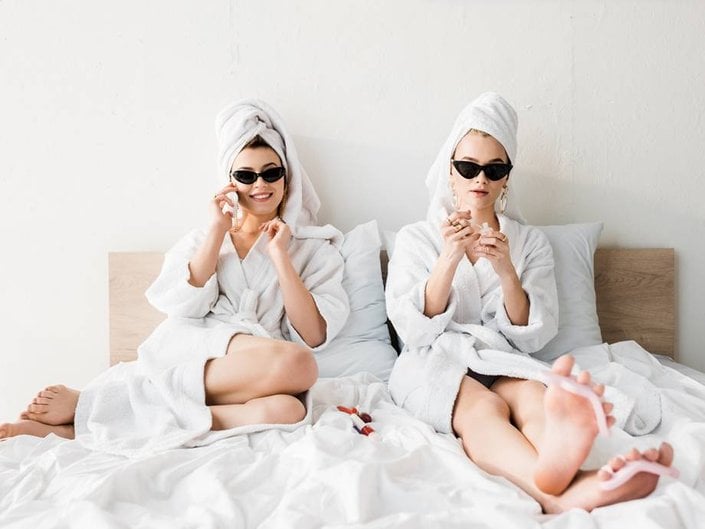 As tempting as it is to dish out money for a salon pedicure (with the soaking, foot scrubbing, massage — the works) it's not always doable, especially when you already splurged on makeup in the beginning of the week and are left to question your self-control. So if you currently find yourself in a similar position and are in desperate need of a pedi, we're here to prove that it's possible to achieve salon-quality results at home. All you have to do is acquire a few nail tools, read the below how-to and most importantly, believe in yourself.
We reached out to Skyy Hadley, celebrity manicurist and owner of As You Wish Nail Salon, for her favorite at-home pedicure tips. Ahead, find out the must-have products and steps to DIY a salon-quality pedi in the comfort of your own home — for a lot less money.
STEP 1: Let Your Nail Polish Remover Do Its Thing
Completely remove any nail polish that's still on your toenails using nail polish remover and a cotton pad. If you don't have any leftover polish, you should still run nail polish remover over your nail to remove any excess oil.
STEP 2: Soak Your Feet Like You're at the Spa
Fill your tub with warm water and soap (body wash will do!), and let your feet soak for 15 minutes. This is a great opportunity to multitask and try out that new face mask.
STEP 3: Get Rid of Dead Skin
After drying off your feet, use a foot file to remove any dead skin from callused (hard) areas. Parts to pay attention to are the balls of your feet, the sides of your feet and your heels. Scrape these areas until they feel smooth, but don't overdo it.
STEP 4: File and Shape Your Nails
Use a nail trimmer to achieve the length and shape you want (we recommend trimming nails straight across). Follow by filing the corners of your nails and buffing to make them smooth. According to Hadley, a big mistake people make at this point in the process is cutting their cuticles. "Trimming or cutting cuticles during a mani or pedi is purely cosmetic and sometimes it doesn't benefit the nail in any way," she explains. "The cuticle is a barrier to protect your surrounding skin and protect against infection."
STEP 5: Apply Cuticle Oil
Apply cuticle oil to the base of your nail. "Cuticle oil doesn't just keep your feet soft and moisturized, but it also keeps your polish from chipping," Hadley explains.
STEP 6: Moisturize
Moisturize your feet with an unscented lotion. "Scented lotions with synthetic fragrances can cause your nail polish to crack."
STEP 7: Prep Your Toes
Use toe separators (you can buy a 12-pack for cheap online) to make painting your toes easier and avoid making a mess.
STEP 8: Apply Your Base Coat
Paint on your base coat and wait at least two minutes to ensure it's dry. "Don't forget your base coat because it gives your nail polish something to sink into besides your actual nails," says Hadley.
STEP 9: Finally, Do the Damn Thing
Apply two coats of nail polish, leaving at least two minutes in between each coat for it to dry.
STEP 10: Finish With a Quick-Drying Top Coat
Finish with a top coat so your nails maintain high shine and luster. Because nail polish takes about 12 hours to harden, Hadley recommends sticking your finished toenails into cold water for a few minutes to make your nail polish harden faster and help it solidify.
Read More:
6 Acrylic Neon Nail Looks That Are a Whole Summer Vibe
10 Yellow Mani Looks We Can't Stop Staring At
6 Confetti Nail Polishes that Will Brighten Up Your Beauty Routine
Read more
Back to top