The Best Makeup Tools to Apply Different Types of Foundation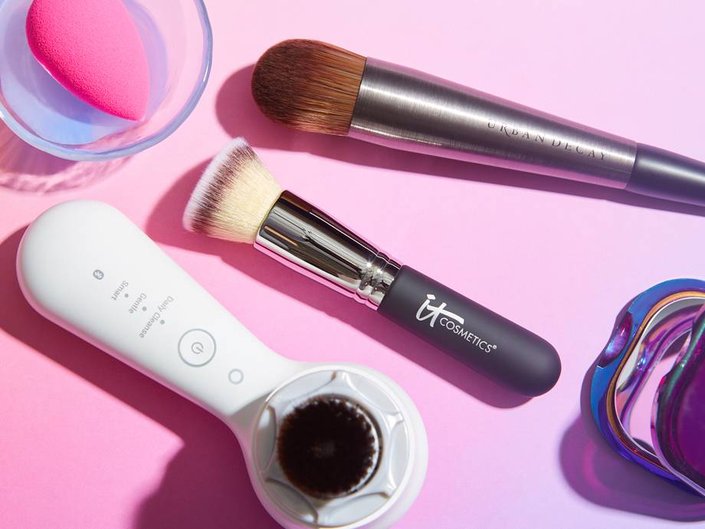 Selecting your makeup tool to apply your foundation is very much a matter of personal preference. With that said, different foundation types and formulas do tend to lend themselves to different methods of application. Sometimes a makeup brush will suffice, other times a makeup sponge is the best route to go, and on more than a few occasions, even your fingertips will do! We spoke with makeup artist Rudy Miles to find out the best way to apply different types of foundations, from liquid products and stick foundations to powder compacts and whipped formulas. 
The Best Makeup Tool for Applying Powder Foundation 
Powder foundations offer a lot of versatility when it comes to their application. "Powder foundation can be applied with a brush, dry sponge or a damp sponge," says Miles. "The tool you use will determine the desired result or effect." For powder, a dense, fluffy synthetic fiber brush will give you a blended, buildtable complexion, while a damp sponge will provide you with a sheer layer of coverage. "A dry sponge can be effective for medium to full coverage but be careful, if you pick up too much product the complexion can look cakey." Try using a Beauty Blender Original Sponge.
The Best Makeup Tool for Applying Liquid Foundation 
"Because liquid foundation needs to be applied seamlessly without leaving streaks, using a synthetic fiber foundation brush to blend works every time," says Miles. Look for a brush with a flat, tapered tip to allow for more precise application. "Stipple brushes or using the stippling technique with a damp sponge also blends liquid foundation seamlessly." You can also use a Clarisonic Foundation Brush Head for evenly blended, smooth coverage with liquid foundation formulas. 
The Best Makeup Tool for Applying Stick Foundation 
Stick foundations typically have a thicker consistency, so flat, densely packed soft hair makeup brushes are perfect for blending them. "The dense and soft hair construction of Nanacoco Flat Contour Brush smooths out the texture of stick foundations so full coverage looks airbrushed," says Miles.
The Best Makeup Tool for Applying Whipped Foundation 
Whipped foundations are easy to apply, thanks to their lightweight texture. "They can be effectively applied using a foundation brush or simply massaged into the skin using your fingertips," advises Miles. If you are feeling brave and opt to use your fingers, just make sure your hands are clean first. If you do choose to use a brush, try the Urban Decay Pro Large Tapered Foundation Brush.
The Best Makeup Tool to Use for a Natural Finish
"Large fluffy brushes give a beautiful natural finish because you can pick up powder product and blend as much of the product on the face with one application to create a sheer natural finish," says Miles. Try IT Cosmetics Heavenly Luxe Flat Top Buffing Foundation Brush #6.
The Best Makeup Tool to Use for a Full-Coverage Look
For a full-coverage face makeup look, Miles recommends using densely packed makeup brushes to really pack on the product. "Brushes with dense, compact heads give the best full-coverage result because the concentrated bristles are able to blend and apply the product, allowing you to build upon the application for maximum coverage." Try Lancôme High Coverage Brush #28.
Read More:
How to Master No-Makeup Makeup in 5 Steps
How to Find the Right Foundation for Your Skin Tone
Read more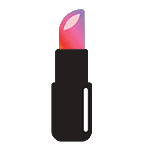 Back to top