Contouring Tools & Products: The Ultimate Guide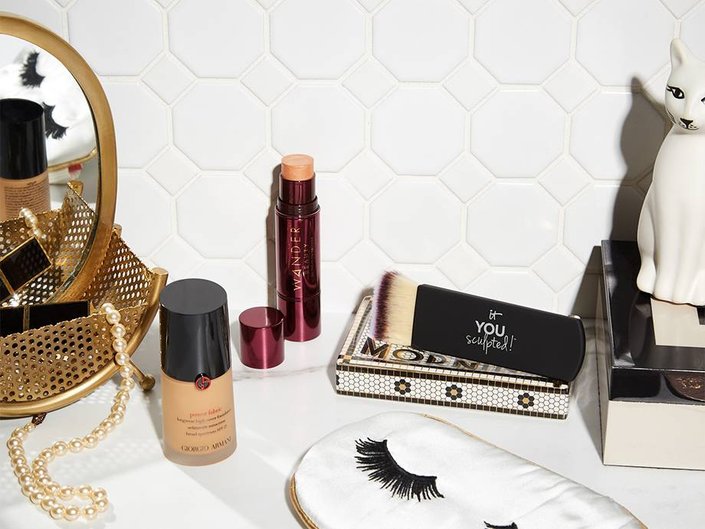 Nothing has swept the beauty world off its feet quite like contouring. From mesmerizing IG feed makeup artist posts, to our favorite influencers showing off their contour skills on Youtube, this trend has literally exploded. However, there's often some confusion and misconceptions surrounding the products and tools used to achieve this sculpted look. To help give you some clarity, we've compiled an all-encompassing guide with everything you need to know to master contouring.
Primer
If you want flawless, long-lasting makeup application, first, you must apply primer. This principle is especially important when it comes to contouring, as you want to make sure you have a clean, smooth work space. We recommend sticking to a matte formula because a shimmery or dewy primer will not work well with the effects of your highlighting and shadowing.
Try: Smith & Cult Blackdrop Mattifying Face Primer or Maybelline New York FaceStudio Master Prime Primer Makeup.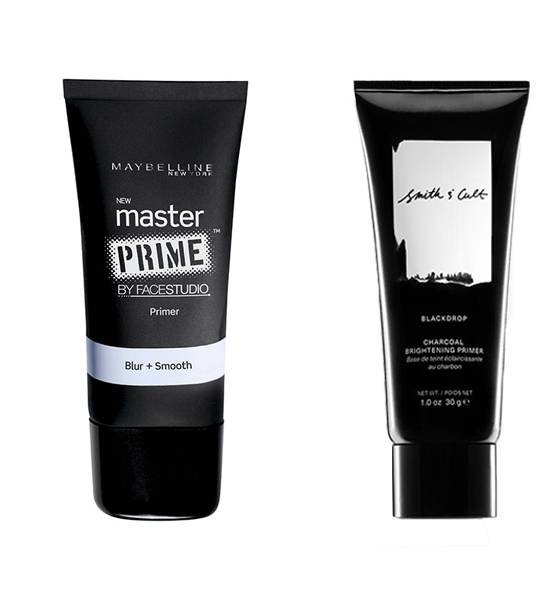 Foundation
After you prime, a solid foundation is key — and, by "solid foundation," we mean actual foundation. While a powder foundation is OK, we prefer liquid-based formulas for contouring because they'll give you clean, satiny coverage and a smooth finish. Try working a light layer of foundation into your skin and build it up as needed. Don't go overboard on this — you don't want your makeup to look cakey.
Try: Giorgio Armani Luminous Silk Foundation or L'Oréal Paris Infallible Up to 24HR Fresh Wear Foundation.
Concealer
We all get breakouts from time to time, but don't let them deter you from having flawless contoured makeup. Do a little damage control with a lightweight concealer that blends well into your skin. Dab a little on the blemish after foundation and blend well with a concealer brush or beauty sponge.
Try: NYX Professional Makeup HD Photogenic Concealer Wand or Urban Decay Naked Skin Weightless Complete Coverage Concealer
Contouring Products
Now that your base products are covered, it's time to move on to the main event. From contouring palettes to two-in-one contouring sticks, your days of scavenging for the perfect shades and products are over.
Contouring and Highlighting With Powder
When it comes to contouring powder (for shadowing), the rule is to go with a hue that is two shades darker than your natural color. While we don't recommend a shimmery, light-reflecting bronzer, a matte bronzer can work just as well as a contouring powder. To highlight, you'll want to go one to two shades lighter to illuminate the skin.
Try: Urban Decay Naked Flushed or IT Cosmetics Bye Bye Pores Bronzer.
Contouring and Highlighting With Concealer
Some people find liquid contouring products to be easier to blend and more natural-looking than powders. In that case, a cream-based concealer works well for contouring if you go a shade or two darker than your natural skin tone, and a shade or two lighter to highlight. For more application control, try a concealer stick.
Try: Lancôme Maquicomplet Complete Coverage Concealer or Giorgio Armani Power Fabric Concealer.
Contouring With Eyeshadow
If you don't have any of the contouring items listed above — and have no desire to invest in them — but still want to take a stab at the trend, you're in luck. You may just have contouring and highlighting products in your makeup drawer, among the dozens of eyeshadow palettes and singles. Try a matte brown or taupe-colored shadow for contouring and beige or ivory shadow for highlighting.
Contouring Application Tools
The difference between looking perfectly chiseled and looking splotchy lies in your blending technique. A brush's shape and bristles will determine how your makeup is blended, so do your due diligence and get a brush specifically designed for contouring.
Contouring and Highlighting Brushes
For cheek, face and nose contouring, try an angular brush that will apply your bronzer more precisely and accurately  in the areas you need to shadow and make slimmer. For highlighting the face, you're going to want to go with a brush that has a flat, circular tip to allow for more concise and direct application of highlighting powder.
Try: IT Cosmetics Heavenly Luxe You Sculpted! Contour & Highlight Brush #18 or E.l.f. Contouring Brush.
Contouring With a Beauty Sponge
If you're not a fan of brushes (or don't own one), beauty sponges can also get the job done. Just make sure you blend lightly, using upward strokes until there are no visible lines or color separation.
Read More:
BB Cream vs. Foundation: Which One Is Best for Your Skin?
The Best Blushes of 2019 — And Which Type Works Best for You
Read more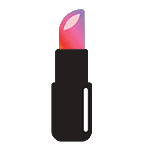 Back to top