How to Clean A Spoolie Brush Because Yes, They Need It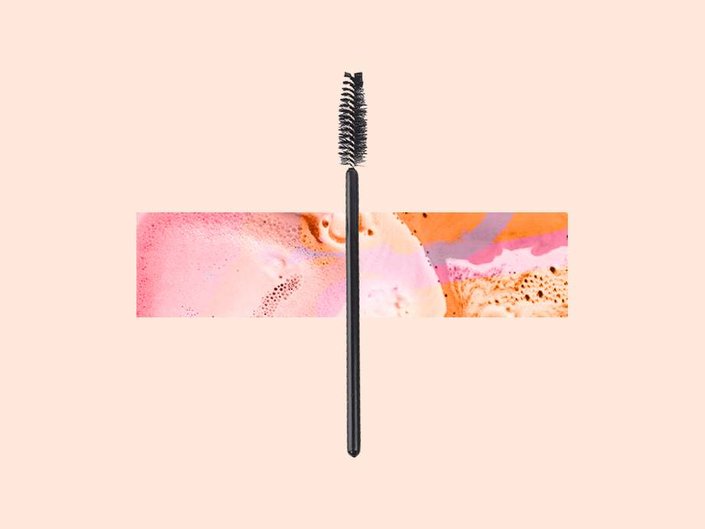 It's time we discuss beauty's unsung hero: the spoolie. Spoolie brushes are a secret makeup weapon that can be used for anything from de-clumping mascara to brushing up your brows to Gigi-like proportions. Even if you aren't familiar with the tool on its own, it's likely you've used it as an application method. Mascara wands? Spoolies. Brow gel? That's a spoolie, too. We always recommend keeping a few extras on hand for your makeup needs, but at some point you need to clean them. The small synthetic hairs don't lend themselves to the same circle-swishing cleaning method as a traditional makeup brush, but luckily it's a pretty easy process.
Before cleaning you have to identify the material of the spoolie, says Chanel Temple, Global Makeup Artist at Hourglass Cosmetics. According to Temple, most are made of synthetic nylon, which is easy to clean. For synthetic spoolies, all you need is a paper towel and alcohol to clean off product buildup and sanitize. Temple sprays alcohol directly onto the spoolie before twisting it in a paper towel to ensure it's spotless — a method that will get your brush squeaky clean. If your brush is made out of boar hair or natural bristles, Temple cautions against using alcohol and recommends opting for baby shampoo or gentle dish soap instead.
As for how frequently you should be cleaning your spoolies, once a week or every other week should do. With regular cleaning and maintenance, your spoolies can last you years, so consider it an investment in your makeup-loving future. Over time they may lose a few bristles, says Temple, which is a sign you should throw them out, but luckily it's an affordable beauty expense.
Whether you're looking for a replacement or realizing you need one for the first time (welcome to the spoolie-loving club), we've rounded up a few options, ahead:
NYX Professional Makeup Pro Dual Brow Brush
For an ultra-versatile tool, add the NYX Professional Makeup Pro Dual Brow Brush to your stash. It's a dual-ended makeup brush with an angled brush on one side and spoolie on the other. Although this was designed for sculpting and shaping your brows, we can imagine lots of other uses.
Tweezerman Brow Shaping Scissors & Brush
If we had a dollar for every  ttime we needed a tiny scissor for errant brow hairs or a spoolie to declump an aging mascara, we wouldn't be rich, but we'd certainly have enough for a few Naked Palettes. Cue the Tweezerman Brow Shaping Scissors & Brush, also known as a makeup-lover's most-important duo.
Leegoal Disposable Eyelash Brushes
Whether you're an aspiring makeup artist or just want a few spoolies in rotation, pick up a pack from your local drugstore or grab this set of 50 from Amazon. The best part? They're only $4 a set so you can pick up a few without breaking the bank.
Read More
7 Beginner-Friendly Brow Products We're Obsessed With
Everything You Need to Know About Eyebrow Waxing
3 Makeup Hacks You Can Do With a Spoolie
Read more
Back to top