Don't Panic: Here's How to Fix the Eyebrow Mistake You Just Made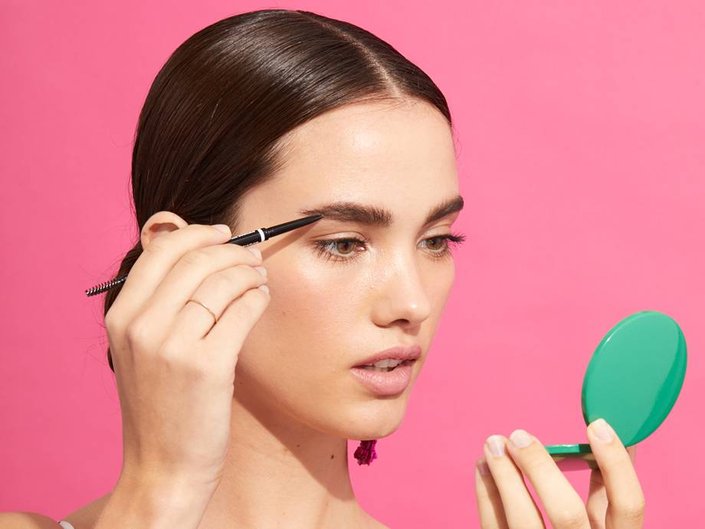 Bold, dramatic eyebrows are all over our Insta feeds and YouTube searches. They're sophisticated, on-trend and a great way to accentuate your face's natural beauty. The only glitch? There's a fine line between bold and too bold. If you accidentally go overboard with your brow pencil or powder, don't beat yourself up — it's not the end of the world. Just because you used too much product doesn't mean you have to go back to the drawing board and start over from scratch.
To help us combat any eyebrow defeat, we reached out to Sir John, L'Oréal Paris Celebrity Makeup Artist, to get his expert advice on how to quickly fix overdone brows when you're running late and don't have the time (or patience) to start over. Here are a few tricks right from his makeup belt.
1. Use Q-Tips like a magic eraser.
If you realize you've made your brows too big and bold, don't assume you have to wash it all off. Instead, take a cotton swab dipped in makeup remover and carefully trace your brow's natural outline. Remember, brow product should be applied within thebrow's hairline, not beyond it. Cotton swabs will remove any unwanted shading that has ventured too far outside the lines.
2. Have a toothbrush on hand for the final touches.
Brushing out your brows is a good way to get that natural shape and texture back. If you don't have a spoolie brush to groom your brows, Sir John suggests using a toothbrush instead. After you've removed unwanted product, gently brush your brows upward with the soft bristles of the toothbrush — unused, of course!
RELATED: Brows 101: Everything You Need to Know About Brows
3. Know when to stop.
The key to curbing the common case of overdone brows is knowing when to stop. Sir John suggests
being light-handed with product
on the inner part of the brows (toward the center of the face). "That part should look natural and not heavily colored in," he explains. "In general, you should always be able to see the individual hairs on your eyebrows. You shouldn't fill in your brows to the point of looking painted on."
Read more
Back to top