Dry Skin Makeup: How to Wear Makeup With Dry Skin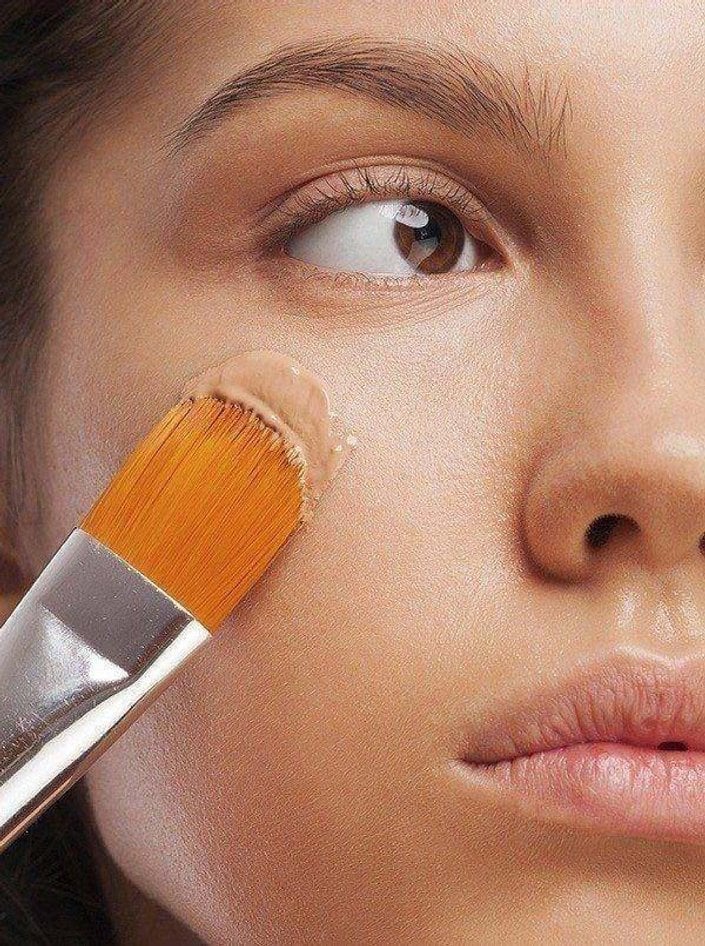 Trying to apply makeup to your dry skin is NO simple task! And once you think you've got a smooth application going, you catch a glimpse of yourself in the mirror on the way out and realize that this is not the case. You're already late for something at this point and we all know that starting your full-face routine to get rid of your dry skin makeup is not an option!
The good news is: The dreaded nose peeling, foundation flaking, concealer cracking — it's all preventable. Makeup.com has got you covered with proper dry skin makeup application! For those extra special moments when your dry skin refuses to behave, here's how to ensure an all-day, flake-free complexion.
It's All in the Preparation
1. Use a Creamy Exfoliating Cleanser
When beginning your dry skin makeup routine, first use a creamy exfoliating cleanser like L'Oréal Paris Go 360 Clean Deep Exfoliating Scrub with gentle beads. This will help to sweep away any dead cells sitting on the skin's surface. You want as smooth a canvas as possible to make putting on your makeup easier.
2. Use a Fast-Absorbing Serum
Use a fast absorbing serum or oil like Kiehl's Hydro-Plumping Re-Texturizing Serum Concentrate in place of your moisturizer, so that the product can quickly work its way into your skin, delivering immediate relief and hydration.
A well moisturized face is crucial to applying makeup properly to dry skin. You want your skin to look and feel like velvet, not sandpaper.
3. Use Primer
An essential step in prepping your skin for a flawless makeup application is primer. The creamy texture will keep skin moisturized and act as a "blur," smoothing out pores and any imperfections. We love Lancôme La Base Pro!
A well primed face helps makeup glide on and look seamless, rather than getting stuck in dry patches on the face.
The RIGHT Formula
Dry skin is practically begging for nourishment, which is why liquid or light and creamy textured makeup is the only way to go. Anything heavy or cakey will almost instantly cause irritation and botch your beautiful makeup job. Sticking to liquid bases is rule number one.
Opt for lightweight foundation and apply it with a synthetic foundation brush since it's gentle enough to keep your skin from flaking. Then, use a damp Beauty Blender to press makeup into your skin for a natural, dewy look.
The same goes for blush! Use a creamy compact or liquid stain instead of powder for added hydration.
Product Recommendations: Urban Decay Naked Skin, Giorgio Armani Fluid Sheer Blush
DON'TS for Dry Skin Makeup
1. When applying makeup on your dry skin, do not use your fingers to apply any product as they'll absorb the much-needed moisture in your skin.
2. Stay away from powders, unless you must use a little around your T-zone. Go for oil-blotting sheets instead like NYX Blotting Powder. Excess oil will not lead to a more moisturized face.
3. Skip the waterproof formulas as they suck out skin's moisture, which will lead to flaking. Dry skin makeup does not need to be waterproof! You should be able to easily wash your face off at the end of the day.
What are some of your makeup application tips for dry skin? Share in the comments below!
Photo: thinkstock
Read more
Back to top