How to Rock a Shiny Lip This Fall — According to Gigi Hadid's Makeup Artist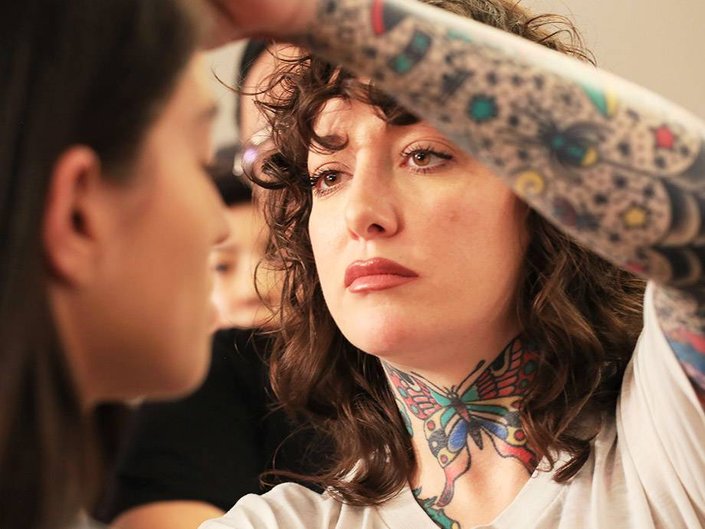 A shiny lip isn't always the easiest trend to nail down or maintain — especially when things like pizza come into play. Fortunately, the makeup geniuses at Maybelline can add one more achievement to their résumés with the creation of the Maybelline Shine Compulsion Lipstick, which makes the application and preservation of this glossy trend a whole lot easier with just a few swipes. In order to master the look we chatted with Maybelline Global Makeup Artist (and Gigi Hadid's go-to) Erin Parsons to get to the bottom of her tips and tricks on how to wear shiny lipstick, Here's what she had to say.
Apply it Directly
Parson's first tip is a simple one: This lipstick is magical simply because you don't need to put in a ton of effort to apply it. "I prefer to apply it straight from the tube as the shape allows for perfect precision along the lip line," she says. This means that there's no need for lip liner or any excess lippies: it's pretty perfect as is.
It's a Special Long Lasting Formula
"Shine Compulsion Lipstick has amazing staying power," says Parsons, "especially for a glossy lipstick." Because of the oil in the formula, it keeps your lips hydrated and smooth for hours. "I find it best to simply apply another layer directly on top periodically throughout the day to maintain opacity level," she adds.
Wear it Alone for a Cool Hue
Since it's pretty much ingrained in our makeup mind to mix and match some of our favorite products, Parsons says to resist and keep it simple when using the Shine Compulsion lipstick because the shades and pigments are meant to be worn on their own. "My personal favorite shade that I wear daily is Taupe Seduction. It's a gorgeous neutral tone that gives my lips definition and natural color, but with a cool hue that looks more interesting than a typical nude color."
Steer Clear of Shiny Lip Obstacles
Although not our favorite tip to hear, Parson's last one is an important one: "Anytime one uses a glossy lip, it's best to avoid wearing the hair down on a windy day as strands tend to stick and may disturb the precision of application." Parsons also suggests to avoid oily foods or crumbly breads, since they can destroy most lip products.
Her last tip, of course, is to always have Shine Compulsion on hand for any reapplication needs. "I love the shine in this lipstick because it's not too sticky like a gloss, yet provides that cool reflection that gives my lips a more voluptuous look," adds Parsons, and we couldn't agree more.
Read more
Back to top