10 LGBTQ+ Makeup Bloggers Who Are Slaying the Game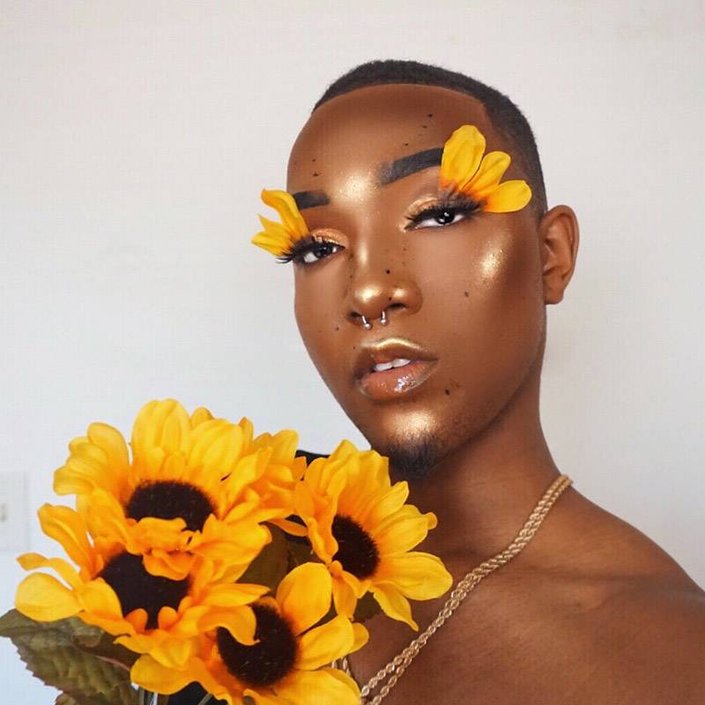 When it comes to beauty, it's often so focused on the stunning makeup looks that we forget about the actual artists creating these makeup looks and what they mean to their subscribers. This can be particularly true for LGBT beauty bloggers, who often inspire and uplift so many of their subscribers just by existing and sharing their stories. With that in mind, we've rounded up our favorite beauty bloggers who continuously slay our YouTube and Instagram feeds.
Peep our picks, ahead:
GlamazonTay
Glamazontay's YouTube channel is truly a beauty, fashion and lifestyle destination. She does everything from hair tutorials to outfit hauls and has enough GRWMs to help you slay for months on end. She's also hilarious, and watching her videos is basically like hanging out with one of your friends.
James Charles
Oh, James Charles. Known for his whimsical glam makeup tutorials, iconic YouTuber collabs and huge community of "sisters", this 19 year-old beauty guru is entertaining, can sing and somehow manages not to stain all his white clothing even when attempting the most colorful makeup looks. Definitely worth a follow, but don't blame us if you get a little bit addicted.
Patrick Starr
If you haven't heard of Patrick Starr, you're living under a makeup-less rock, and we're sorry you've yet to experience his infectious magic. Not only does he have a bright and bubbly personality, he also produces movie-quality videos that are mesmerizing to watch. He's also known for creating fire drag looks, so he's a must-follow for anyone who appreciates the art of over the top drag makeup.
Ingrid Nilsen
If you need to find the best mascara or want to know whether a Glossier product is worth the price, Ingrid Nilsen is your girl. Part beauty blogger, part wellness and lifestyle blogger, there's a little bit of something for everyone on her channel. She's also open about her sexuality, sharing everything from her coming out story to what it's like for her to both gay and Asian.
PassionJonesz
A body positive beauty blogger, PassionJonesz does everything from wig reviews and try-ons to the best shapewear for women with curves. Her videos are informative, honest and well-done — just like her. She also shares how she does her acrylic nails at home, perfect for anyone who wants to slay on a budget.
Poetic Drugs
As the self-described King of Highlight, poeticdrugs knows a thing or two about achieving a sickening glow. Whether he's rocking an icy silver pop of shine or a deep golden shimmer, you can be sure it'll inspire your next highlight-infused makeup look.
Julie Vu
Not only is Julie Vu talented at slaying a smoky eye, she also gets real on her channel about everything she's going through. As a trans woman, Julie has shared her transition from the beginning and continues to inspire people with her honesty. Go for the beauty tutorials (her perfect wand curls tutorial comes to mind), and stay for the funny challenges and informative videos about transitioning.
Aiden's Empire
If you've ever wondered if beards and makeup mix, the answer is yes, they do. Aiden slays a wide range of makeup looks — from a smoky green eye to a bold red lip — and makes it look easy. We like to keep his makeup looks in our saves to stay inspired — you'll never run out of looks to choose from.
Gigi Gorgeous
An OG YouTuber, Gigi has been delivering makeup videos and challenges for years. She's documented everything from her favorite beauty products to her transition with the support of  her followers all the way. These days, Gigi is happily engaged and shares adorable videos of the two of them alongside makeup reviews of the products worth your hard earned coin.
Jazmina Daniel
The queen of lip art, you've likely seen her lip looks floating around your Instagram feed. She's recreated everything from iconic works of art to album cover artwork and continues to create fun and interesting works of art. She's also incredibly fashionable and shares her looks on the 'gram. Did we mention lots of her pics are taken by her girlfriend? Can you say #relationshipgoals?
Read more
Back to top