6 Glosses With Actual Glitter for Kira-Kira Lips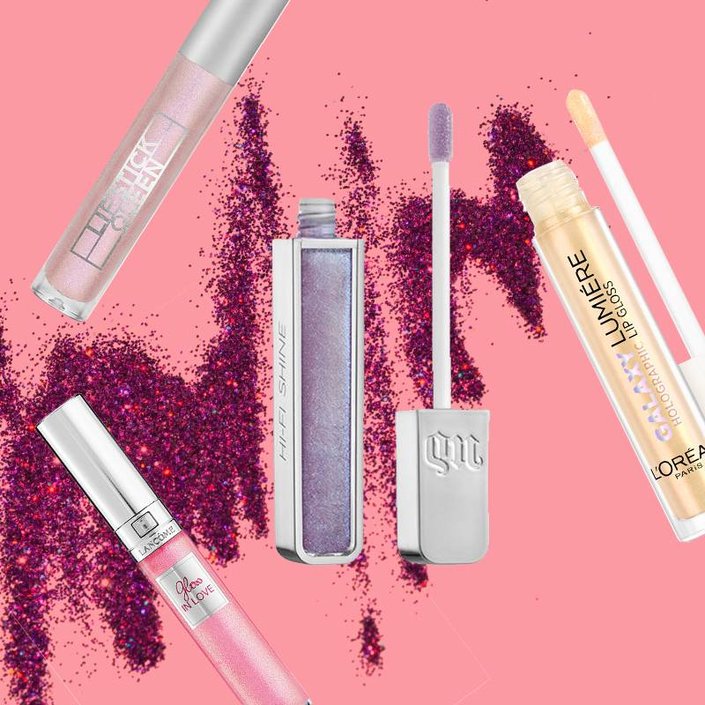 Every makeup junkie loves a sparkling glitter and a shiny gloss, but when these two divergent textures join forces our beauty minds start to reel. Enter: glitter lip gloss. It had a Spice Girl-fueled moment during the late 90's, and now it's back — and our 2018 Kira-kira personas couldn't be more thrilled. Ahead, find the six lip glosses that contain, you guessed it, actual glitter pigments that we can't wait to rock this summer along with some thumping platform sandals. Who's with us?
Lancôme Prismatic Plump Gloss in Sweet Glow
If you're ready to delve right into the glitter-gloss verse, we highly suggest making the Lancôme Prismatic Plump Gloss in Sweet Glow your everyday go-to. It's super rich and pigmented and gives you the softest rose gold glow with mesmerizing glitter flecks.   
Maybelline Glitter Fix Lip Gloss in Spell Struck
Spell Struck is one of those shades that seriously makes you do a double-take. It's a grape purple with a ton of periwinkle and gold glitter that stands out and compliments just about every skin tone. Wear this by itself for a reflective finish, or add over top an already pigmented purple lipstick for some extra hue.
Lipstick Queen Altered Universe in Time Warp
For a light glaze with a substantial amount of pink glitter, Time Warp by Lipstick Queen has got you covered. This is truly spot on for all you wet lip gloss lovers out there that want just an extra twang of personality in the form of pink glitter flecks.  
L'Oréal Paris Galaxy Lumiere Holographic Lip Gloss in Ethereal Gold
This yellow-gold lip gloss has a few duochrome surprises in each swatch — and one of them happens to be sparkly pink glitter. Even cooler: It has a blue cast under certain light, and with every extra chroma, it'll seriously up your glitter gloss game.
Winky Lux Glossy Boss in Birthday Cake
If rainbow sparkles are more your style, you won't be disappointed by the Winky Lux Glossy Boss in Birthday Cake. Not only does this baby have the sweetest vanilla scent, it also adds just the right amount of sheen, shine and goldy-iridescence that will give you the glittery pout you've always dreamed of.
Urban Decay Hi-Fi Shine in Candy Flip
Candy Flip does glitter-gloss more than justice with it's purpley-blue flecks and white-ish finish. This hi-fi is super pigmented, peppermint scented and perfect to wear by itself or overtop a matte lip shade — any way, it completes a look that would make a Spice Girl go Scary with envy.
Read more
Back to top