The Perfect Makeup Looks For Your Ugly Sweater Holiday Party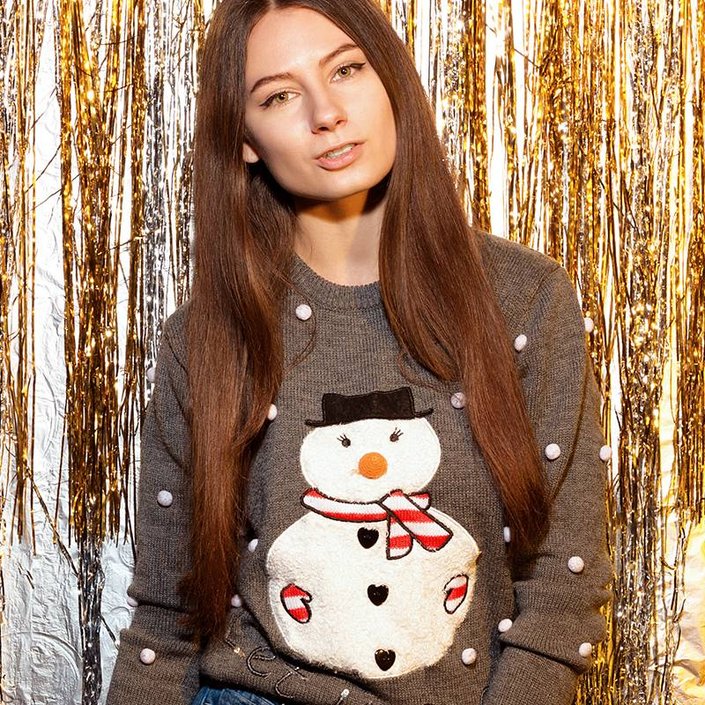 December is here, and with it comes the season of gift-giving, mistletoe, snow, twinkly lights and, our personal fave, tacky holiday sweaters. These days those heinous sweaters — typically gifted to you by your holiday-loving grandmother and immediately shoved in the back of your closet — have become as festive as tinsel and gingerbread men. Now that these funny-looking, shapeless ensembles have become so wildly popular, the question remains: How do I still look fabulous while wearing one? We want to help you navigate the party circuit in style, so we came up with some key tips on how to rock the ugly holiday sweater this season.
Play Up Your Eyes or Lips
The trick to working a tacky sweater is simple: Create a diversion. Whether with a great lipstick or popping eye shadow, it's important to divert the eyes from the sweater to your lovely face. Try rocking a fiery red lip (we love the Maybelline Superstay Matte Ink in Pioneer) or a vibrant, shimmery eye.
Rock a Glowing Complexion
Balance out the "ugliness" of your attire with a perfect complexion. Go for soft, dewy skin á la an illuminating foundation like Giorgio Armani Luminous Silk Foundation. Give yourself a lovely, natural flush with a pretty rosy cheek stain or cream blush. Top off the look by dusting highlighter on the cheekbones, chin and along the top of your eyebrows. For perfect, glitter-less shimmer, try Urban Decay Naked Illuminated.
Have GREAT Hair
As we said before, a diversion is key when rocking an unattractive holiday fit. This is the perfect time to pull out the big guns and try out that new updo you've been dying to test out or go for big, voluminous hair that will have peoples' heads turning for all the right reasons. If you're looking for a great holiday hairstyle, check out our faves for the season. If you're really feeling ambitious, throw on a festive headband — it could be the perfect conversation-starter!
Get Yourself a Festive Mani
You know what they say: If you can't beat 'em, join 'em! Complement your festive sweater with an equally festive mani. The holiday season is the only time of year you can get away with over-the-top accessories and themed attire, so you might as well bask in the silliness of the season and have a good time. Indulge in some fun nail art: snowmen, holiday lights, candy canes, etc. Just go for a little cheesiness — you have all of next year to show everyone your chic side.
Need some more holiday inspo? See our favorite holiday makeup tutorials, ahead:
Read more
Back to top