WCW: Meet Makeup Artist Jenna Kristina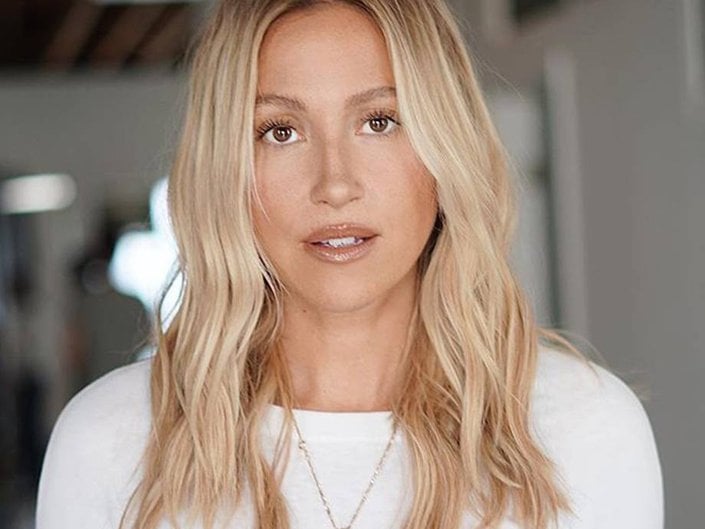 If you want to enhance your look while still maintaining an effortlessly cool-girl vibe, then makeup artist Jenna Kristina is your girl. The California native started out doing makeup for her friends and at retail beauty counters — experience she credits with her ability to adapt to a wide range of face shapes, skin tones and aesthetics. Although versatile, Kristina has an undeniably distinct style, with her looks often featuring subtly perfected skin, bold brows and sultry eyes. 
As one of the most recent additions to the Maybelline US Ambassador squad, Kristina is in good company — joining artists like Erin Parsons and Grace Lee. "I could not be more thrilled to be a part of Maybelline New York's roster of incredible makeup artists," she says of her new title. "Maybelline products have always been a staple in my kit since I got started in the industry." 
We recently caught up with Kristina for the tea on the products she's loving right now, her favorite makeup look to date and what makeup means to her. 
What's your current makeup routine? Any products you love?
My routine is pretty simple and minimal but I love glowing skin. I hydrate with Osea Hyaluronic Sea Serum and Osea Undaria Argan Oil layered with Chanel Hydra Beauty Creme. I love a bushy brow, so I use Lancome Sourcils Styler Brow in Brun, and fill in with the Dior Diorshow Brow Styler. Currently I'm using a tinted moisturizer by IT Cosmetics and Chanel Bronze Universal to warm up my skin. Maybelline New York Lash Sensational Mascara is my absolute favorite for my lashes! Then I use Clé de Peau Beauté Concealer (a splurge that's totally worth it — it's super concentrated and will last you awhile). Last, I usually line my lips with MAC Oak Lip Pencil and apply Maybelline New York Shine Compulsion Lipstick in Baddest Beige. If I want a more dramatic look, I'll add a cat eye. It's a sexy look without being overdone!
How did you get started in your career? 
I always knew I wanted to be a makeup artist. The idea that you could transform your look and be a more confident version of yourself felt so powerful to me. In high school, I did all of my friends' makeup in first period and also for dances and special events. I also worked at the beauty counters in the mall! It was a great place to learn how to work on different face shapes, skin tones and aesthetics. But I always knew I wanted more than that. I wanted to do photoshoots. I wanted to see my named credited in magazines. So to make that happen I started doing test shoots and expanding my network. Slowly but surely celebrity clientele started trickling in. It was so collaborative and intimate. I love building lasting relationships with my clients.
Biggest pinch-me moment in your career thus far?
Oh my gosh I feel like there's been so many! Definitely some of the clients and brands I've worked with, but signing to my current agency, The Wall Group, was a goal of mine since I first found out about agencies.
Your favorite drugstore makeup products?
I would have to say the Maybelline New York City Bronzer because of its creamy texture, and Maybelline's mascara range is incomparable. We've all loved Great Lash Mascara at some point in our lives, but Lash Sensational Mascara and Colossal Mascara are great as well. The Fit Me! Blushes are also amazing, and the Master Chrome Metallic Highlighter is insanely good!
What's your advice for anyone who wants to become a makeup artist?
I would suggest interning/assisting artists that you admire and respect. You can learn so much from watching.
Tell us the makeup trend you're most excited about in 2019.
I'm so happy that people are into color again and having fun with it. I love a natural look, but adding a pop of color to either the lip, eye or cheek is just so inspiring.
What's a day in your life like?
For me, no two days are the same. I try to start my day with celery juice ... I drive to work and during that time it's great to listen to my favorite podcast (Oprah's "Super Soul" or anything true crime-related) or make phone calls. Then I usually do someone's makeup either for a press day, photo shoot or for red carpet. I try to fit a beach walk in (I live in Venice Beach, California) or hot yoga at MODO yoga. I also really love cooking, so a perfect day would include all of the above.
Who/what inspires you?
Everything. Art (modern and contemporary), design, textures, music, scents, nature, my friends, my sisters, food and the next generation. I feel like kids are more compassionate and care about the environment way more than I did when I was younger.
Makeup is _____________?
Fun, whatever you want it to be, and it can be your self-care routine!
Read More: 
Meet the Olive & June Founder Changing the At-Home Mani Game
8 Things Your Makeup Artist Wishes You'd Stop Doing 
6 Beauty Blogs We're Currently Obsessed With
Read more
Back to top