How to Choose the Right Makeup for Medium Skin Tones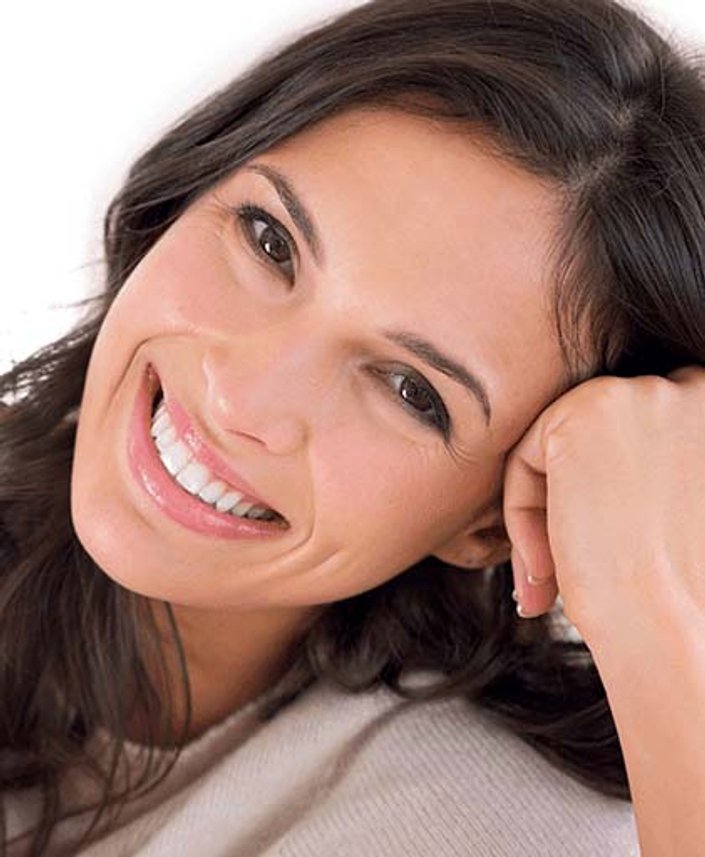 Medium skin tones — you're not quite considered fair or light, but you're not olive either. You've got just enough of a beige undertone to always wake up with a naturally healthy glow. And even if you skipped bronzer today, you'd still have enough color in your complexion to appear slightly tan. Mhmm, jealous!
Lucky for you, this also means that you don't usually burn when you're out in the sun (this doesn't mean you can skip SPF!). Since you're kind of "in between" skin tones, finding the right shade of makeup can be difficult at times. That's why we have put together a guide on finding the perfect products for your medium complexion!
Work With Your Undertones
Just like any other skin tone, choosing the right makeup is dependent on your undertones. And shopping for the perfect foundation shade can be overwhelming, as most brands will offer two or three colors that look almost identical.
For example, Lancôme Teint Idole Ultra Foundation Stick comes in Bisque, Suede and Buff—cool, warm and neutral. What does this mean? Beneath your specific skin tone lies a subtle hue of one of the following undertones:
Cool: Pink, red, or blue undertones
Warm: Yellow, peach or golden undertones
Neutral: A balance between both cool and warm
Not sure what your undertones are? Here's how to find out:
The White Vs. Cream Test:

Grab two articles of clothing (or even a towel) — one white and the other off-white. While

wearing NO makeup

, decide which color complements your skin tone best. If it's the pure-white shade, your undertones are warm. If the cream color suits you more (because the white washes you out), then you have cool undertones. If both flatter you just the same, you're neutral!

The Vein Test:

Look at the veins on your wrists. If they're green, then you have warm undertones. If your veins are blue, then you have cool undertones. Do you have both colors or do they appear to be blue-green? Then you have neutral undertones.

The Jewelry Test:

If gold jewelry enhances your complexion, then you're likely on the warmer side. If silver jewelry looks best on your skin tone, then you have cool undertones.
Foundation for Medium Skin
Working with your exact undertone will help you determine which foundation is perfect for your medium complexion. Try one of our favorite foundations and pinpoint your exact shade based on your learnings above. If you're still unsure, have a makeup expert at your go-to beauty department help you solve the undertone mystery!
Choosing the Right Blush
Choosing the right blush for you can always be a confusing process. Going with a blush that's too light can wash you out, while one that's too dark will look harsh and unnatural! If you have a medium skin tone with cool undertones, go for a rosy pink blush like Maybelline Fit Me Blush in Deep Rose to bring a flush of color to your cheeks.
If your undertones are warm, a soft apricot or peach blush like YSL Kiss and Blush in Rose Frivole will enhance your natural glow.
Related: How to Find the Right Blush for Your Skin Tone
Best Bronzer for You
If your skin tone is in between light and olive, you already have a natural hint of color in your complexion. So, the goal here is to just enhance it without going too shimmery or too dark. And beware of bronzers that are too warm, as they can make you look orange!
The general rule of thumb is to select a bronzer that's no more than two shades darker than your skin tone — but more specifically, ensuring that your bronzer is a perfect match means finding one that also suits your undertones!
For medium skin with warm undertones, a soft shade of golden-brown like NYX Matte Bronzer in Light or a soft brown with peach tones like YSL Terre Les Sahariennes Powder in Sienne works best. Finding a bronzer to match cool undertones is a little trickier since many shades can come off as yellow, orange or even muddy.
A translucent powder like L'Oreal Paris True Match Super-Blendable Powder in Natural Buff will add just the right amount of warmth to skin, without looking obvious. And a sheer liquid like Giorgio Armani Fluid Sheer in #10 is also the perfect product to enhance your complexion's natural radiance, while adding some definition to your cheekbones. It'll look like you woke up with glowing skin!
Related: The Basics of Bronzer
Eye Shadow Shades
An illuminating bronze or honey shadow shade work wonders against your skin tone. Try the Lancôme Color Design Palette in Golden Frenzy for a light, daytime look or build the color for a smoldering, golden smoky eye. For fun shades that really stand out — cool undertones look lovely in lavender or gray, while copper and rich blues flatter warmer undertones.
Flattering Lipstick Colors
Lucky for you, just about any lipstick color from light pink to deep berry enhances your skin tone — but there are just a few things to keep in mind! When shopping for the perfect nude lippie, women with cool undertones should look for a shade that has a slight hint of pink like Maybelline Color Sensational Creamy Matte Lip in Ravishing Rose — otherwise a true nude could wash you out.
Warm undertones, on the other hand, pair perfectly with a beige-nude like YSL Rouge Shine in Rouge in Danger.
When looking for brighter pigments, cool undertones look stunning in blue-based red, berry, pinks, and mauve! Warm undertones look amazing with gold-or-orange-based reds, burgundy, coral and even brown!
Read more
Back to top