Beauty Q&A: How Do I Wear Eyeshadow On My Lower Lash Line?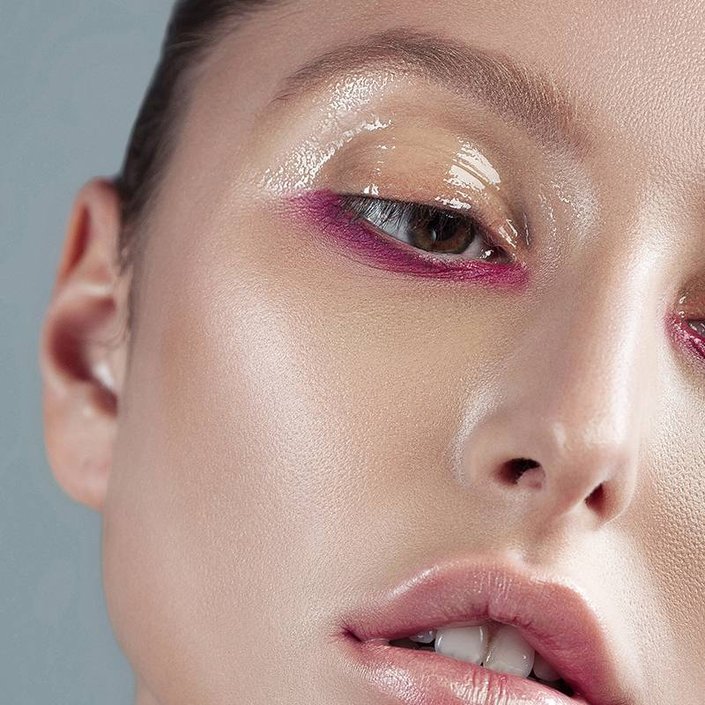 Trends come and go, but there are some looks we anticipate every season — two examples being unique floral creations and fun pops of color for the spring and summer months. An eye look we're currently loving that can be slightly intimidating (if you tend to shy away from bold looks) is colored eyeshadow on your lower lash line. You've seen the look on Instagram from brands like Urban Decay and NYX Professional Makeup — and probably a bunch of the influencers you follow, too.
We reached out to Kasey Spickard, makeup.com Contributing Makeup Artist, to find out how we can DIY the technique and look damn cool doing it. Here's what he had to say:
Balance, Balance, Balance
"This look is not for the faint of heart — it is a bold eye look after all," says Spickard. "The key to pulling off this look is all about creating a balance between the intense pop of color you've created on your lower lash line." And the look requires a few different components that pull it all together: very full top lashes paired with black winged liner or an intense cut crease and smoky eye. Or, as he suggests, "you can go full on Instagram beauty blogger and do all three together."
Consult Your Color Chart
Another important thing to keep in mind when you're experimenting with bright colored shadow on your lower lash line is to pair with complementary makeup products. For example, "if you're doing green on the bottom, then I recommend doing warmer browns and orange shades on the upper lid. If you're doing purple, go cooler on that upper lid with taupe, ash brown, and cool beige shades."
How to Get the Look, According to Spickard: 1. Start with a colored eyeliner (like a NYX Professional Makeup Jumbo Eye Pencil) in your waterline. I like to use a shade a half shade darker than the eyeshadow I'm going to be using to create dimension. Line your waterline from your tear duct to the outer corner. 2. Line your lower lash line with the same eyeliner, making sure you don't go too far below your lower lashes. 3. Now, get a small scallop eyeshadow brush and tap it very lightly into the eyeshadow color you are going to use. Start to diffuse the color along the lash line using a back-and-forth "windshield wiper" motion along the eyeliner line you made. The NYX Ultimate Shadow Palette in Brights has a fun array of colors that you can use to blend out your colored liner.   4. Take a clean, small smudger brush and again diffuse the color ever so slightly downward using those back-and-forth "windshield wiper" motions along the outer edge of where you placed the shadow. 5. Finish with mascara on your top lashes to make them strong and full as well as along your lower lashes. You can also cover your lower lashes in a colored mascara to give even more saturation to the color you've put on your lower lash line. 6. Finally, take it to the 'gram.
Hero Image: Shutterstock
Read More:
How Can I Get My Lip Gloss to Last All Day?
How Do I Set Dewy Makeup Without Taking Away the Dewiness?
Why Should I Use a Lip Scrub Before Applying Lipstick?
Read more
Back to top