The Best Colored Eyeliner for Your Skin Tone, According to Beauty Editors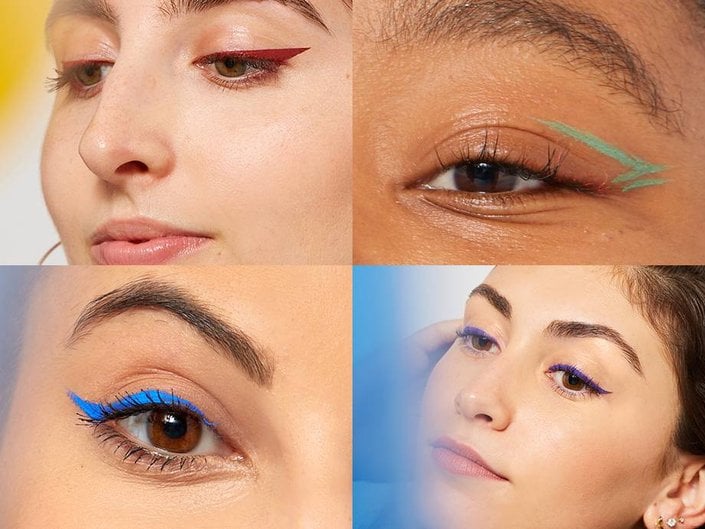 We love a colorful makeup moment. Just one look at our Instagram "saved" folder will reveal just how many of these looks we can't get enough of right now (read: 25+). Bring on neon manicures, bold eyeshadow and our latest obsession, colorful eyeliner. While we're obsessed with so many different colorful eyeliner looks, we realize that certain colors look better on our specific skin tones than others. To help you in your quest to find the perfect colorful eyeliner to wear all season long, our editors picked the shade they feel most comfortable in — learn more, ahead. 
Tembe, Associate Beauty Editor
Although I don't wear tons of makeup, I love to take it to the next level with my eyeliner. I'm inspired by all of the geometric lines and shapes I see all over the 'gram and wanted to add that into my colorful eyeliner look. I decided to create this floating double wing look using NYX Vivid Brights Eyeliner in Vivid Escape, and followed my natural eye shape creating a fun, but wearable look. Bright green isn't a shade I'd typically go for with my golden undertones and brown skin, but the soft, almost-pastel shade is a match made in colored-eyeliner heaven (if such a place exists).
Alanna, Associate Beauty Editor
Blue is a color that's often out of my comfort zone — which is exactly why I went for it in this shoot. I decided that this cool, bright cobalt color would really pop against my warm olive skin tone. I used the NYX Professional Makeup Vivid Brights Liner in Vivid Sapphire (my birthstone!), and I really love how it turned out. I opted to apply this the same way I would my normal black cat eye, starting from the inner corner and winging it out sharply on each side. The cool, icy color offered a ton of contrast to my complexion and offset my hazel-brown eyes really nicely. It goes to show that sometimes the best way to bring out your warm skin tone is to play up a complete opposite shade, and I think I'm willing to definitely try it again soon (wild, right?). 
Jesa, Assistant Beauty Editor at POPSUGAR
It was Rihanna who inspired me to try white eyeliner — specifically her look for the Louis Vuitton Men Spring/Summer 2019 show that took place last summer. I had always worn a sharp graphic liner but wasn't sure how the look would translate in white. I chose the Stila Stay All Day Waterproof Liquid Eye Liner in Snow to test the look. It's the photonegative of the brand's OG pen in Intense Black — a pen that has a fine point that doesn't drag against my lids. I swept on the stark white ink into the triangular shapes, and I was so glad that I did. The white liner was striking against my medium, caramel skin tone, and I got compliments on the look the entire day that I had it on. The moral of this story? Don't be afraid to try new makeup looks (oh, and when in doubt, do as Rihanna would).
Marisa, Associate Beauty Editor 
If I'm being perfectly honest, I fear colored eyeliner and even most colored eyeshadows. I've just never found a shade that looks really, really good on my skin. I have light skin with warm undertones, so I've found that when it comes to bold shades, I have to opt for earthy shades — like dark green, and in this case, a rusty red. After swatching a handful of different liners on my skin, I was drawn to NYX Strictly Vinyl Eyeliner in Hazy. I drew on a cat eye, curled my lashes, swiped on some mascara and couldn't help but wonder why I've never tried this color before.
Jessica, Assistant Beauty Editor 
Let me preface this by saying I don't even wear regular eyeliner, let alone colored liner, but I was pleasantly surprised by how this look turned out. While I rock a black wing on a very rare basis, I've never even considered going to a more vibrant shade. When I surveyed the rainbow of colored liners we had available, purple seemed like the best choice to complement my brown eyes and yellow undertones in my skin tone. Using NYX Professional Makeup Vivid Brights Liner in Vivid Violet, I drew on a modeset wing and hoped for the best. The final result: I was surprised by how wearable the bright color was. It was subtle enough that from afar it looked like regular eyeliner, but up close it looked very cool and playful. 
Read More:
5 Statement Eye Looks for Summer 
The Complementary-Colored Eye Makeup Tutorial You Have to Try ASAP
Our Editors Tried Bright, Bold Eyeshadow for Summer — And the Looks Are Fire 
Read more
Back to top