These Cut Crease Video Tutorials Will Literally Mesmerize You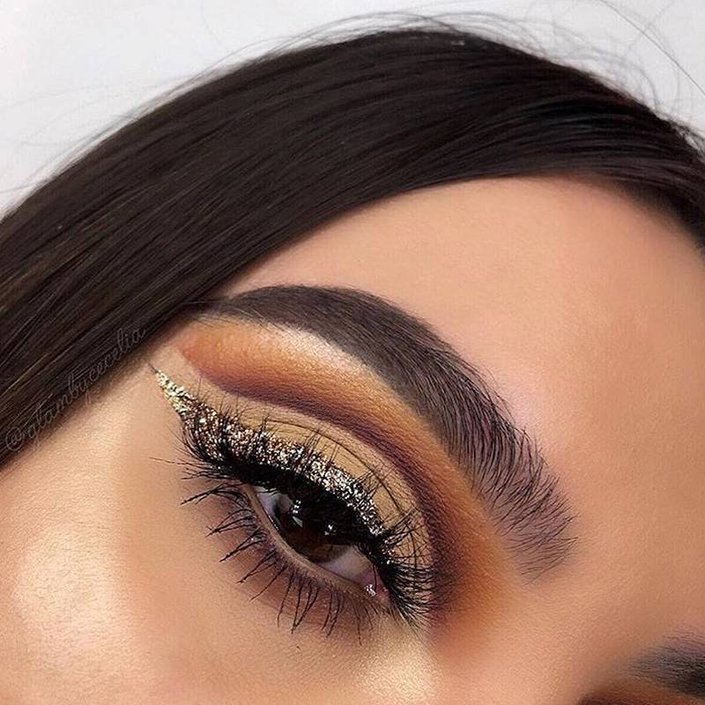 Cut creasing is the eyeshadow trend that we can't seem to get out of our Instagram feeds (looking at you, Urban Decay and NYX Professional Makeup). The trend is beloved by beauty gurus and experts alike for the way it defines the eyes and makes them look bigger — which is certainly a perk if you have small, or hooded eyes. To get the look, the basic idea is that you apply a lighter shade of eyeshadow all over your lid and then a contrasting shadow shade over your crease to define it — hence the term that's taken over the beauty world: "cut-creasing."
One of our favorite things about the cut crease trend is that you can keep it really subtle to make your eyes stand out — or opt for something bold and statement-making. Since a search for "How To Cut Crease" in YouTube yields nearly one million results, we pulled five tutorials to help you determine which look you want to try and recreate (you're welcome). Ahead, discover the five looks, which are ordered from the most subtle cut crease look to the boldest, Zendaya-inspired look.
For a subtle cut crease…
For those who are new to the cut-crease trend and/or are hesitant about it, this tutorial by Denitslava Makeup is a must-see. Vlogger Denitsa explains how this look is ideal if you don't have a lot of time, but you still want a makeup look that's polished and glamorous.
For an easy glitter cut crease…
If you're looking for a cut-crease that's more defined, Kaushal of Kaushal Beauty's Easy 3-Step Cut Crease tutorial will walk you through the steps in detail. If you're not one to wear glitter, keep in mind that you can skip this part of the look and still get a flawless cut crease.
For hooded eyes…
This makeup tutorial is great for everyone, but for those of you with hooded eyes, you'll be especially grateful for the way it makes your eyes pop and look larger. If you don't have hooded eyes, then Brianna will let you know what you can skip out on.
For a glittery AF cut crease…
If you're glitter obsessed, this metallic cut crease has your name all over it. Amy of Amys Makeup Box will walk you through the steps to get the dark rose gold look.
For a bold, colorful double cut crease…
First of all, this look by NikkieTutorials was inspired by a similar look by Zendaya, who's casually a source of our beauty inspiration at the tender age of 21. This blue and purple double cut crease is daring, bold and begging to be Instagrammed.
Hero Image via glamby.cecelia on Instagram
Read more
Back to top