The Best Liquid Eyeliners of All Time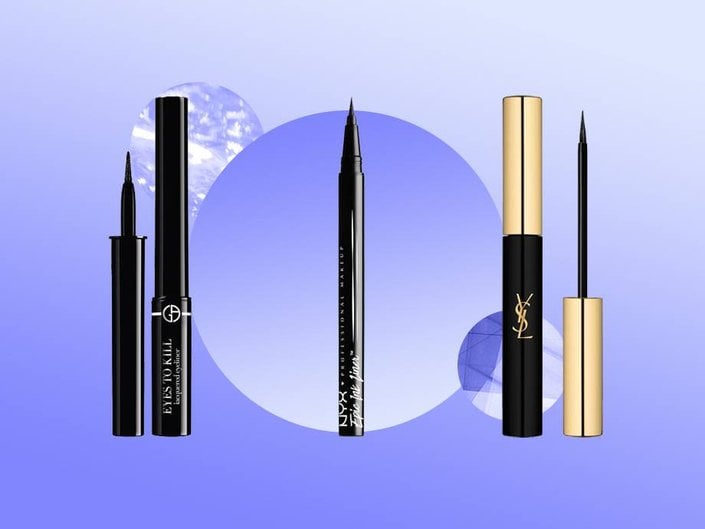 Look into a beauty guru's makeup bag and you'll find a dozen eyeliners. From pencils and gels to liquid formulas and markers, there's a new liner hitting the market every second — and we love it. Sure, they may all look the same to the untrained eye, but each liner serves a different purpose. Think: a felt tip for ultra-thin application, a marker for intense cat eyes, a tapered pen for sharp wings and colored liner for when you're feeling bold.
To show our undying devotion for liquid liner (and take out the guesswork for you), we've created a robust list of our fave liquid eyeliner products to help you get the job done, below. But first, let's review some liquid eyeliner dos and don'ts. 
Do your eyeshadow first. "That way, if there are any mess-ups, you can simply use the edge of a cotton swab dipped in makeup remover and remove anything you don't want," says celebrity makeup artist Emily Oliver.
Do use face makeup to clean up your eyeliner. "I recommend using concealer afterward in order to shape a sharp edge, leaving liner looking fierce and the point perfect," says Oliver.
Don't apply your eyeliner with free elbows. "In order to get the best line — if you're unsteady —  anchor your elbows on the counter, look into the mirror and apply," says Oliver.
Don't go horizontal with your cat eye. "When creating a wing, extend it upward at around 45 degrees and out," says Oliver. "This will create an almond shape and make your eyes look huge." 1 / 30 2 / 30 3 / 30 4 / 30 5 / 30 6 / 30 7 / 30 8 / 30 9 / 30 10 / 30 11 / 30 12 / 30 13 / 30 14 / 30 15 / 30 16 / 30 17 / 30 18 / 30 19 / 30 20 / 30 21 / 30 22 / 30 23 / 30 24 / 30 25 / 30 26 / 30 27 / 30 28 / 30 29 / 30 30 / 30
Read more
Back to top