Our Editors Tried Bright, Bold Eyeshadow for Summer — And The Looks Are Fire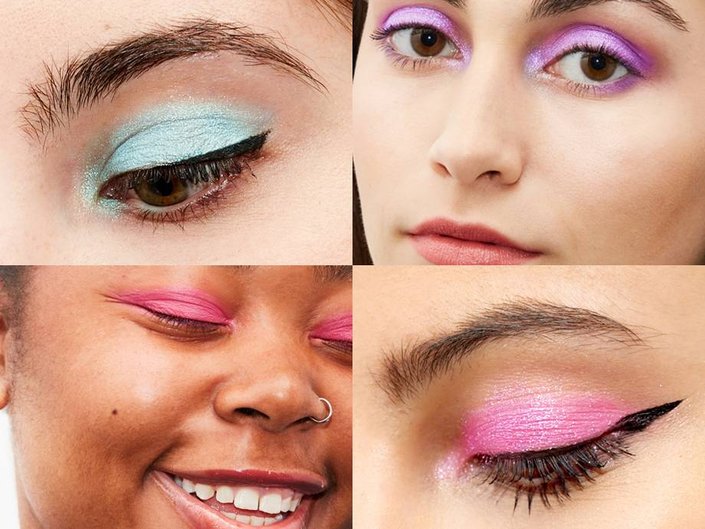 Bright eyeshadow is undeniably a mood. From celebs sporting bold lids in magazine editorials to your favorite beauty influencer debuting a new palette on her Instagram feed, you've surely come across one or two eyeshadow looks that made you think, "Damn, I want to give that a try." We editors experience this feeling, too. For me, it was with that Selena Gomez Instagram photo that broke the Internet. You know, the one where she's wearing glittery pastel green eyeshadow paired with a natural-looking red lipstick. Ahead, the Makeup.com editors chose one bright shade of eyeshadow that they don't normally wear to test out for summer 2019. See the looks and read about their experience, ahead.
Marisa, Associate Editor
As hinted above, I daydream about Selena's green eyeshadow at least weekly. With her look in mind, I used the Stila Happy Hour Eyeshadow Palette in the shade Highball (a seafoam glitter), to recreate my own version. I opted for a bluer shade that scared me because it reminded me of my theater days when I wore as much blue eyeshadow as I could pack on, but I had a feeling the end result might be pretty cool — Selena -level cool. Turns out, I was right. People kept complimenting the shade and asking what it was.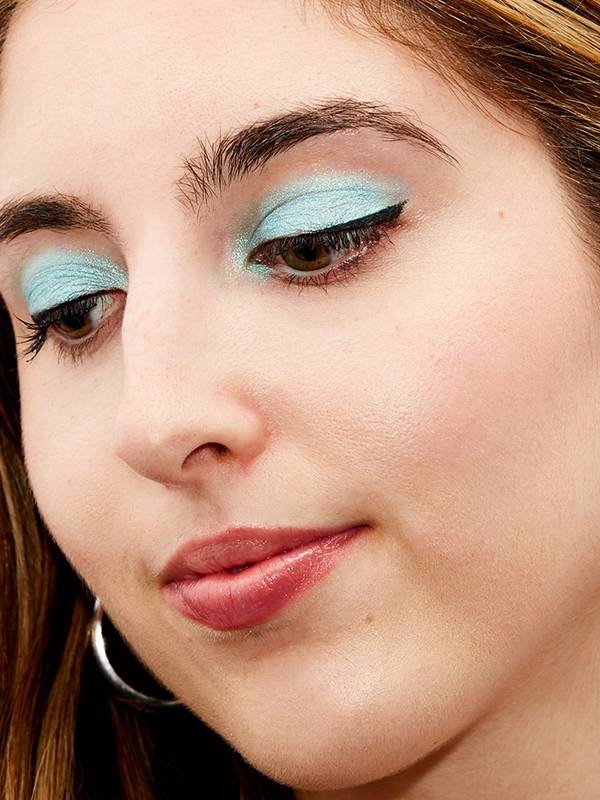 Tembe, Associate Editor
I'm pretty eyeshadow averse — but when I do decide to sweep some color on my eye, I like to take risks. For this look I chose a bright pink hue to wear all over my lid (very trendy, I know) and paired it with a pink-brown gloss. The shade in question is Narrows from the Hipdot Zion Eyeshadow Palette, a true-pink that was easy to apply (I just used my fingers) and held up sans primer — an impressive feat considering my lids get oily. I'd definitely rock this look again, but next time, I may add a little glitter.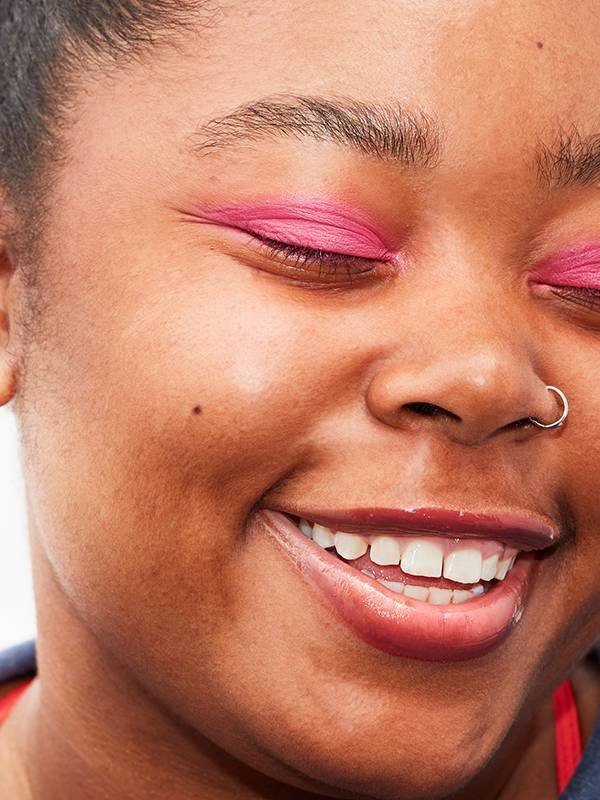 Alanna, Associate Editor
The one product I can safely say I never wear on my face is glittery purple-pink eyeshadow. In fact, the only time I can recall wearing something even remotely like it was during my debut performance of the Wicked Stepmother for a high school production of Into The Woods. Point being: I simply never wear this type of makeup. So when my co-editor Marisa asked me what bold eyeshadow I'd never wear but would be willing to try for this story, I knew this was it. I opted for 1985 by Urban Decay for a colored base and proceeded to pack on Cosmo from the Stila Happy Hour Eyeshadow Palette over top for a punch of glitter. Much to my surprise, I didn't look too bad. In fact, I found the look rather campy, fun and something I would (maybe) attempt again on a night out. I think a dark eyeliner wing and loads of mascara balanced it out nicely and made the glitter feel less jarring and more like a focal point. All in all, this did not make me feel like the Wicked Stepmother of my theater career's past — and I'll take that in pride.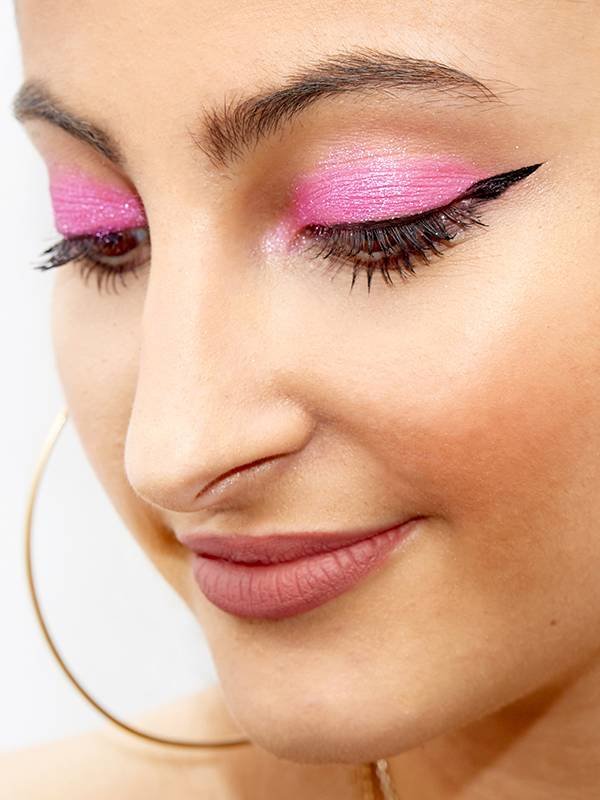 Jessica, Assistant Editor
While I am an avid eyeshadow wearer (it's sort of my equivalent to wearing a signature wing), I can confidently say that purple shadow is not in my regular rotation. With that said, I do have plenty of stunning purple-toned eyeshadow palettes begging to be played with, so I figured, why not? Although I did fear that these would be my famous last words as I packed on the vibrant purple pigment, the phrase "go big or go home" was in my head. I started with NYX Professional Makeup Nude Pro Matte Shadow in Birthday Suit, a soft lilac color as a base for my lids. Then, I cracked open the HipDot Zion Palette and began blending Wild River into my crease. To finish off the look and add some dimension — otherwise my eyes would just look dark and shadow-y — I applied Cosmo, a glitter shadow from the Stila Happy Hour Eyeshadow Palette, in the center of my eye using my ring finger (I found this method delivered the most pigment). My final thought? Fun but daring, and definitely an eye look that will be reserved for evening occasions.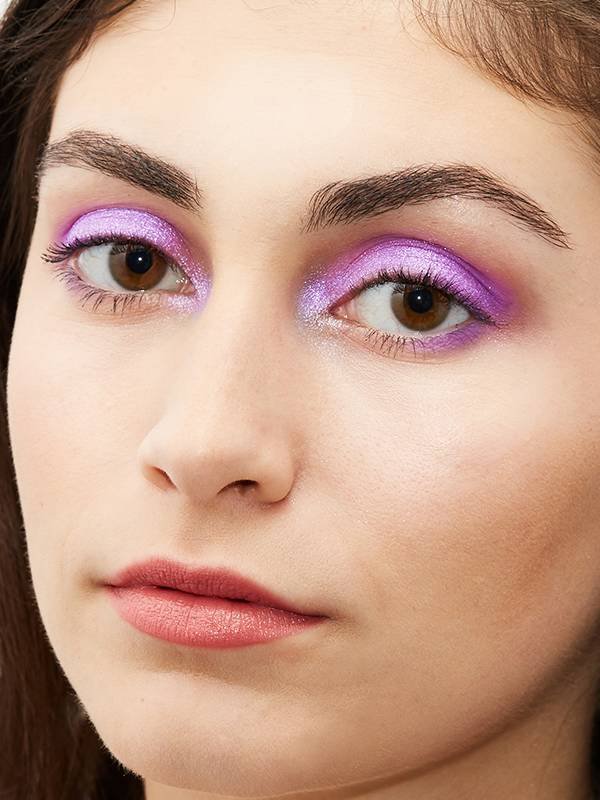 Read More:
This Baby Pink Monochromatic Makeup Look Is Surprisingly Wearable for Summer
The Essie Glazed Days Collection Is Here — Check Out All Six Bright Shades
7 Lip Gloss Tips Everyone Should Know
Read more
Back to top