6 Eye Makeup Products That Make Green Eyes Pop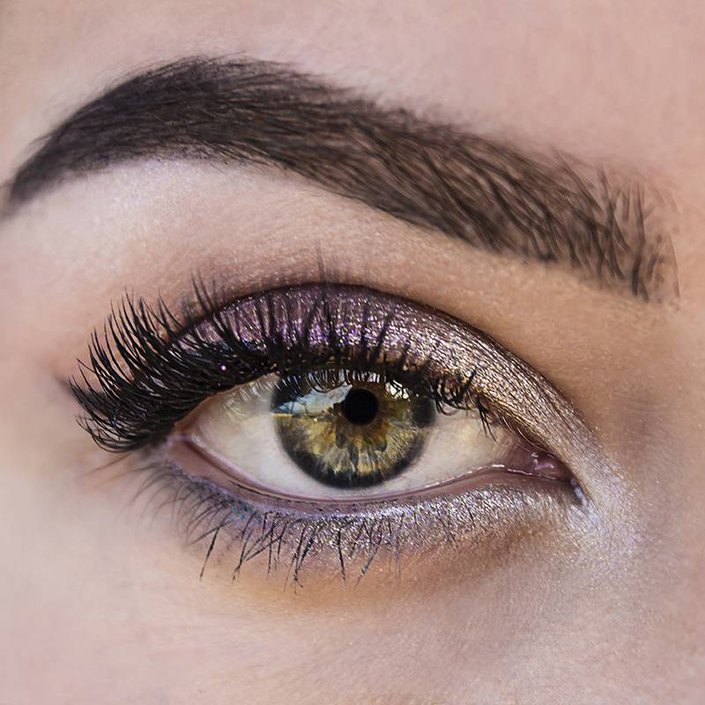 They say green eyes are the rarest of all the eye colors. According to science, this is because a number of factors have to come together like a perfect storm — something about stromas and melanin — for green eyes to even happen. Since they're so special, it can be a struggle to find personalized products — as well tips and tricks that are specifically geared towards green eyes.
Since we already determined the best cat eye for your eye shape, the best eye shadow palettes for your skin tone and the best makeup for olive skin, it was time to tackle green eyes. According to the science of color theory and actual celebrity trial-and-error, the best colors for green eyes include all of the purples, copper, taupe, emerald green and gray. Click through to discover six product picks that everyone with green eyes should have in their beauty stash.
To make your eyes pop…
Line your eyes with Urban Decay 24/7 Glide-On Eye Pencil in Empireto make your green eyes really stand out.
For everything you need to compete a green eye makeup look...
The IT Cosmetics Superhero Eyeshadow Palette contains Superhero Nudes for a no-makeup makeup look, Superhero Neutrals to bring out your eye color and Super Hero liners to bring the whole look together. Specific shades that we're obsessed with for green eyes are Fearless, Superhero and Aura.
To fully commit to purple eye makeup…
Maybelline Volum' Express The Colossal Big Shot Mascara x Shayla in "Poppin' Purple" is a top mascara contender to covet if you have green eyes. Since red lies directly across from green on the color wheel, any purple shade (especially shades with red undertones) will help green stand out.
To enhance your eyeshadow game…
Whether you're a dedicated glitter wearer or an aspiring one, pair NYX Face and Body Glitter in Copper with Glitter Primer to create a mesmerizing eye look.
To experiment with different shades...
Fact: You shouldn't be afraid to embrace green shadow if you have green eyes — and this YSL Couture Palette in Avant Garde contains five different eyeshadow shades that can be worn alone or together for a green-eye loving look. Colors range from a soft beige and shimmery brown to light green and dark gray.
To get a warm smoky eye...
The Urban Decay Naked Heat palette contains a wide range of warm and rusty shadows that are ideal for complementing your eye color. We're particularly obsessed with the glittery copper shade of Lumbre.
Read more
Back to top