10 Eyeliner Tips That Will Seriously Up Your Liner Game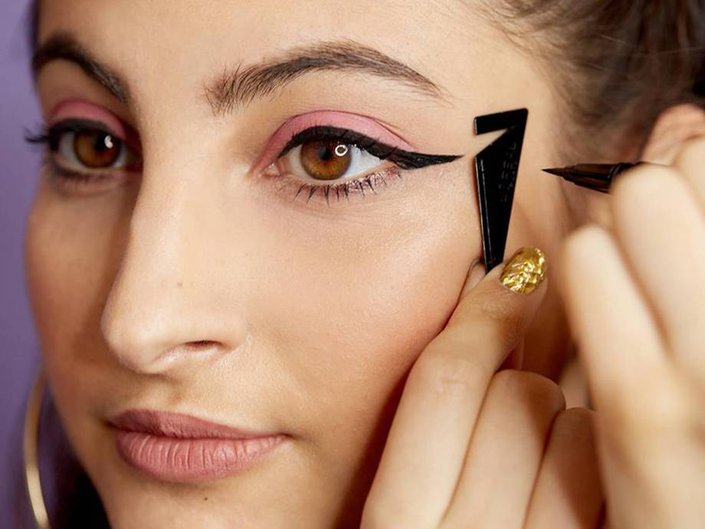 Eyeliner is a staple in our beauty routine. Artistic cat-eyes and smoky eyes obviously call for liner, but even natural, barely there makeup usually has some type of eyeliner involved. Why, you may ask? Well, liner is a sneaky, easy way to subtly call attention to your eyes, make your lashes look longer, your eye color more vibrant, and even make you look more awake (sign us up). To be clear, eyeliner takes practice — lashline-hugging perfection, flicks and cat eyes included. Sadly, not all of us have the steady hands of a master calligrapher. If your hand shakes like you've had five cups of coffee every time you pick up an eyeliner pencil, don't worry: We feel you. Sometimes just making a straight line can be tricky, but that doesn't mean you can't master this beauty basics. 
Truth is — with foolproof tips and a few secret cheats, eyeliner can actually be quite simple. Practice enough and you'll be a whiz, not only with natural-looking makeup, but also with a few flashier looks for when you want to jazz things up. Consider this list of tips and tricks your ultimate crash course in eyeliner. We promise, you'll be a cat-eye-wearing pro in no time.
EYELINER TIP 1: There Are Three Basic Types of Eyeliner
Whether you choose pencil, gel or liquid, each has its own special application and skill level. An eyeliner pencil is the most common (and easiest) type and perfect for an everyday look. One of the biggest mistakes people make is not regularly sharpening their pencils. In addition to keeping them clean and bacteria-free, sharpening your pencil ensures you can get your line as close to your lash line as humanly possible. 
Gel eyeliner, on the other hand, typically comes in a pot and is applied with a brush. These can be a little trickier because you decide how much product to apply. Gels have an amazingly creamy consistency, so they can glide across the eyelid without pulling or tugging like a pencil can. One drawback is that unlike pencils, which are good to the last sharpening, gels are housed in pots and can dry out faster than other formulas.
The most advanced liners are the liquid category. They can be unforgiving if you make mistakes, but once you master the delicacy needed for proper application, these inky beauties are unparalleled at creating cat-eyes and other dramatic eye shapes. They have the potential to be the messiest of all three, which is why it's crucial to find a technique that works for you and will help you avoid turning your eyelid into what looks like a third-grader's art project.
EYELINER TIP 2: Hold Your Eye for More Control
You'll find that most liners tend to get stuck or skip across your lid, so start off by creating a smooth canvas for your liner to glide across. Using your pointer and middle finger, pull the skin above your eye taut for a smoother, more precise line. Instead of free-handing it, prop your elbow up on the counter to steady your hand. Just be sure not to manhandle the delicate skin around your eye — you don't want to tug too hard and risk stretching or damaging the skin.
EYELINER TIP 3: Choose the Right Color
You don't always have to go with classic black, especially if you are just starting out. Brown and light gray are great training colors when you're trying a new technique as they're less stark and much more forgiving if you make a mistake. You can also make your eyes appear brighter and more vibrant by using a color-enhancing shade. For blue gazes that means picking something in the warm browns, bronze, or copper family. Green beauties should try violets and purples, while brown-eyed girls can go bold with bright blues or keep it simple with navy. Hazel eyes, with their multi-tonal colors, have the option to play up either the browns or greens in their eyes. To make them look browner, try rich earth tones, gold, and green. Bring out green by using bronze or eggplant. And as always, don't be afraid to experiment outside of these suggestions, too. 
EYELINER TIP 4: Don't Forget to Blend
When using a pencil, blend it out for a more natural look. A dual-ended pencil with a sponge attachment at the end makes this process a lot easier (sneak a peek at this awesome one from Kevyn Aucoin). The pressure you apply will determine what kind of line you get. A light touch will soften without losing definition, while a heavier hand will diffuse the color and create a smokier effect.
Speaking of a smoky eye, did you know you can use your liner to create the easiest smoky eye ever? Take your liner and place it about halfway across your lower lash line. Draw a line outwards, making sure to keep it directly against the rim of the eye. Extend the line past the edge, angling it up towards the tail end of your eyebrow. Don't go all the way — stop when you are level with your eyelid crease. Then place the line at your crease, just above that first line, and follow the crease until you are halfway across the eyelid. Use your liner to color in the space between that V-shape you've made. Use your finger to smudge the color outwards and now you've got a smoky eye look using just one product.
EYELINER TIP 5: Line Your Waterline in a Nude Shade
Instead of using black on your inner rims, choose a nude shade for a bright-eyed effect. This is a perfect trick for when you're tired and want to look more awake. You can also use a champagne or metallic rose hue to really brighten things up. Try applying it to both the waterline and smudged into the inner corner of your eye for a more ethereal effect. 
EYELINER TIP 6: Trace Your Way to a Flawless Cat Eye 
No need to guess where and what angle your cat-eye should be. Just hold a business card diagonally against the corner of your eye, and trace alongside it to draw your cat eye flick. You can also put a piece of tape in the same area and use that as a guide, but be careful not to yank or rip it off — it will both hurt and potentially damage your skin. There are even stencils and liners developed to help you master the look like L'Oréal Paris Infallible Flash Cat Waterproof Eyeliner. 
EYELINER TIP 8: Fix Mistakes With Cotton Swabs
Mess up? Don't worry, it happens to the best of us. Instead of starting from scratch, dip a cotton swab in makeup remover and use it like an eraser to carefully remove any mistakes. Just remember to get to it quickly —it's easier and less of a mess to erase it while it's wet than it is when it sets into your skin
EYELINER TIP 9: Give Your Liquid Liner Time to Dry 
Avoid any smudging while your liquid liner is still wet by keeping your eyes closed for 30 seconds after applying. You can also lock it in even more by dipping a small shadow brush in translucent powder (we love the Dermablend Translucent Setting Powder for this). Gently dab the powder over the top of the (dried) line. If you want to get really fancy, use a complimentary eyeshadow to set and amp up the color.
EYELINER TIP 10: Use a Primer 
After taking a serious chunk of time out of your morning to apply that cat eye, you don't want it rubbing off after a couple hours. Use an eye primer like Urban Decay Eyeshadow Primer Potion to create a base that will help your eyeliner last all day. For extra staying power, we recommend a few spritzes of Urban Decay All Nighter Setting Spray.
Read More:
I Tried the L'Oréal Paris Flash Cat Eye — Call Me Shook
How to Tightline Your Waterline With Eyeliner 
A Complicated Love Letter to the NYX Lip Gloss I Thought I'd Never Wear Again
Read more
Back to top