The Ultimate Watercolor Eye Makeup Tutorial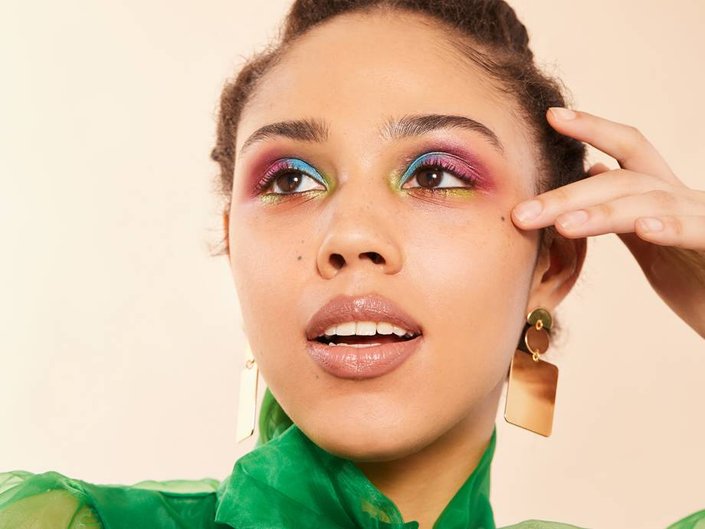 Sometimes when we pick up a makeup brush, we get the urge to paint a portrait on our face that's as pretty as a Monet. And as we've seen on makeup muses flooding our Instagram feeds, watercolor eye makeup is a thing, so we couldn't help but create our own version of the trend. Ahead, we teamed up with NYC-based makeup artist Anne Kohlhagen to create our own makeup masterpiece in the impressionist style. Here's how to get the look.
STEP 1: Apply Your Outline in Powder
The first step to any watercolor eye is building your map of colors with powder shadows, according to Kohlhagen. Once you've chosen four to five colors, "make sure you are sectioning out where you want your colors to go," she says. This will allow every color to be spotlighted, as opposed to accidentally blending them together. "You want to avoid taking a blending brush and mixing the shades together," Kohlhagen adds. "Focus on letting the colors overlap, but do not combine them."
As for where to put what color, she urges you to keep it organic — there is now rhyme or reason to this, so feel free to apply the colors wherever you feel the different colors should go. Here, she starts with the NYX Professional Makeup Hot Singles Eyeshadow in Poolside at the inner corner to begin the look.
STEP 2: Apply Creams Overtop to Set
Once you've mapped out where each color is going to go, apply a cream or liquid eyeshadow in matching colors over top to set the look and really make each shade pop. "I also think it helps to use a mix of matte and metallic cream colors to build dimension and texture," says Kohlhagen. Once applied, go in with a fluffy brush to blend out any harsh edges around where the color meets your skin tone.
STEP 3: Set With Setting Spray
"If you want to go back and change some of the colors, go in with a Q-tip and a waterproof makeup remover," Kohlhagen notes. And as far as setting the entire look, finish off with a spritz of the Urban Decay All Nighter Setting Spray. This will keep your look from creasing and your watercolor shadows from melding together throughout the day.
Photo Credit: Chaunte Vaughn
Model: Gia Charles
Read More
The Best Lancôme Beauty Products
The Perfect Lipstick for Every Dinner Date
Read more
Back to top