How to DIY Your Own Liquid Eyeshadow in 4 Steps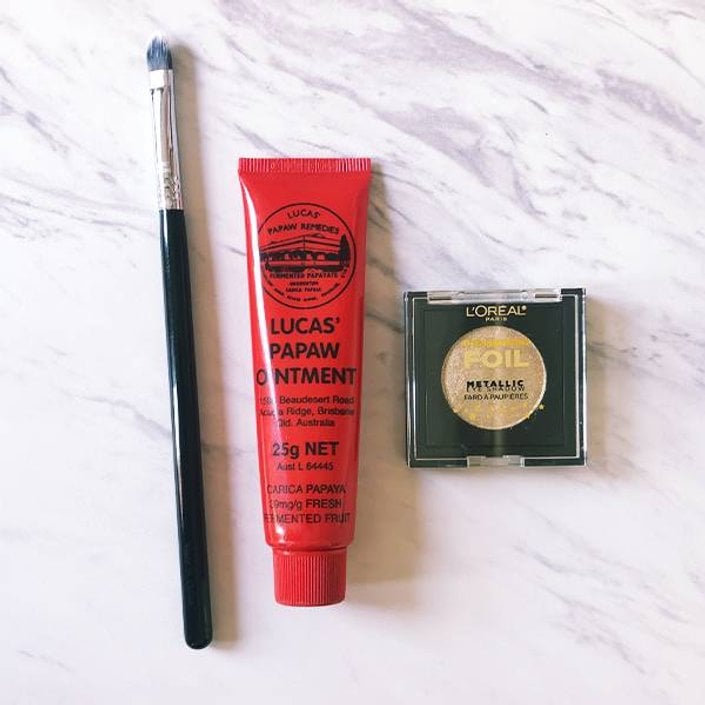 Not all beauty DIYs are intuitive, but we personally think that's what makes them the most fun. Whenever a new, hot makeup trend appears in our feeds, we try to think of a creative way to dupe them so we can save ourselves from selling out the cash. And making your own liquid eyeshadow is no different. All you need is two products, a brush and an open makeup mind.
You'll Need:
A flat eyeshadow brush
A balm
Pigmented shadow
Step 1: Grab Your Materials
We love using a balm like Lucas Papaw Ointment and a seriously pigmented shadow like the new L'Oréal Crushed Foils Metallic Shadow for this.
Step 2: Dime That Balm
Grab a dime-sized amount of your balm, and place it on the back of your hand (or on a makeup mixing palette, if you fancy).
Step 3: Scoop That Shadow
Pick up a good amount of your shadow with your second or third finger. Make sure you're picking up at least a dime size amount as well — the more the better.
Step 4: Mix-a-Lot
Mix the shadow into the balm with your flat shader to create an instant liquid eyeshadow. We recommend mixing until the consistency is jelly like and tacky — enough for the pigment to blend and also easy enough to swipe onto your lids. Most importantly, make sure your eyes are majorly primed (with a concealer or primer potion) to keep your DIY shadow from creasing.
And voila: You now have your own DIY version of *that* liquid shadow that's been blowing up on IG.
Read more
Back to top