5 Mini Brow Tools You Didn't Know You Needed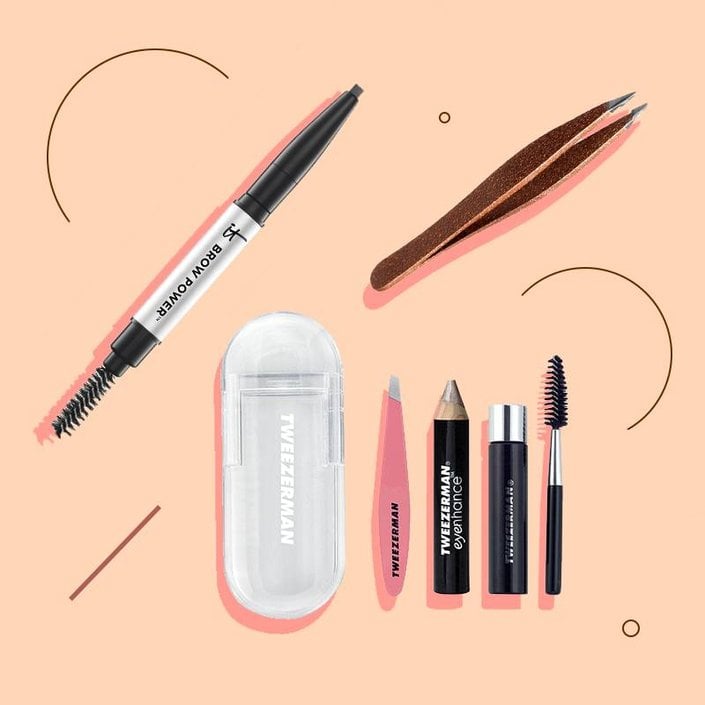 Eyebrow products are sacred staples in every beauty lover's makeup collection, whether that's the trusty eyebrow spoolie you've been using for years (it's definitely time for a replacement, but we don't judge) or the same eyebrow pencil you buy over and over again because brand loyalty is totally a real thing. Nevertheless, if you're like us, you're always open to trying new stuff. Have an extra clear brow gel you're looking to get off your hands? We'll take it. Unsure of what to do with that extra brow pencil you accidentally ended up with? Pass it our way.
A bag full of normal-sized brow tools is great and all, but when we're on the go (or just looking to save space in a tiny apartment), there's something about having a stash full of brow minis that's extra enticing. Ahead, check out five mini eyebrow essentials that'll perfect your brow look, including tweezers, pencils and complete brow kits. Covet them all, and you'll be set for life.
T.J. Maxx Mini Eyebrow Touch Up Kit, $3.99
For a price you can't beat, check out this mini eyebrow touch-up kit from T.J. Maxx. The kit includes clear brow gel, a brow pencil, tweezer, spoolie and a brow brush. Each tool is labeled with the name of what it is — in case you're an eyebrow newbie, or just someone who's obsessed with organization.
Sephora Collection Strays Away Mini Tweezer Set, $10
Guilty of always misplacing your tweezers? Same. The Sephora Collection Strays Away Mini Tweezer Set includes four stainless steel mini brow tweezer essentials: angled, flat, pointed and slanted. Keep all four safe inside the carrying pouch so they don't go missing on the bottom of your bag.
IT Cosmetics Brow Power Universal Eyebrow Pencil Mini, $13
Meet one of the most popular products from IT Cosmetics: the IT Cosmetics Brow Power Universal Eyebrow Pencil. The mini version costs only $12, making it perfect for those who want to test out the product for the first time or store in a travel-size makeup kit.
Tweezerman Mini Brow Rescue Kit, $25
Perfect for keeping in your day bag in case of any eyebrow emergencies, the Tweezerman Mini Brow Rescue Kit will help you in times of trouble. The kit contains a mini slant tweezer, mini brow mousse, a mini brow brush and a mini brow highlighter — all tucked inside of a portable pink case.
This on-the-go kit has everything you need to perfect your brows, no matter where and when you need to. Each mini brow box includes two shades of brow powder, wax to keep your brows in place, mini tweezers, a mini spoolie and two mirrors.
Read More:
Garden Brows are a Thing and TBH, We Don't Have It
Anyone Can Try the Colored Brows Trend — Here's How
Dripping Eyebrows Exist and We Know You'll Have Feelings
Read more
Back to top