5 Wedding Nail Tutorials Every Bride-to-Be Will Want to Watch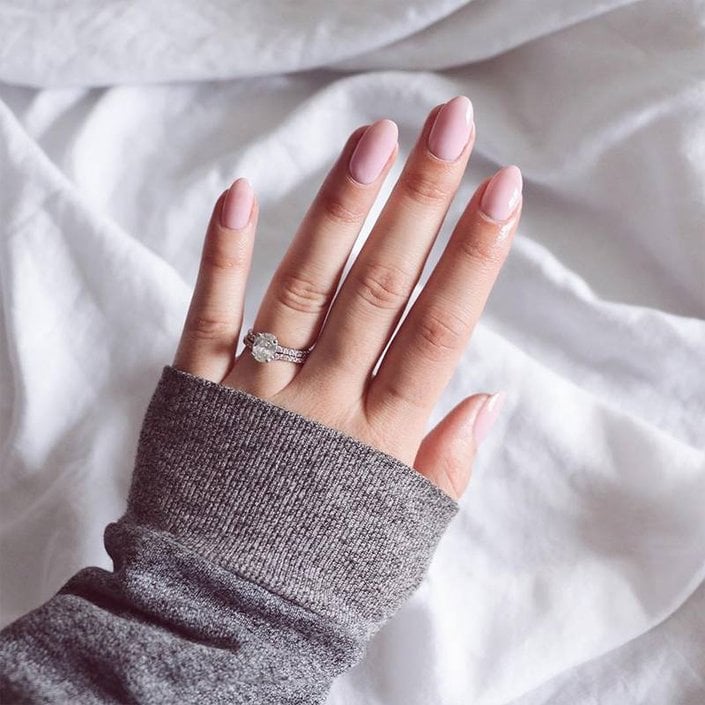 Fact: We take our manicures seriously every day of the year — whether it's a DIY one (done on the couch in pajamas, probably) or a special salon experience with nail technicians and all of the tools to really perfect the nail look. So when it's time to walk down the aisle, choosing a wedding manicure won't be easy. That's why we rounded up five bridal nail ideas based on your personality, ranging from the subtlest look to the most 'gram ready. Because there's a wedding many for everyone — from the DIY queen to the salon regular.
If you want to keep things classic...
STEP 1: Apply Essie First Base Base Coat.
STEP 2: Paint one coat of Mademoiselle onto all of your nails.
STEP 3: For your French tip, use Ballet Slippers and (no matter how long your nails are) paint a fine long along the length of  your free edge.
STEP 4: Add another coat of Mademoiselle on top of the whole nail to finish the look.
If you're a glitter obsessed bride…
STEP 1: Paint on two coats of Essie Topless and Barefoot.
STEP 2: For the shimmer coat, Julia Graf uses a clear polish to help the glitter stick to her nails.
STEP 3: Graf uses two different types of glitter: a white, multi-tonal glitter and gold, warm-toned one.
STEP 4: Apply the clear nail polish to the top of your nail. Don't take it all the way down to your nail bed so the glitter has a gradient effect. Graf recommends polishing and glitter-ing each nail before starting on the next nail so that the clear polish doesn't dry before glitter is applied.
STEP 5: Apply the white glitter using a fan brush, followed by the golden glitter just at the top of your nail.
STEP 6: Clean up the edges of your nails with a nail polish correcting pen.
STEP 7: Finish with a top coat to make the surface of your nails smooth.
If you're looking to sneak in "something blue…"
STEP 1: Start by applying polish barrier on your fingertips.
STEP 2: Paint the underside of your nails turquoise, or your favorite shade of blue.
STEP 3: Apply sheer white polish all over your nails, followed by a polish barrier over your cuticles.
STEP 4: Add nude polish onto a sponge and white polish at the top of the sponge.
STEP 5: Dab onto your nail to create a gradient and then peel polish barriers off with a tweezer.
STEP 6: Using a wax pencil, place rhinestones on your nails (optional) and finish with a top coat.
If you're a nail art enthusiast with creative talents (or a good nail tech) ...
STEP 1: Pain on two coats of your base coat. We recommend Essie Topless & Barefoot.
STEP 2: Using a nail paint shade lighter than your base coat and a nail art painting brush, carefully draw some shapes, like big spirals, drops and circles.
STEP 3: Apply a top coat.
STEP 4: Using a white gel paint and a detail gel brush to online the shapes you've made.
STEP 5: Finish by coating your design in glitter or adding a rhinestone onto one or two of your nails.
If you're doin' it for the 'gram…
STEP 1: Create a French tip with a pearlescent finish.
STEP 2: Before your polish dries, gently dab it with a sponge to create some texture.
STEP 3: Add a few dots of silver glitter polish and dab it with the sponge too.
STEP 4: Using a dotting tool, create dots along the smile line using white acrylic paint.
STEP 5: Add a top coat about the dots on your thumb and ring finger, then add rhinestones.
STEP 6: Create flowers on your ring finger and embellish with dots.
STEP 7: Add a top coat to the center of the flowers and add a small rhinestone.
Read More:
Trend Alert: The Chic Way To Wear Nail Polish On Your Skin
The Reverse French Mani That's Perfect for Engagement Season
Essie Just Launched a Tool for Brides That Is An Actual Game Changer
Hero Image Courtesy @helloglossy
Read more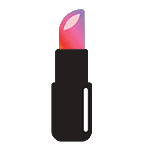 Back to top