How To Create the Perfect Smudged Black Eyeliner Look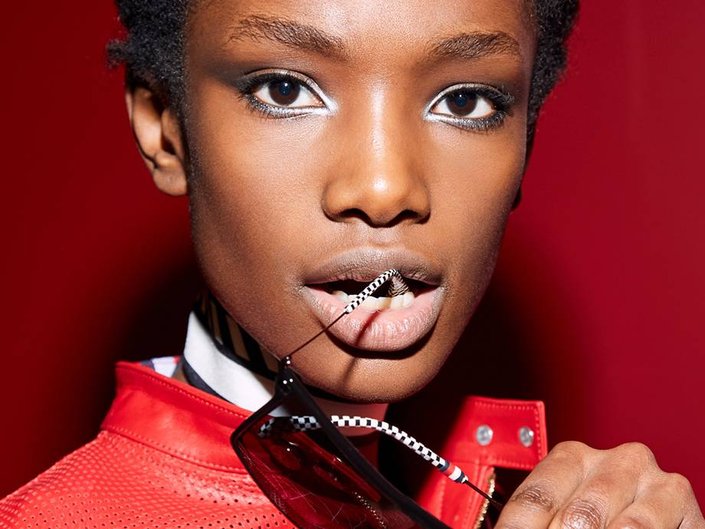 So you're going out and you want a statement eye that's messy, but in a good way. I know, the perfectly-imperfect messy look seems unattainable,  but we've seen a lot of beauty gurus get it right (shoutout to this buzzy messy winged liner look from Reddit or this undone berry lip look discovered backstage at NYFW). Cue smudged black eyeliner —  the picture-perfect eye makeup look you've probably heard of, and likely seen floating around on social media.
To get the look, we reached out to two Lancôme Beauty Advisors for their best tips on bringing the smudged black eyeliner look to life — and how to avoid the thin-line between perfectly smoky and full on raccoon eyes.
Start Off With Traditional Winged Liner
"Start off with winged liner and then smudge it with black eyeshadow using a small blending brush." explains Marwah Khamas. "Clean it up with a makeup wipe if you make any mistakes."
Choose a Product That (Nearly) Does the Work For You
I recommend using Lancôme's Le Stylo Waterproof Gel Eye Pencil in the shade Noir or Noir Intense." explains Olivia Thompson. "They both are extremely black and works perfect for this type of look as there is a smudger on the other end of the pencil that allows you to create that perfect smoked out effect. Another great reason why is that the formula is a smooth gel, creating ease for the artist to smudge while wet, and sets dry to stay in place all day!"
Don't Skip Out On the Eyeliner
"A lot of people use only black eyeshadow to create this look," Thompson explains. "Eyeshadow is great to set the liner or use on top of a liner, however, the black pigment can get extremely messy, with fallout all over your face. It needs something to hold onto."
Blend Like You Mean It — And Then Blend Some More
"A common mistake in general is not blending it well so you can see the separation between the eyeshadow and liner," says Marwah Khamas. "Just take your time and blend."
For a smudged eyeliner look we love, check out the fourth eye look in this eyeliner looks tutorial and smudge away.
Read More:
8 Things Your Makeup Artist Wishes You'd Stop Doing
6 Of The Best "True Red" Lipsticks Redditors Swear By
Makeup Artists Share the Best Tips They Learned Working At a  Beauty Counter
Read more
Back to top