Meet the Founders of Baby Tress, the Edge Brush Celebs Can't Stop Talking About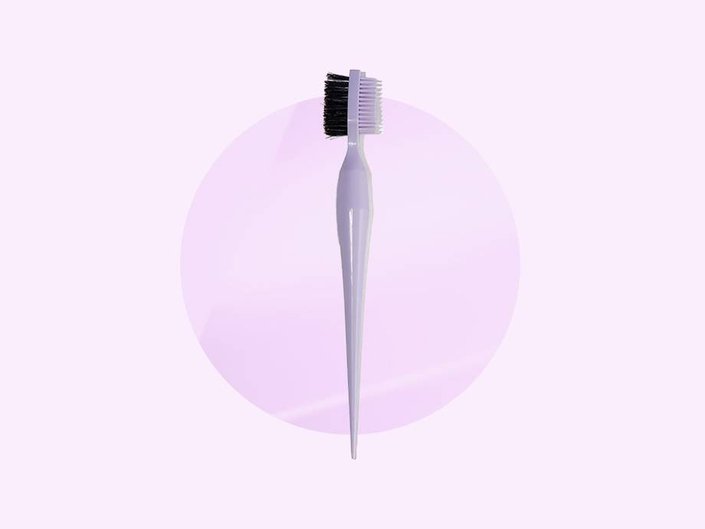 If you spent your childhood snatching your edges into ponytails and gelling down your baby hairs, then it's likely you've employed the use of a toothbrush, boar bristle brush or some ingenious combination of the two. Only recently have designated edge brushes popped up, intentionally designed to swoop and swirl those fine hairs into intricate shapes and curls. One such brush is the Baby Tress Edge Styler, an aesthetically pleasing edge brush that has quickly achieved a following among celebs and beauty enthusiasts alike. Founded by four colleagues — Hannah Choi, Shanice Hills, Shannon Kennard and Mariamu Sillah —  Baby Tress was created as an offshoot of PR agency, Mama Tress. The work environment (the agency focuses on hair), sparked conversation about gaps present in the black beauty space and thus, Baby Tress was born.
We recently caught up with the quad for a peek into their routines, what they're most proud of and the women who inspire them.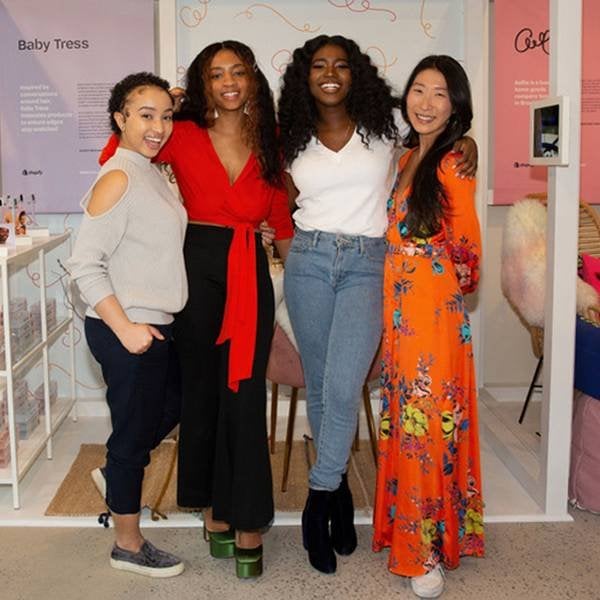 What's your current beauty hair routine?
MAKEUP
Hannah Choi: As simple as possible — I'm a no-makeup makeup kind of gal. I'm usually just wearing  foundation, blush, mascara, eyebrow tint and lipstick.
Shanice Hills: I opt for a fresh face these days, but when I want to go the extra mile, I go for a glowy natural look, with a super snatched brow, wispy lashes and beauty supply store clear gloss!
Shannon Kennard: I use concealer, powder, a sheer blush, mascara, and when I'm feeling funky, I'll do a glitter liner under my brows. Rarely a lip, but I have a burnt orange color that I like to add.
Mariamu Sillah: I've recently added the Nars Radiant Longwear Foundation and a velvet sponge to my makeup routine. I've gotten so many compliments on my makeup as of late.
SKIN CARE
HC: For my combination skin, it's just cleanse, tone, moisturize.
SH: Ihave hormonal cystic acne, so skin care is important to me. I cleanse, tone, pile on the serums and moisturize twice a day.
SK: I cleanse, maybe mask, tone with rose water, ritualistically apply my serums from The Ordinary, then moisturize with a cream and/or an oil. I also use sunscreen in the AM. My skin is normal with the occasional hormonal breakouts, so as long as I'm consistent and eating well, it stays clear.
MS: I've been using only Tula skin-care products for the past year, and my skin is the best it has ever been. My skin has gone from dehydrated and dull to supple and radiant.
HAIR
HC: My hair is quite long, so it can easily tangle and mat, but I'm low maintenance, so it's either brush it out and go or throw it up in a top knot and go.
SH: I love my curly TWA and for the most part, let it do it's own thing. I stick to the natural hair routine basics: detangle, moisturize, seal and swirl the hell out of my baby hairs!
SK: My hair is always frizzy. I usually keep it twisted up under a wig (because again, I'm lazy), but I've been wearing out recently. I like to blow it out and sleep in Bantu knots. In the morning, I'll untwist and wear it up with fluffy bangs and tendrils. Sometimes I'll detail that with some wavy baby hairs, but I wear my edges fluffy usually, and I use my Baby Tress Edge Styler to move them in the direction I want them to curl.
MS: My hair routine depends on the type of wig I'm loving at the moment. I'm currently wearing a lace-front wig from Outre. I just pop it on and head out the door. For my natural 4B hair, I use The Mane Choice and DevaCurl products for cleansing/conditioning, and I use Jamaican Mango and Lime Butter Creme as a moisturizer.
Biggest pinch-me moment in your career thus far?
HC: When Tyra Banks purchased four of the Baby Tress Edge Stylers!
SH: Moving to New York in 2017 and landing a job in digital marketing at Mama Tress. That leap of faith changed my life so much in such a small span of time.
SK: Working on the Mama Tress team. I'm still learning and growing, but it makes a huge difference to spend two-plus years in a work environment that is supportive and thought-provoking. It also makes a huge difference to work with a group of women who inspire and encourage me.
MS: Seeing Ciara's iconic Met Gala look created with our Baby Tress brush.
What's the campaign or launch you're most proud of?
HC: Our collab with CRWN Magazine! Two of our friends at CRWN have known about our product since before we launched, and we'd been planning to collab at some point. The two of them, along with their talented creative partners, produced a short documentary film about the history and origins of edge styling and how today's culture intersects.
SH: I'm most proud of the launch of Baby Tress, from the Edge Styler to the strategy behind the scenes and everything I've had a say in. We're a team of young women of color and to see our ideas come to life is amazing.
SK: I'm proud of the Baby Tress Launch. It's been about eight months and we started from zero. To see where we've come in a short time is really cool. The most surprising thing to me is the celebrity content we've received — this is just the beginning.
MS: Influencers like Aaliyah Jay and ItsMyRayeRaye sharing their genuine love for the brush on their platforms. I am proud that I was able to get it in their hands and that huge influencers want to support us.
What's the beauty trend you're most excited about in 2019?
HC: Stylized edges!  Over the last year, I've seen the creativity around edge styling reach new levels — from bejeweled edges to colored edges to intricately swooped edges that spell out words or create amorphous shapes. I feel like we're only going to see more evolution in edge styling now that the Baby Tress Edge Styler exists.
SH: The normalization and mainstream movement of stylized edges. Black women are cultural trendsetters, so it's no surprise to me that baby hairs are now "trendy" and are popping up outside of the realm of black hair. I'm interested to see how far this "trend" actually goes.
SK: I love to see hair and makeup styles that are subtle but loud in their own way — like frizzy, swirly tendrils or orange-red blush. Trends are so fleeting, and it's exciting to find new ways of playing with a classic beauty look.
MS: I am excited that styling baby hairs is becoming mainstream; people are getting really creative. Yesterday I saw a girl from Indonesia styling her edges on Instagram. Black and brown women having been doing it for years, and it's nice to see that influence spread.
What's a day in your life like?
HC: Wake up, snuggle up with my puppy son Benny (who has his own Instagram), hop in the shower, get myself ready, take Benny out for a stroll, stop for coffee at our favorite cafe along the way, drop him off back at home and head to work. Once there, my day begins with fulfilling and shipping out Baby Tress orders, checking emails, running to and from meetings, then heading back home to Benny.
SH: I roll out of bed around 7AM and make my way into the kitchen to make coffee. Luckily, I don't have to be in the office until 10AM, so I have plenty of time to sit and chill with a book (or Instagram) in my sunny Brooklyn apartment. Once my boyfriend heads off to work, I get ready for my day and take the subway into Manhattan. From 10AM-7PM I tackle client work, sit in meetings, catch up with the girls and post snippets of my day on Instagram Stories. Once the workday is over, I head back to Brooklyn for a cocktail at my favorite neighborhood bar, cook dinner with my boyfriend and settle down with my laptop to work on my side-hustle: busybeingsha.com.
SK: On Fridays, we work from home, so those days I wake up between 6AM and 7AM and do some sort of work out. I shower, maybe grab an iced coffee or make some oatmeal, then start working. I check emails first, read up on some newsletters or whatever stories I find interesting, and then I'll take a look at the to-do list I've been working on for the week and check the calendar. Sometimes, I may have to run to the office or hop on a call, but Fridays are pretty quiet. I like to listen to music while I work, and sometimes my roommate and I will co-work in the living room. After I log off, I might turn on a show and zone out, or maybe I'll have plans somewhere in the city. If I'm going out, I've probably already mentally decided on what I want to wear and how I'm gonna make myself up, so that's pretty quick.
MS: I wake up around 7:30AM. I start my day with a podcast or YouTube video playing in the background as I shower and get dressed. I drink a glass of water while I do my makeup and head out the door. I don't do breakfast because I tend to eat heavy lunches and dinners. I commute for 45 minutes and get to work. I start with checking my email and then I create my to-do list for the day. The majority of my day is full of meetings, chatting with my colleagues about everything under the sun (that somehow always leads back to work), reading articles relevant to my work and emailing influencers.
Who is your muse?
HC: Tylynn Nguyen. I've never met her IRL, but her Instagram is mesmerizing. She embodies effortless beauty, elegance and grace in everything she does as a lingerie designer, a mother, a wife and influencer.
SH: I wouldn't say I have a specific muse. I draw most of my inspiration from the amazing ladies in my life that I call family and friends, and I'm obsessed with the street style of NYC women!
SK: My mom. A lot of the styles I've been into — frizzy updos with tendrils, minimal but colorful makeup, and feminine silhouettes (usually in the form of vintage) — are all styles that she's been wearing ever since I can remember. She wins best-dressed at her job every year, and she's so put together because that's what she likes. I want to be just as graceful as she is in her approach to everything.
MS: There are so many amazing women who inspire me. My colleagues, my best friends from college, my mom, and of course, Oprah. These women inspire me to work harder, to believe I can have and be more — and they all have a great sense of humor.
Read More
This Celebrity Hairstylist Is Changing the Way We Think About Our Scalp
Meet the Olive & June Founder Changing the At-Home Mani Game
Blushcon Makeup Artist Jenny Bahn Reveals Her Favorite Maybelline Lip Color — And What Makeup Means to Her
Read more
Back to top