5 Glow In The Dark Makeup Products That Will Make You Shine All Night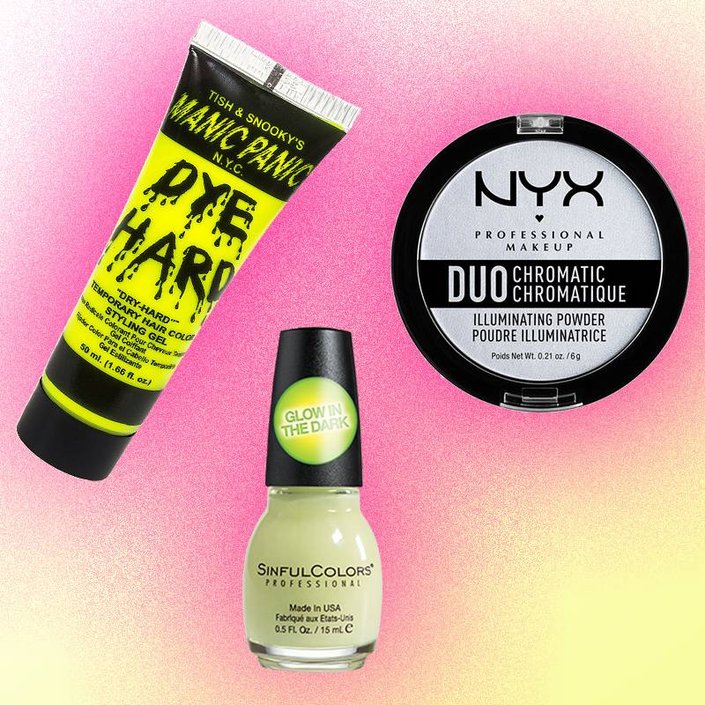 Halloween would be nothing without a little glow-in-the-dark beauty to make your makeup stand out all night long. So, whether you plan to dress as a raver or some kind of LED Lisa Frank animal, here are the best blacklight-friendly makeup products that money can buy. Bonus: Add these LED lashes if you really want to commit to the glow-in-the-dark cause.  
Kryolan Aquacolor UV Dayglow Palette
This six-shade palette is made to glow vibrantly under regular and blacklight light. Complete with the perfect purple, pink, blue, green, yellow and orange hues, this stuff is perfect for swiping on your face and body to illuminate your skin in the trippiest LED fashion.
Manic Panic Electric Banana Dye Hard Temporary Hair Color
If you want to achieve that neon yellow hair tone without actually dyeing your strands, try this Manic Panic color gel in Electric Banana. Perfect for Halloween, it will give your hair that everlasting neon glow under blacklight — and better yet, it'll wash out in the morning.
NYX Professional Makeup Duo Chromatic Illuminating Powder
To add some major dimension to your face, try highlighting with one of the NYX Professional Makeup Duo Chromatic Illuminating Powders. Hello, Instagram-worthy iridescence.
Urban Decay Liquid Aura Illuminating Mixing Medium
To add an aura of illumination underneath your makeup, use this Urban Decay mixing medium to glow-up any existing eye or lip color. It will add just the right sheen and glowing undertone and make an electrifying difference in the way your makeup wears throughout the night.  
Sinful Colors Glow In The Dark Nail Polish
A glow-in-the-dark makeup look isn't complete without a matching nail polish. Swipe on the Sinful Colors version before you head out to your Halloween party, and you'll be glowing down to your fingertips in the blackest of lights.
Read more
Back to top