Help! My Lipstick Melted In the Heat — Can I Fix It?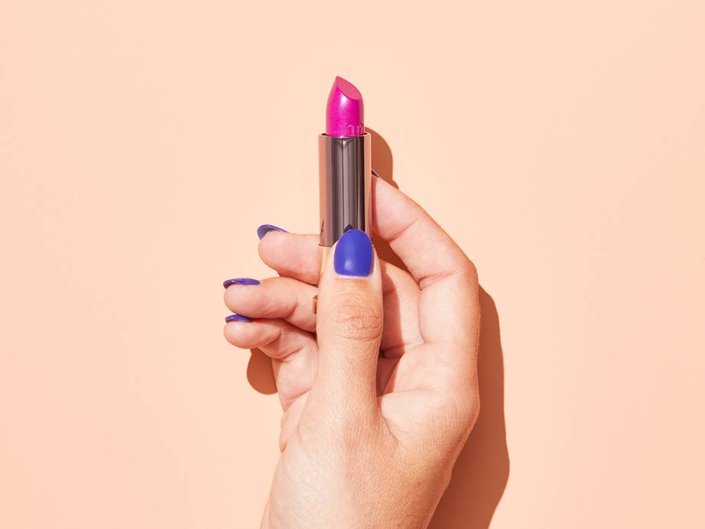 As lipstick feens, we tend to hoard our favorite shades like it's our job. And thus, we also tend to lose them like it's our job, too. It's safe to say that we've found a tube of lipstick in just about every place imaginable. The bottom of our purse? Always. In a shoe? Every now and then. That's why it wouldn't come as a huge surprise if we accidentally left a precious lipstick in harm's way, say, in the hot summer sun. If you've also ever opened up your lipstick to reveal a lumpy, melted formula, this handy guide is dedicated to you.
Assess the Damage
Before you regretfully throw that tube of lipstick in the trash, it's important to know that you don't have to give up just yet. Your lipstick will never be as pristine as it once was, but you will still be able to embrace the lip color, and let's face it, that's the most important thing. So take a look at that melted lipstick — can you see any product? If your bullet still has lipstick inside of it, you can reform it into a new container.
Give It a New Home
In the all-too-common chance that your lipstick has turned into a melted lump of color, you have yourself a fun little DIY lipstick project on your hands. First, you'll need to purchase a lip balm container (or 50 of them, if you have a feeling this will happen again). Using a spoon, transport as much lipstick as you can from the bullet into a small microwave-safe dish and then microwave the lipstick for just a few seconds. From there, use a spoon to scoop up the super-melted lipstick and transfer it into that new small lipstick container. Finally, place it in the fridge and let it sit for an hour or two. During this time, the melted formula will harden and take the shape of its new container. After that, it's good to go! Use a lip brush to apply it from here on out and the color will look just as it did before you left it in the blazing sun. You'll lose that bullet, but who knows — maybe its new container will make your lipstick easier to find in the bottom of your purse.
How to Keep Your Lipstick from Melting in the First Place
If you know your lipsticks are going to be subjected to the heat (or maybe you're looking to preemptively prepare for this potential tragedy), our advice is to consider an insulated pouch. While they're probably more familiar to you as a convenient place to store snacks or medications, they also function to keep those lipsticks safe, too.
Read More:
How to Use Highlighter for a Lit-From-Within Glow
What Should I Do When My Foundation Gets Dry During the Day?
6 Beauty Tools that Will Change Your Beauty Routine
Read more
Back to top