How to Wear Glitter Makeup Without Looking Like a Disco Ball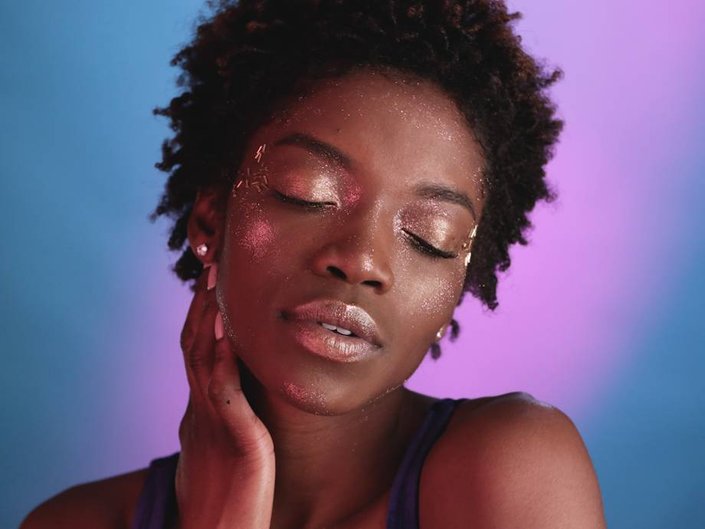 OK. So, we're kind of getting carried away with the whole highlighter movement, but can you blame us? It seems like there's no end to how dewy, glowy, shimmery or illuminated we try to get our skin to look. Confession: We're about one step away from just taking the ultimate plunge and bedazzling our faces. But, since that would involve hot glue and a nightmarish removal process, we reached for the next best thing — glitter makeup. We got our hands on some amazing, sparkling products and found a way to apply the glitter principle to, well, everything. Yes, everything. Makeup guru Emily Oliver shows us how it's done!
Glitter Eyes
When adorning your eyes with some sparkle, there are multiple routes you can take. But first, it's important to find the right glitter shade for you. "When layering glitter on top of another product, deciding on a shade is fairly simple," explains Oliver. "Take into account how dense the glitter is. If it is super-sheer, any tone is fine. If it's dense, make sure the color complements the undertone of your skin. If you run more golden, stick to a golden-toned glitter. If you're a bit more rosy complexioned, keep to the neutral, or rose-toned glitter. If you're right in-between rosy and golden, you can choose pretty much any color."
For an all-over glitter eyeshadow look
:
Dab a tiny amount on each eyelid then blend from corner to corner.
*
Apply the base color of your choice.
Really, whatever eyeshadow color you want - click
here
for some
palette
options. Just use an eyeshadow brush to sweep from inner to outer corner, and from lash line to creases.You can go for a full blown intricate smoky eye or a monochromatic look.
*
Add glitter glue.
After you've reached the color/eye makeup you desire, dab some glitter adhesive (try
NYX Glitter Primer
) on top of your shadow. This can be tricky because you don't want to smudge or smear your base color, so use a light hand and gently tap it on.
*
Dust on glitter.
Before it dries, tap the 
loose glitter
on all over the lid. Layer until you reach the intensity you want.
If you want a more subtle dose of glitter on the eyes, go the eyeliner route
:
*
Set your eye makeup first.
Create the eye makeup look you want using eyeshadow, then pick up a glitter liner like
NYX Glam Liner Aqua Luxe Collection
or 
Urban Decay Heavy Metal Glitter Eyeliner in Midnight
and use it to trace along the upper lashline. You can stick to the outline of the eye or go dramatic and create a cool cat eye by sweeping the liner up toward the outer edge of your brow.
*
Try a gradient look.
You can layer different-colored glitter liners for a gradient effect.
*
Or use glitter only as an accent.
Instead of lining the entire eye with a glitter based liner, apply your traditional pencil or liquid liner first, then simply add gold glitter on top of it using an eyeliner brush to tap the glitter into place.
Glitter Cheeks
What can get the job done better than highlighter? Dare we say, GLITTER?  And just like you need to find the right highlighter tone that enhances, but doesn't overwhelm, you need to find the right texture and tone of glitter as well. Go with a pink, soft peach or white loose glitter on the cheeks for a more natural look. Colored glitters don't necessarily add substantial color to the skin, however, pigmented glitters can have a tinted iridescence to them, so going with a shade that matches your blush color, or is more sheer (like a white glitter), is a good way to go.
To get the look:
*
Prime your cheeks.
Use
NYX Glitter Primer
to minimize fallout and tap on (either with your fingers or a fan brush) loose glitter where you would typically add your highlight.
*
Layer it on.
Go intense with the glitter and layer it up. Or, if you want a subtle sparkle, keep the glitter light and soft along the cheekbones. #ProTip: Use a small, flat brush if you want a more concentrated look.
Glitter Lips
Layer the same glitter atop your fave lipstick shade, or go for this ombré pink! We used the NYX Ombre Lip Duo in Pink Bubbled & Caviar and dabbed NYX Macaron Lippies in Coconut to the bottom lip to tone down the pink. However, the key to a long-lasting, flawlessly shimmering lip is all in the prep and application.
Prep:
"For glitter lips, I highly recommend prepping ahead of application," says Oliver. "This means, applying a lip scrub, moisturizing (try
Kiehl's Lip Balm #1
) and blotting away excess oil a couple hours before application.  Apply a glitter adhesion that is safe for the lips.
Application:
"Take a small flat brush, and douse heavily in the glitter," instructs Oliver. "Apply to the lips with a gentle patting motion. You may need to repeat this process to get to your desired look."
Set:
"I tend to set with a set spray to ensure a longer wear," says Oliver. "Take a clean, thin brush and work around the outside of the lip line with a small amount of concealer to make the lips look flawless."
Glitter Makeup Dos & Don'ts
DO build your intensity:
Glitter, especially the loose variety, isn't created to be subtle, so a little goes a long way. If you want to start your glitter journey slow, make sure you apply small amounts at a time and build for a more bold bedazzled look.
DON'T apply over greasy or over-moisturized lips:
Oliver says that, for the best glittery look, a dry, matte base is best. Greasy, overly-moisturized lips are equal to a water slide for glitter. "
It just won't last," she explains.
Do mix color:
Glitter makeup typically doesn't hold a strong pigment, despite their specific shades. They have a more subtly tinted look to them. However, layering these tinted sparkles—whether on the lips, eyes or cheeks—can create a cool, gradient, textured effect.
Don't play it safe:
Above all, glitter is supposed to be fun, says Oliver. "Have fun with it," she explains. "Don't overthink it!"
Take It Off
As fun as it is, glitter can be tricky. Rather, taking off glitter can be tricky. Sometimes your regular faithful cleanser just won't cut it. Check out some tips from Oliver on how to clear up that sparkle after all the fun and games have come to an end.
Use cotton pad.
"I recommend removing glitter makeup first with soaked makeup pads," says Oliver. "Whether you're using a cotton round dipped in an oil-based remover (try
Lancôme Bi-Facil
) or pre-dipped ones (
Garnier SkinActive Clean + Refreshing Removing Cleansing Towelettes
), make sure to gently let it rest over the entire glitter area. Let it sit and work for a couple minutes, then gently begin to wipe away."
Foam up.
"I'll follow up with a foaming cleanser," says Oliver. "Repeat the above step and this one until all glitter is removed! Tone away any remaining debris from the face avoiding the eyes (
Kiehl's Calendula Herbal Extract Alcohol-Free Toner
is fab)."
Hydrate skin. "Make sure to moisturize after all steps are complete and use an eye cream (Armani Crema Nera Reviving Eye Cream) to keep eyes de-puffed and hydrated," says Oliver.  
Photography: Jessica Schram
Makeup: Emily Oliver
Model: Julie Takash
Read more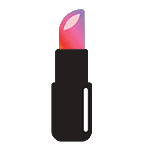 Back to top